Comics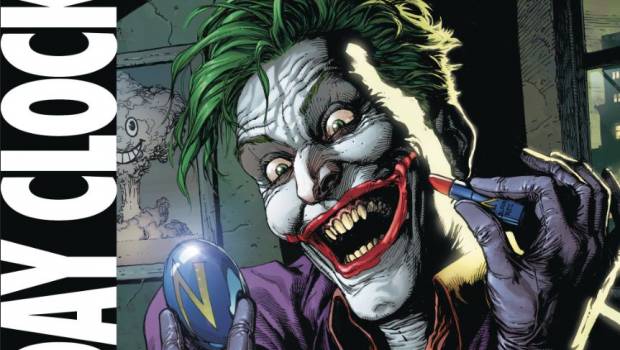 Published on May 30th, 2018 | by Andrew Bistak
Doomsday Clock #5 Review … more proof that THEY existed!
Summary: Doomsday Clock #5 provides a breadcrumb of clues but with no major answers. Nonetheless, it's still an enjoyable read and beautifully illustrated
The highly anticipated issue 5 of Doomsday Clock has finally arrived as it opens up with a scientific debate on whether heaven exists as Ozymandias (Adrian Veidt) recovers after "falling" twenty stories thanks to the newly resurrected Comedian. Although shackled to his bed after attempting to kill Lex Luthor, Ozymandias successfully stages a break-out. Like previous issues, it's a well-written comic and Geoff Johns successfully celebrates both these comic universes that is backed up by the spectacular art of Gary Frank.
We also get another glance of the DCU as the bleed from the Watchmen universe continues to affect this world with Hawk and Dove being arrested by the Rocket Red Brigade after interfering with the police while attempting to take down a group of terrorists. As a result, Russia has closed their borders and threaten the west with their "peoples" heroes while Clark and Lois question who is behind the Superman Theory with Lois having a hunch as to who it may be.
Elsewhere Saturn Girl has joined and the new Rorschach in his search for Dr Manhattan while Johnny Thunder of the JSA is searching for… (BIG SPOILER) his friend's magic lantern, Alan Scott to be precise (aka the Golden Age Green) in order to find his genie and the rest of the Justice Society of America who are missing in action. Finally, another clue in the post-Rebirth universe that the JSA existed.
Ozymandias also comes across Batman with our Dark Knight believing that he is personally responsible for this chaos in the DCU and unfortunately it doesn't end well for our hero. Johnny Thunder however does find the green lantern, however is attacked by a group of homeless drug users, only to be saved by Saturn Girl and Rorschach. The issue ends with the Joker meeting Mine and Marionette… which easily made this my favourite comic of the week!
Final Thoughts?
I really enjoyed Doomsday Clock #5 and this issue had a ton of cameos and some interesting character developments along the way, particularly with Johnny Thunder's story that the Justice Society did once exist in this world, however somehow disappeared… Dr Manhattan? It was also great seeing Firestorm again (even with his swearing) and Black Adam inviting all metahumans who have been hunted by their governments to come to his country of Kahndaq as the world goes topsy turvy and really makes you wonder what on Earth Manhattan is up to?
Definitely a must read!
Gallery