Games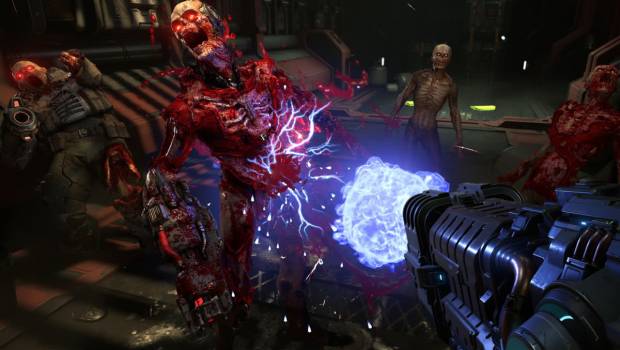 Published on March 20th, 2020 | by Adrian Gunning
DOOM Eternal "Available now" on PC, PlayStation 4 and Xbox One
Bethesda Softworks®, a ZeniMax® Media company, announced that DOOM® Eternal is available now digitally and at retail stores worldwide for Xbox One, PlayStation 4 computer entertainment system and PC.
Developed by id Software, DOOM Eternal was awarded Best Action Game and Best PC Game at E3 2019 and has appeared on more than 350 'Most Anticipated Games of 2020' lists. It is the direct sequel to DOOM, winner of The Game Awards' Best Action Game of 2016.
"DOOM Eternal is the most ambitious game our studio has ever created," said Marty Stratton, Executive Producer at id Software. "The scope and scale of the campaign and BATTLEMODE are a true testament to the passion and talent of everyone at id Software. We've had a blast making DOOM Eternal and we can't wait for players to experience the thrill of this epic journey."
Experience an aggressive and engaging combat puzzle that challenges you to master new abilities and weapons in the biggest, fastest, deepest DOOM game ever created. Powered by idTech® 7 and set to an all-new pulse-pounding soundtrack composed by Mick Gordon, DOOM Eternal expands on everything players loved about DOOM (2016), featuring a refined combat loop, new and returning classic demons, a powerful new arsenal, and unbelievable, never-before-seen worlds.
Following are samples of early reviews:
"Doom Eternal is a bigger and better sequel in practically every way. – 10/10 – Press Start
"…an all-encompassing symphony of cartoon hyperviolence" – 9.5/10 – AusGamers
"…if you dive in I can promise you that you'll have one hell of a good time." – 9/10 – Stevivor
"It's simply an excellent game which is an unmissable, all Doom and no gloom must-play experience offering a good time for first-person shooter enthusiasts." News.com.au
"DOOM Eternal demands to be played and will reward those who do with hours of video gaming at its finest." – 10/10 – Power Up!
"Doom Eternal feels like id Software went all-in on cramming all of their best ideas for the ultimate Doom experience into one game." – 4.5/5 – Rocket Chainsaw
"…it's certainly got a fighting chance for 2020's GOTY" – 9/10 – WellPlayed
"…an amazing single player story experience along with some of the best first person shooter action with it's fun, super fast paced gun-play, complete with those juicy glory kills." – 5/5 – MKAU Gaming
DOOM Eternal is available in Standard and Deluxe Edition. The Deluxe Edition includes the Year One Pass which grants access to two campaign add-ons to release within the first year of DOOM Eternal's launch date. These standalone stories explore the cataclysmic events that led to earth's fall against the demons. The Deluxe Edition also includes the Demonic Slayer Skin for use in campaign and BATTLEMODE, along with the Classic Weapon Sound Pack.
Watch the DOOM Eternal launch trailer here: Official Launch Trailer
DOOM Eternal is rated R18+ by the Australian Classification Board and is available now in Standard Edition for $99.95, or Deluxe Edition for $169.95.