Blu-ray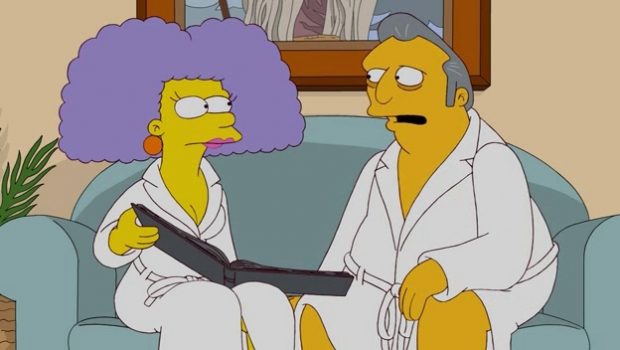 Published on September 19th, 2017 | by Admin
DON'T HAVE A COW MAN: The Simpson's Return to Physical Discs with Fat Tony
The Simpson's is making a return to physical discs this coming December. The return comes after die hard fans of the series begged for a return to physical discs, and Season 18 physical picks up right where Season 17's left off.
Featuring "Fat Tony" Collectible Packaging, Television's Longest Running Scripted Primetime Series Returns on DVD When "The Simpsons" Season 18 Arrives on Wednesday 13 December. 
DVD Will Also Include All-New Season 28 Bonus Episode "22 For 30" Featuring Fat Tony 
Twentieth Century Fox Home Entertainment proudly presents the return of America's favorite animated family on DVD when "THE SIMPSONS" – SEASON 18 arrives on Wednesday 13 December.   Featuring Springfield's loveable legitimate businessman, this long-awaited season features commentary on each of the 22 episodes and never-before-seen deleted scenes along with the bonus episode "22 For 30" from Season 28 that includes a memorable scene with Fat Tony.
"THE SIMPSONS" – SEASON 18 was a historic one; the last before The Simpsons Movie, the season-finale 400th episode, "You Kent Always Get What You Want", "24 Minutes" with guest star Kiefer Sutherland, Treehouse of Horror XVII with the sepia-tone classic "The Day the Earth Looked Stupid" and much, much more.  Guest stars include Michael Imperioli, The White Stripes, Tom Wolfe and Natalie Portman and classic episodes include the Emmy-nominated "The Haw-Hawed Couple" and WGA winner "Kill Gil, Volumes I & II."
Don't delay, buy today!
BONUS FEATURES
4-Disc Set Contains The Complete Eighteenth Season With All 22 Episodes
Welcome Back, Loyal Fans! (intro by Matt Groening)
Audio Commentary On All Episodes With Writers, Actors and Directors
Deleted Scenes With Commentary
Bonus Episode – 22 For 30
Multi-Angle Animation Showcase
Special Language Feature
A Conversation With Fat Tony
Easter Eggs