Blu-ray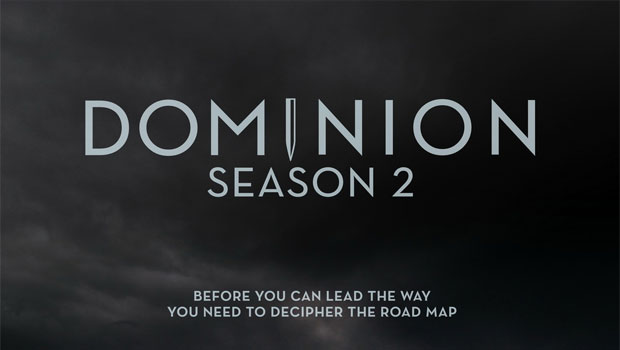 Published on July 10th, 2017 | by James Wright
Dominion Series 2 Blu-ray Review
Summary: Dominion Series 2 starts a little slow but delivers a much more epic season
Based on the 2010 film Legion, season 2 of Dominion returns on both Blu-ray (reviewed) and DVD. For the uninitiated, Dominion revolves around the premise that God has vanished and as a result, there is a biblical war of truly epic proportions between Archangels Gabriel and Michael. Gabriel believes that mankind was responsible for the universe being without their holy father so he unleashes his angels and minions against man.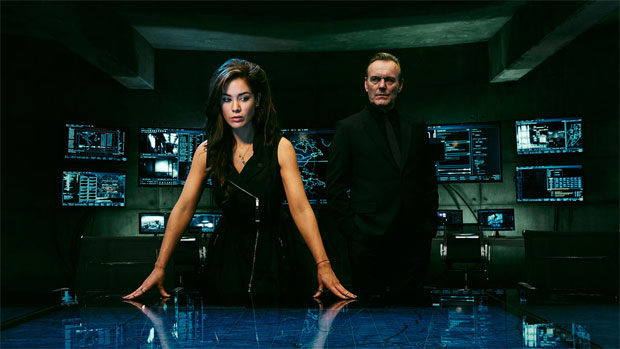 However Michael has become their protector and even though the world is now ravaged from the battle, this apocalyptic supernatural series focuses on the repercussions of the war, more specifically the fortified city of Vega which has its fair share of problems caused by both humans, angels and their counterparts, the dogs of Heaven. There's also some great political intrigue along the way as each faction attempts to outwit the other.
Like any other episodic TV series, Dominion is mainly a drama and although there's plenty of action, it focuses on a handful of characters as we follow their journey through one of the last remnants of humanity. This season also furthers the world building of this universe as a new war is on the brink which threatens Vega and its inhabitants. The religious veil gets further explore which includes resurrections, possessions and some interesting artifacts, including half-angels.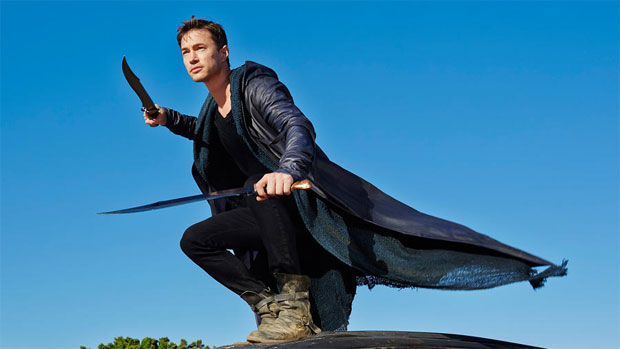 Without spoiling season 2 of Dominion, there's plenty of unexpected twists and interesting moments for our favourite characters that include Alex (Christopher Egan), Roxanne McKee (Claire), Archanel Michael (Tom Wisdom) and Archangel Gabriel (Carl Beukes), including new characters. Alliances are broken, while new ones are formed as episode 4 has an interesting proposal between Gabriel and Michael which all leads to the final climax of the series with the last two episodes. With possessions, new love affairs and of course lots of battles, season 2 of Dominion continues exploring the premise of this post-apocalyptic world which really made this season excel.
Add in romance, crime, suspense and action and Dominion is an interesting sci-fi post-apocalyptic series that is based on a fun religious premise which draws from the bible. The stories do pull you in, however like other TV series, you do get your hits and misses but nonetheless, I found season 2 of Dominion quite an interesting watch with plenty of character development and world building. One major issue with Dominion is its budget and at times, the special effects can be a little laughable and does look a little dated. Even so, it still satisfied my craving for sci-fi.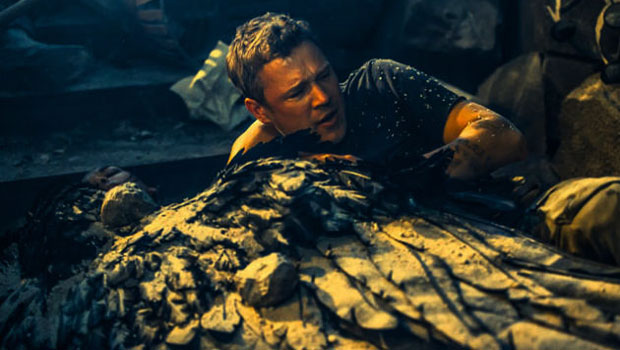 In terms of episodes, this Blu-ray release features all 13 that include the following;
Heirs of Salvation
Mouth of the Damned
The Narrow Gate
A Bitter Truth
Son of the Fallen
Reap the Whirlwind
Lay Thee Before Kings
The Longest Mile Home
The Seed of Evil
House of Sacrifice
Bewilderment of Heart
Day of Wrath
Sine Deo Nihil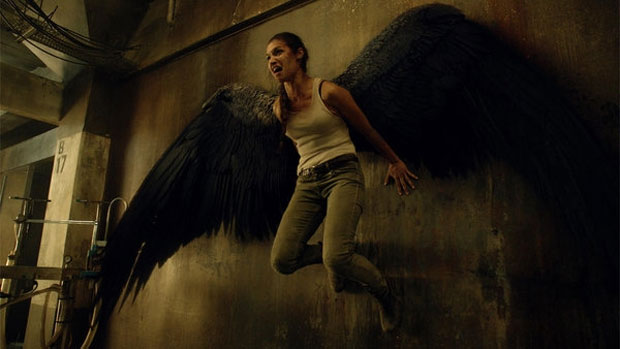 Final Thoughts?
Dominion Season 2 is well presented on Blu-ray which gives the viewer plenty of fun episodes. At times, the dialogue is a little clichéd and over the top but given the premise, it's totally acceptable and more importantly, expected. So as the war heats up between the various factions, the viewer is taken on a rollercoaster ride as the creators explore the psyche of what make these characters tick in this clever post-apocalyptic premise with a religious layer thrown in.
Special Features
Deleted Scenes
Extended Director's Cut of "Bewilderment of the Heart" Episode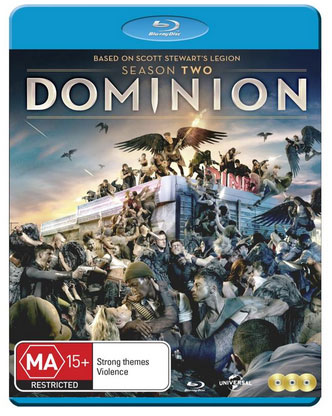 Blu-ray Details
Actors – Christopher Egan, Carl Beukes, Simon Merrells
Film Genre – TV Fantasy
Label – Via Vision Entertainment
Audio – English (Dolby Digital 5.1)
Running Time – 548
Aspect Ratio – 1.78:1
Region Coding – B (Blu-Ray)
TV Standard – HD
Rating – MA15+
Consumer Advice – Strong themes and violence
Year of Release – 2014
Primary Format – Movies/TV – Blu-Ray