Blu-ray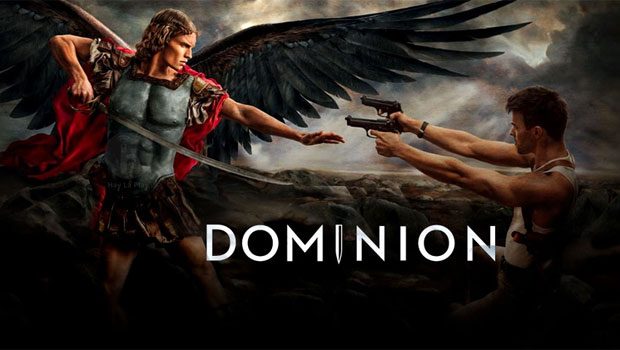 Published on March 12th, 2017 | by Tony Smith
Dominion Season One Blu-ray Review
Summary: Dominion Season One on Blu-ray provides sci-fi fans an interesting alternative.
Dominion is a fantasy sci-fi post-apocalyptic TV series about warring angels and mankind who are stuck in the middle of this religious war. If the premise sounds a little familiar, that's because it is based on the film Legion which takes this premise and delivers an episodic drama with some larger than life action thrown into the mix. So as Angels either attempt to destroy or convert the humans, Dominion makes for some interesting TV with some good world building and character development to be found.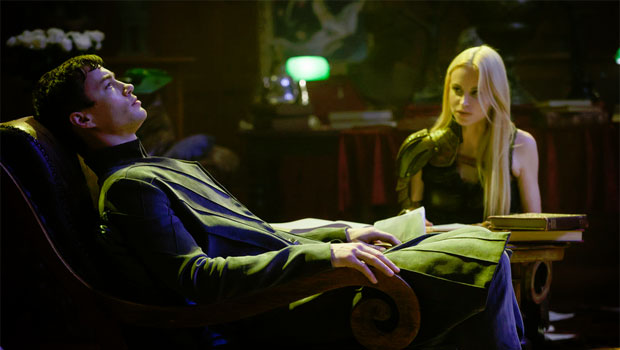 If you have never seen the film before, the first episode helps explain the premise behind Dominion and when God 'vanished' from the realm of existence, a holy war against mankind is exercised courtesy of the dispute between Archangel Michael (Tom Wisdom) who wants to protect the humans, whereas Archangel Gabriel (Carl Beukes) has other plans. However there is one human who has been prophesied to free mankind and that is Alex Lannon (Christopher Egan) who has not yet accepted his fate in this strange universe.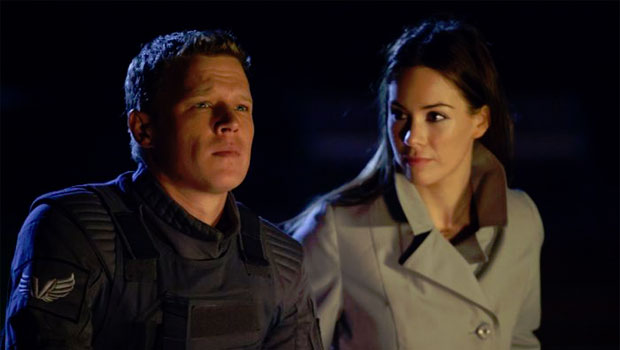 The series is based in the stronghold of Vega which was once the city of Las Vegas and within these walls are dueling houses who want control and add this almost Game of Thrones intrigue to the premise. One of the main tribes is that of House Riesen that is led by the charismatic General Edward Riesen (Alan Dale) whose daughter Claire (Roxanne McKee) is romantically linked to Alex. It doesn't help that Claire has been betrothed to someone else and this man William has his own dark secrets. At times these houses remind me of the intrigue of Frank Herbert's Dune due to the political intrigue and power shuffles behind the scenes.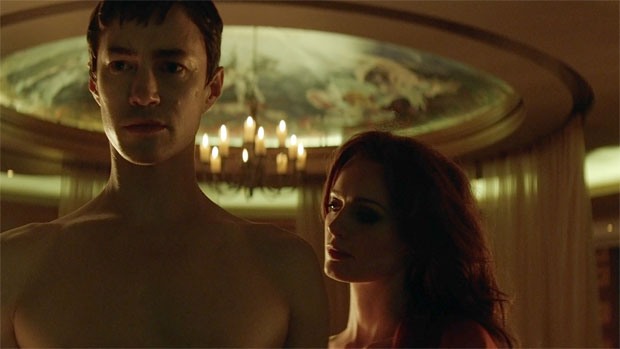 Episode Listing
Episode 1 (Pilot)
After a apocalyptic war between Angels and Man, humanity takes refuge in fortified cities and survive with the help of the archangel Michael, who sides with them against his former comrades. As the angels prepare a new assault, Michael must seek out the Chosen One, the one human destined to lead humanity and end the devastating war with the angels once and for all.
Episode 2 (Godspeed)
While Edward covers for David after the angel attack on Vega, Alex rejects his role as the Chosen One. He begs Claire to leave with him but she refuses. Meanwhile, Michael tries to negotiate with Gabriel.
Episode 3 (Broken Places)
While Alex travels out of Vega to explore his past, David and Anika form a new alliance and Claire must make a choice.
Episode 4 (The Flood)
News spreads in Vega about Alex's status as the Chosen One, causing a panic. Meanwhile, Gabriel launches a new initiative in his quest to destroy Vega.
Episode 5 (Something Borrowed)
While Alex trains with Michael, David engineers a vote of no-confidence against Edward and finds himself up against Claire.
Episode 6 (Black Eyes Blue)
Alex captures the angel possessing Claire's mother and vows to use his powers as the Chosen One to evict the lesser angel from her body. Meanwhile, David learns of William's leadership of the Black Acolytes, and Edward makes a deal of his own with Arika.
Episode 7 (Ourboros)
Alex is called upon by Michael to help prevent any further casualties after innocent higher angels turn up dead in Vega; at the same time, Gabriel causes tension by revealing a long-hidden secret; William "re-educates" his father; and Noma reignites an old flame.
Episode 8 (Beware the Closest to You)
Alex and Gabriel finally meet face-to-face and decisions are made. Meanwhile, Michael learns of Becca's secret anti-angel plans, William is exposed as a Black Acolyte, Gabriel and Uriel learn that Claire is pregnant with Alex's child, and Edward leaves Vega.
So the world of Dominion is an interesting premise that uses religious icons to help force the story in an epic direction, however for the most part, it's about the humans and at the end of the day, both man and angels share similar parallels, hence the flaws in mankind. Although the series starts on a high, it does slow down in the middle and then picks up for the last few episodes which ends on a high with plenty of questions unanswered. Like most series, Dominion finishes on an interesting cliffhanger between the human Alex and Archangel Gabriel. Given that, the star of Dominion is definitely Carl Beukes who plays the methodological Gabriel with this aura of power and evil.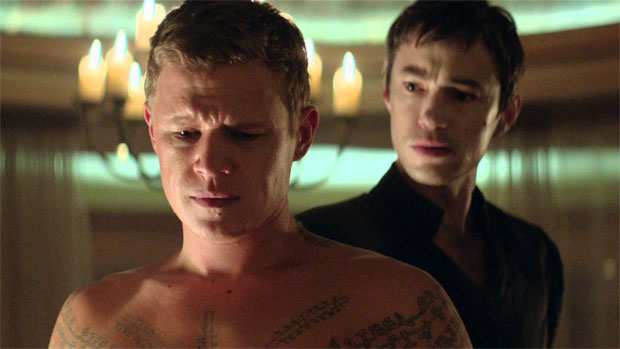 One issue with Dominion are the special effects themselves that look a little jarred when compared to the live-action. Sure it may not have the budget of Game of Thrones or Battlestar Galactica but it does look a little dated. Nonetheless, some of the flying effects are cool, especially with the wings of the angels. Cinematography of Dominion is quite decent and they successfully create this post-apocalyptic world that has been tarnished by the angels of heaven almost a quarter of a century ago. There's also plenty of turmoil and adventure to be had in the walls of Vega as well but I wanted to know more about the angels themselves.
Video, Audio & Special Features
On Blu-ray, Dominion boasts sharp images, deep blacks and vibrant colours when used. I noticed no artifacting and overall, it's a great release on Blu-ray for video quality. Audio supports 5.1 that has good sound levels with no issues either. For special features, although a little light, we get an alternate extended version of episode 8, deleted scenes and a handful of gag reels from season 1. They are interesting but don't add anything to the mythology of this series.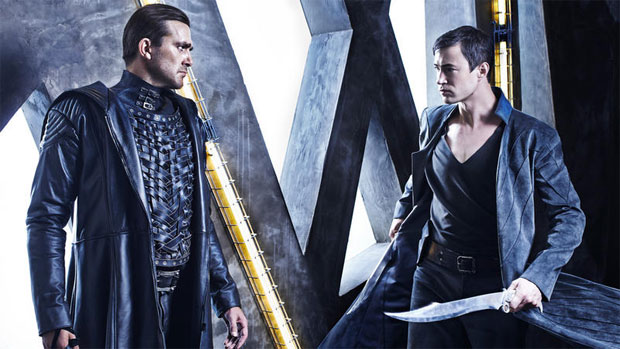 Final Thoughts?
Dominion Season One is an interesting premise behind a war waged upon man by angels with some decent world building and character development. Characters are engaging, although some are a tad cliched and the stories do create this epic nature behind the story. At times, some episodes are a little slow but thankfully the series picks itself up again near the end of the season. So if you're looking for a above average sci-fi post-apocalyptic series in this sci-fi drought, check out Dominion.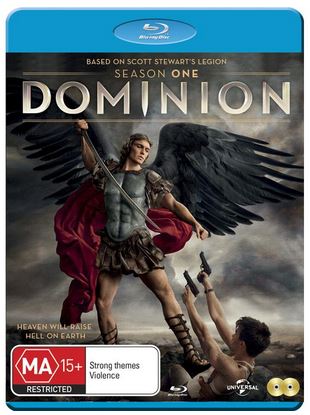 Blu-ray Details
Actors – Christopher Egan, Tom Wisdom, Roxanne McKee, Alan Dale, Anthony Stewart Head, Luke Allen-Gale
Film Genre – TV Fantasy
Label – Via Vision Entertainment
Audio – English (Dolby Digital 5.1)
Running Time – 379
Aspect Ratio – 1.78:1
Region Coding – B (Blu-Ray)
TV Standard – HD
Rating – MA15+
Consumer Advice – Strong themes and violence
Year of Release – 2014
Primary Format – Movies/TV – Blu-Ray