Collectibles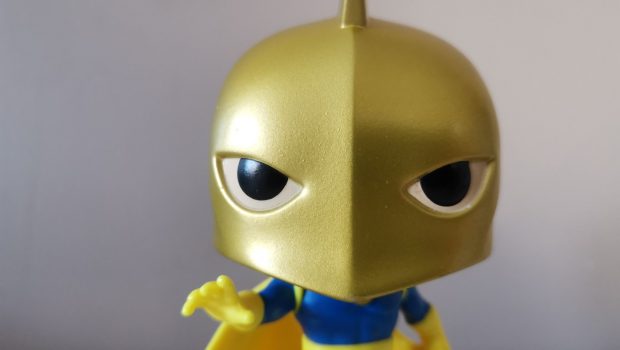 Published on August 13th, 2021 | by Admin
Doctor Fate Funko Pop Review
Summary: Doctor Fate Funko Pop is a must have for all Pop! lovers and fans of Dr Fate!
With the return of their Summer Virtual Convention (FunKon 2021), Funko have released a handul of limited edition Pops! that includes DC Comics premier magician courtesy of Kent Nelson and resident Lord of Order Nabu the Wise. Best of all, this Pop! is pure classic Doctor Fate that includes the gold (well yellow) gloves, boots, trunks, collars and cape. Add in brilliant oversized and golden Helmet of Nabu plus the Amulet of Anubis and what do you get?
One of the best damn Doctor Fate collectibles in a long-time and a sorely overdue Pop! from Funko. Additionally, Dr. Fate is posed for battle as not only is he flying but he's about to cast spell and more than likely send Typhon, a Lord of Chaos back the nefarious netherworld where he came from.
Brilliant!
The Doctor is in!
Specifics:
Pop! Vinyl Figures are approx 9.5cm (3.75″) tall.
Box includes ""Summer Convention Exclusive"" Sticker.
Comes packaged in a window-display box!
Funkon: Summer 2021
Pop! Series Justice League #395
.
Who is Doctor Fate?
Kent Nelson is Doctor Fate, a powerful sorcerer and agent for the Lords of Order who fights evil alongside his wife Inza. His amulet, cloak and helmet are creations of the ancient Nabu who acts as his mentor and spiritual guide. He is a founding member of the Justice Society of America.
Gallery
@InjusticeGame video was warranted! @OriginalFunko @FunkoPopUpdates @VaultedFunko #DrFate #DoctorFate #KentNelson @popcultcha @DCComics @noobde @FunkoPopHunters Doctor Fate @blackadammovie @PierceBrosnan @TheRock