Comics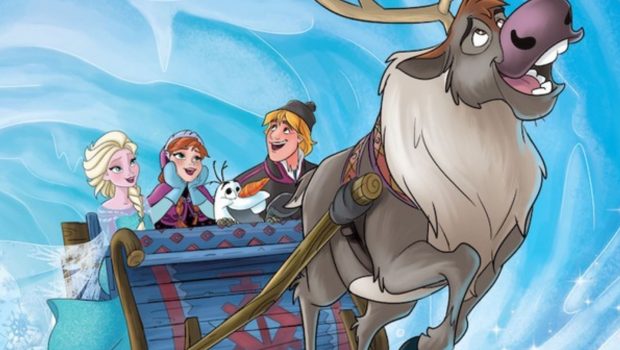 Published on May 8th, 2019 | by Admin
DISNEY'S MAGICAL TALE OF SISTERLY LOVE CONTINUES, MAGIC, AND MAYHEM
Dark Horse and Disney are pleased to bring you two new graphic novels from the kingdom of Arendelle with Disney Frozen Adventures: Flurries of Fun and Disney Frozen, YA Retelling.
Embark on the adventures of Elsa, Anna, Kristoff, Sven, and Olaf in a collection of exciting comic stories in Disney Frozen Adventures: Flurries of Fun! Discover something new about the characters you love and experience this wonderous world of joy, laughter, and adventure with every turn of the page. The 240-page collection of previously released Disney Frozen comics brings you back to Arendelle with a mighty creative team including writers Alessandro Ferrari, and Tea Orsi, and artists Emilio Urbano, Michela Frare, Nicoletta Baldari, Miriam Gambino, Veronica Di Lorenzo, and Marino Gentile!
That's not the end of the Frozen fun though! Gain new insight into the original and timeless Oscar®–winning film, Disney Frozen, from the perspectives of Anna and Elsa themselves in an introspective graphic novel retelling for young adults, Disney Frozen YA Retelling!
Return to the unforgettable world of Frozen and experience the captivating story of family, love, acceptance, and magic from the first-person perspective of the two sisters! Disney's 2013 stunning big-screen masterpiece is expanded upon by award–winning author Cecil Castellucci (Soupy Leaves Home, Shade, The Changing Girl) in the 72-page graphic novel! Elsa and Anna begin an epic journey joined by Kristoff, his reindeer best friend Sven, and everyone's favorite little snowman Olaf, to bring peace and Spring back to Arendelle!
Ahead of the November theatrical release of Frozen 2, Disney Frozen Adventures: Flurries of Fun TPB goes on sale September 3, 2019 for $10.99 and can be pre-ordered through Amazon and Barnes & Noble or at your local comic shop. Disney Frozen YA Retelling TPB hits comic shops and bookstore October 1, 2019 and retails for $12.99.