Films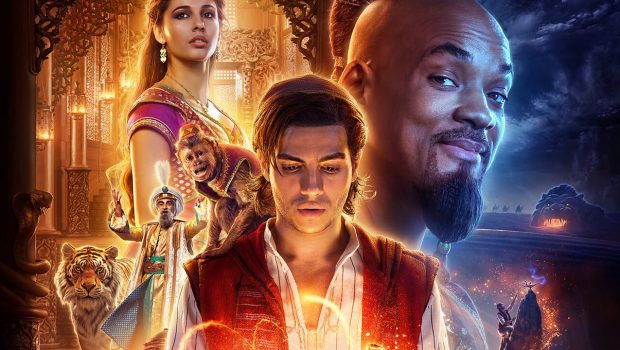 Published on August 12th, 2019 | by Damien Straker
Disney's Aladdin Arrives on Digital, 4K Ultra HD, Blu-ray, and DVD
Experience the Magic in a Whole New Way Disney's "Aladdin".  Arrives on Digital 4K Ultra HD™ September 4 and on 4K Ultra HD, Blu-ray™ and DVD September 18
Extras illuminate a whole new world behind the scenes of "Aladdin," including on-set visits with Will Smith, Naomi Scott, Mena Massoud and Guy Ritchie, a deleted song, deleted scenes and side-splitting bloopers
Disney's "Aladdin," the thrilling and vibrant live-action adaptation of the studio's animated classic, lands in homes just in time for school holidays on Digital in HD, 4K Ultra HD™ on September 4 and physically on 4K Ultra HD, Blu-ray™ and DVD on September 18.
Fans of all ages will enjoy the exciting, humorous tale of the lovable "street rat," Aladdin (Mena Massoud), courageous and self-determined Princess Jasmine (Naomi Scott) and the larger-than-life Genie (Will Smith) with all-new bonus features.
Extras explore elements of "Aladdin" that audiences adore, from the film's treasured, iconic award-winning music to its beloved characters and their hilarious antics on and off screen. Viewers can celebrate the music with a Sing-along to many of the favourites including Arabian Nights, Friend Like Me and A Whole New World.
Features document Guy Ritchie's joyful, easy-going approach to directing that led to movie magic; Will Smith's fresh take on the infamous shape-shifting blue entity confined to an oil lamp; Naomi Scott's powerful performance as the spirited princess who yearns to lead the people of Agrabah; and the indescribable feeling of playing Aladdin chronicled personally by Mena Massoud. Deleted scenes and a blooper reel round out the fun.
Bonus Features Include*:
DIGITAL PRESELL BONUS:
DRAWING GENIE – Join legendary animator Eric Goldberg as he draws and reminisces about the Genie.
DIGITAL EXCLUSIVE BONUS:
"DRAWING JASMINE – Join legendary animator Mark Henn as he draws and tells the story of creating Jasmine.
BLU-RAY & DIGITAL BONUS:
SING-ALONG WITH THE MOVIE
ALADDIN ON ALADDIN – Join Scott Weinger (The voice of Aladdin and star of Fuller House) on a personal journey as he reflects on an almost 30 year experience of being Aladdin.
LET'S NOT BE TOO HASTY: THE VOICES OF ALADDIN
ALTERNATE ENDINGS
DELETED SCENES
o Aladdin and Jasmine's first meeting
o Aladdin in the Lap Of Luxury
BLOOPERS – Laugh along with the cast and crew in this lighthearted collection of outtakes from the set.
A DIAMOND IN THE ROUGH – The making of Aladdin
o The producers
o The music
o The animators
o The voice talent
PRODUCT SPECIFICATIONS:
Product SKUs: 4K Ultra HD (4K UHD+Blu-ray+Digital Code), Digital 4K UHD/HD/SD, DVD and On-Demand
Feature Run Time: Approximately 128 minutes
Rating: PG (bonus material not rated)