Movies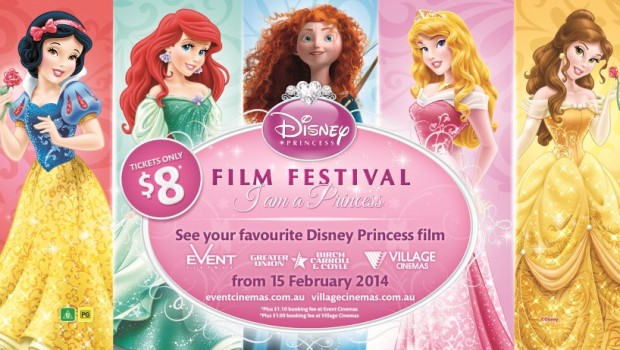 Published on December 23rd, 2013 | by admin
Disney Princess Film Festival PR 2014
Commencing February 15th for 5 consecutive weekends Event and Village Cinemas will celebrate its 2nd Disney Princess Festival.
Themed "I Am A Princess", the Film Festival reinforces this proud statement of what a Disney Princess stands for.  It is a celebration of the Princess inside every young girl, and champions the qualities that make her one: Kindness. Compassion. Loyalty. Bravery.
Join Disney and celebrate the Princess inside every young girl.  For only $8 per ticket** families will experience a magical day filled with activities, prizes, and the joy of a Disney Princess special cinematic experience.  All fans are encouraged to come dressed as their favourite Disney Princess or Hero.
Beauty & The Beast – 15th and 16th February
The film captures the fantastic journey of Belle a bright and beautiful young woman who's taken prisoner by a hideous beast in his castle. Despite her precarious situation, Belle befriends the castle's enchanted staff—a teapot, a candelabra and a mantel clock, among others—and ultimately learns to see beneath the Beast's exterior to discover the heart and soul of a prince. 
Sleeping Beauty – 22nd and 23rd February
Coming out of the vault especially for the festival is Sleeping Beauty.
When a new princess is born the entire kingdom rejoices.  At a ceremony, three good fairies – Flora, Fauna, and Marryweather – bestow gifts of magic on the child.  But the evil sorceress Maleficent shows up and places a curse on the princess.  Marryweather turns things around by casting a spell that will allow the princess – named Aurora – to awake from an ageless sleep with a kiss from her true love.
Brave – 1st and 2nd March
"Brave" follows the heroic journey of Merida, a skilled archer and headstrong daughter of King Fergus and Queen Elinor. Determined to carve her own path in life, Merida defies an age-old custom and inadvertently unleashes chaos and fury in the kingdom when she is granted an ill-fated wish. The ensuing peril forces her to harness all of her skills and resources to undo a beastly curse before it's too late, and discover the meaning of true bravery.
Little Mermaid – 8th, 9th and 10th March
"The Little Mermaid" features the beloved Ariel, a fun-loving and mischievous mermaid, who is enchanted with all things human. Disregarding her father's order to stay away from the world above the sea, she swims to the surface and rescues the prince of her dreams.
Determined to be human, Ariel strikes a bargain with the devious sea witch Ursula and now must win the prince's love and save her father's kingdom – all in a race against time.
Snow White – 15th and 16th March
Celebrated as an entertainment landmark for over 70 years, the first full-length animated film ever made comes out of the vault especially to close the festival.
A beautiful girl, Snow White, takes refuge in the forest in the house of seven dwarfs to hide from her stepmother, the wicked Queen. But one day while the dwarfs are at their diamond mine, the Queen arrives disguised as an old peddler woman and persuades Snow White to bite into a poisoned apple. The dwarfs rush home to chase the witch away, but they are too late. They place her in a glass coffin to mourn for her when the prince happens by and awakens her with "love's first kiss.
The exclusive Disney Princess Film Festival will screen from February 15th until March 16th for a strictly limited time only. 
Join Disney and discover the Princess inside every girl.
Long may they reign!