Games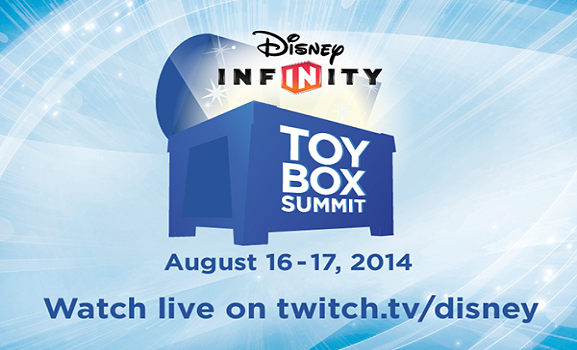 Published on August 15th, 2014 | by admin
Disney Interactive Hosts Top Disney Infinity Community Members at Inaugural Toy Box Summit
Melbourne, Aust. – August 15, 2014 – Disney Interactive today announced the schedule and Twitter / Twitch details for the inaugural Disney Infinity Toy Box Summit, which takes place this weekend at Avalanche Software in Salt Lake City, Utah. During this two-day invite-only event, 22 of the most talented Disney Infinity Toy Box designers from all over the world will have exclusive access to the new Disney Infinity 2.0: Marvel Super Heroes Toy Box, meet the development team at Avalanche Software, including newly hired Community Level Designers (former community members) Crazybynick and Papa Echo and participate in a Toy Box Design Challenge for the chance to win a special Disney Infinity prize pack.
"Each week, we challenge fans to build and submit their best Toy Box creations, so I'm excited to have the chance to see some of our biggest competitors create in real-time," said John Blackburn, Vice President and General Manager, Avalanche Software. "To date, we have received hundreds of thousands of submissions and nearly 13 million Toy Boxes have been downloaded, which is a testament to our talented fans, including our Toy Box Summit guests whose creations inspire so many other fans to join in the fun."
Avalanche Software recently hired five Toy Box Artists who were hand-picked from the community for delivering amazing Toy Box creations that were consistently included among the top five and featured on the weekly Disney Infinity Toy Box TV web series.   These artists include Stewart Malcolm (Crazybynick), Patrick Efird (Papa Echo), Tyler Cole (TyForce), Jose Abalos (doctorlogicgate) and Quinn Johnson (quinnjitsu), who will serve as mentors to the Toy Box Summit guests.  These artists are also currently working on new Toy Box content that will be released for Disney Infinity 2.0: Marvel Super Heroes.
The company is inviting the entire fan community to participate in this weekend's event remotely by tuning in to Twitch (www.twitch.tv/disney) at the times listed below and using #DisneyInfinity on Twitter to submit questions, vote for winning Toy Boxes and more:
Sunday, August 17, 2014
1:00AM AEST: Toy Box Summit Keynote featuring John Blackburn, Vice President and General Manager of Avalanche Software and John Vignocchi, Executive Producer, Disney Interactive.
1:30AM AEST: Toy Box Team Panel featuring Team Leads from Avalanche Software.  Send us your questions on Twitter using #DisneyInfinity!
2:30AM AEST: Toy Box 2.0 Workshop Hosted By Toy Box Mentors Stewart Malcolm, Patrick Efird, Tyler Cole, Jose Abalos and Quinn Johnson.
Monday, August 18, 2014
2:00AM AEST: Toy Box 2.0 Competition – Join us as we play through the artists' Toy Boxes and vote for your favourites on Twitter using #DisneyInfinity and #ToyBoxArtistName!
To view a video highlighting the top creations of the Toy Box Artists attending the summit, click here: http://youtu.be/YUK-J2mhdV0
Disney Infinity 2.0: Marvel Super Heroes is rated PG for mild violence and online interactivity. For more information visit Disney.com/Infinity.