Games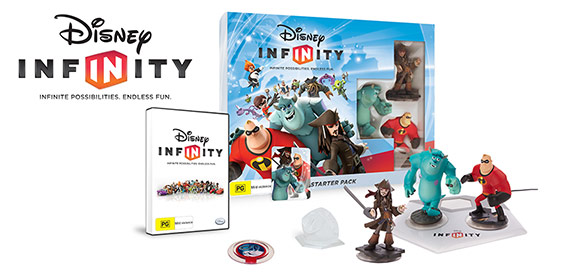 Published on November 1st, 2013 | by admin
Disney Infinity — New Toy Boxes to download, Australian boy is a Toy Box winner, New product releases!
This week, Disney Interactive is releasing the winners of the "Disney Movie Challenge" for Toy Box creations that best capture the look of some of Disney's most iconic films. Check out the latest episode of the new web series, "The Disney Infinity Top 5 Toy Box Countdown," for a look at the winning submissions: http://www.youtube.com/watch?v=KMyfcVVY3RE
Winning submissions include:
Swiss Family: Explore the treehouse, swim in the grotto and fend off the pirate invasion on the beach.
100 Acre Wood: Find 10 hidden Winnie the Poohs in the 100 acre wood.
The Pride Lands: Inspired by Disney's classic The Lion King, explore the wild Pride Lands and climb the Tree of Life.
Fantasia: Visit Yensid's magic work shop. Fetch water and prove your magic prowess against 100 enchanted brooms!
Tangled Hunt: The queen has fallen ill! Players will need to find the Golden Flower in time to save the day.
Disney's Toy Boxes are available to download to X360, PS3, Wii U and iPad versions.
AUSTRALIAN A WINNER IN TOY BOX CHALLENGE: a 12-year-old boy from Adelaide was among the Top 5 chosen in the 'Royal Empire Challenge'
We've recently learned that one of the Toy Box winners from the "Royal Empire Challenge" was a 12-year-old boy from Adelaide, going by the moniker Lachlan1075.
His winning entry–available to download now from Disney's Shared Toy Boxes–is a multiplayer Toy Box called GOOD vs EVIL: "Two STRONG sides always fight each other with all their might! But which one will you choose?"
His Toy Box can be viewed here in the 'Top 5' countdown here: http://www.youtube.com/watch?v=78KnZCj4cdU
REMINDER: Toy Story in Space play set, Jack Skellington, five Infinite Crystal Series figures available now.
Yesterday, Toy Story in Space–the sixth (and final) play set for Disney Infinity–was released in Australia, along with the Jack Skellington figure, and five of the exclusive Infinite Crystal Series figures.
Toy Story in Space play set
The Toy Story in Space play set sees players take on the role of space rangers Buzz Lightyear, Jessie or Woody as they come up against Emperor Zurg in their attempt to relocate the Pizza Planet aliens to a new home. New toys, packs and tools that unlock include the grow and shrink goo guns, Buzz Lightyear's jetpack, rideable mount Bullseye, a new galactic sky box, space walkway set pieces, a Star Command blaster, buildings, and even a Goo Volcano set piece. Buzz Lightyear and Jessie figures are included in the play set. Woody will be available this month.
To view the gameplay trailer, please click here: http://youtu.be/cl6SrX2tJTo
Infinite Crystal Series figures
Exclusive to EB Games are three of the Infinite Crystal Series figures: Sulley, Captain Jack Sparrow and Mr Incredible. While JB Hi-Fi has the Lone Ranger and Lightning McQueen (online orders only).
Infinite Crystal Series figures earn bonus experience points and buffs to give their characters an extra edge and more play time. The crystal figures will also appear differently in-game, and will be displayed in their own special area.
Please be aware that these figures were very limited in Australia, and some may have already sold out at pre-order.
Jack Skellington
One of the most celebrated characters to be added into Disney Infinity, Jack Skellington from Tim Burton's "The Nightmare Before Christmas," will allow fans to be the "Scare Master," throw explosive jack-o-lanterns at other characters and build their very own "Halloween Town" in the Toy Box mode.
To view the gameplay trailer, please click here:  http://youtu.be/iXPBgOcXwEk