Games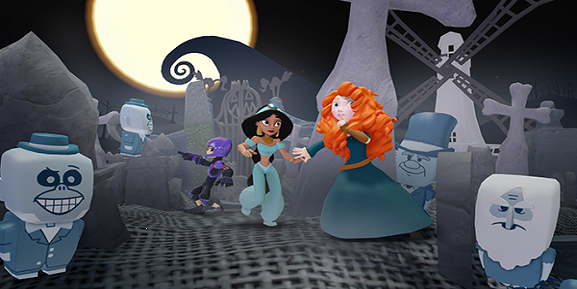 Published on October 31st, 2014 | by admin
Disney Infinity 2.0 Ushers In Halloween with Spooky Screenshots from the Toy Box and New Downloadable "Haunted Mansion" Toy Boxes
In celebration of Halloween, the Disney Infinity team at Avalanche Software created new spooky screenshots featuring soon-to-be released (November 6) Disney Originals characters set in a variety of haunted Toy Boxes.  The image above showcases Merida, Jasmine and Hiro dodging ghostly ghouls in Halloween Town, the iconic home of Jack Skellington in "The Nightmare Before Christmas."
Feel free to share them with your readers as a special Halloween treat from the folks at Avalanche Software and Disney Interactive.
Additionally, fans can download the top five winners of the "Haunted Mansion Challenge" for Toy Box creations that best capture the spirit of one of the most popular Disney theme park attractions. Check out the latest episode of "Disney Infinity Toy Box TV" for a look at the winning submissions: http://bit.ly/1zLjQU8
"Haunted Mansion" Toy Box Descriptions are below:
Lord Nochi, A Halloween Tale: Lord Nocchi was an old scientist who loved pumpkins. One day there was an accident in his mansion while experimenting with pumpkins and he disappeared… It is Halloween and you must check how much truth there is to this story. Created by Erdadi3.
Mystery of the Haunted Mansion: Deep in the bayou lies an old mansion. Explore it to find why children are missing from the local village. Find tomes and chests to help. Inspired by the original Haunted Mansion ride script. Created by Vasuri83.
Haunted Manor: A princess is locked in a haunted manor. Are you brave enough to help her? Created by xdsmmatx.
Doom Buggy Bash: Race your way through the Haunted Mansion, but make sure no hitchhiking ghost beats you to the finish. Created by InfiniFan1927.
Foolish Mortals: Join your favorite ghosts and stop Oogie Boogie from taking over the world. Hunt pumpkins, solve puzzles and stop Oogie's army. Created by CCRunner. 
Download instructions:
Select "Community Content" from the Disney Infinity 2.0 Main Menu
Select "Disney's Toy Boxes"
Select "Developer Picks"
There will be a list of all the featured Toy Boxes for players to download. Select any of the "Haunted Mansion Challenge" winners listed above to access the Halloween-themed Toy Boxes