PS4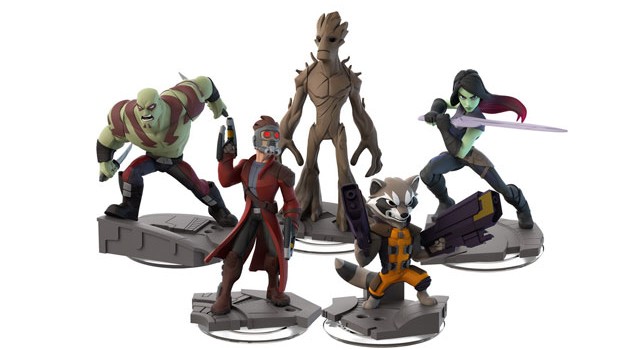 Published on September 27th, 2014 | by Admin
Disney Infinity 2.0 PS4 Review
Disney Infinity 2.0 
Format: PS4 (Reviewed), PS3, XBox One, XBox, Wii & Wii U
Genre: Action Adventure
Rating: PG
Developer: Avalanche Software
Publisher: Disney Interactive Studios
Reviewer: James Wright
One of the most unique and entertaining game franchises returns again in version 2.0 of Disney Infinity that boasts a plethora of new characters and improved gaming mechanics that makes this one of the best all-ages games of 2014. For comic afficanados, Disney Infinity 2.0 is oozing with Marvel characters that include heroes such as The Hulk, Thor and Iron Man. Also, in version 2.0 of Disney Infinity, there are three primary play sets that include The Avengers, Spider-Man and Guardians of the Galaxy.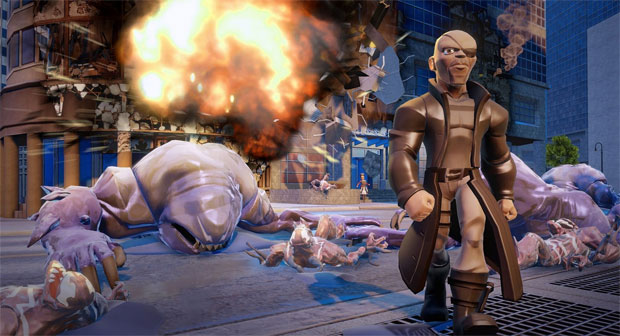 However what makes the Disney Infinity franchise so different from other games (besides Skylanders) is that it adds a few unique gaming elements into the mix with the inclusion of the Disney Infinity Base that connects to your console and then interactive action figures that rest on this. This means that the game is governed by what figures are connected to the base which makes the game a much more interactive experience.
Sure, you still have the traditional controller to navigate your characters in the environment but it gives the player more ownership of the game and the base supports two figures. It's great for collectors because of how cool the action figures look and each figure plays differently. Also, unlike the previous edition, the characters you purchased were locked to their particular game discs which is no longer the case in version 2.0 which definitely makes the title more user friendly, especially on the budget.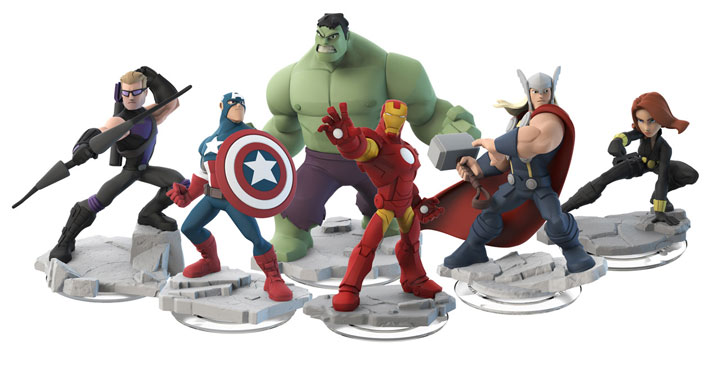 Disney Infinity 2.0: Marvel Super Heroes Starter Pack includes:
3 x new Disney Infinity 2.0: Marvel Super Heroes Figures, Iron Man, Thor, and Black Widow (compatible with 2.0 Video Game Software)
1 x Marvel's The Avengers Play set piece
1 x Disney Infinity 2.0 Base
1 x Disney Infinity 2.0 Webcode Card, which can be used to unlock digital content online
1 x Disney Infinity 2.0 Poster
1 x Disney Infinity 2.0 Video Game Software which features the 2.0 Toy Box
2 x All-New Toy Box Game Discs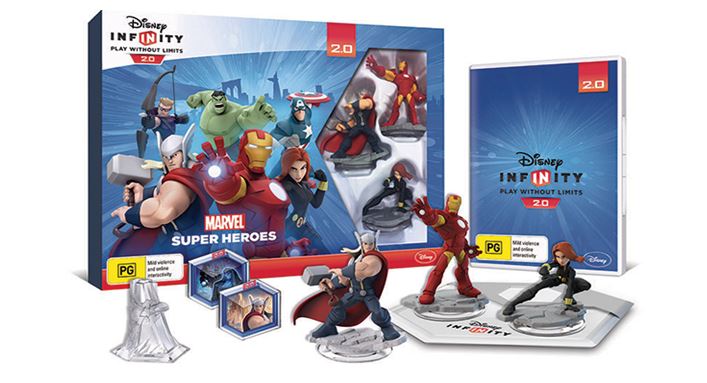 The starter pack contains everything you need to play the game with three heroes from The Avengers that include Iron Man, Thor and Black Window. As the base allows for two action figure slots, this means that if you have a friend or family member, they can join in the fun as well.
Installing the game on your PS4 is quite easy. You simply connect the base into a spare USB port, load the game and presto… everything is ready to play. The last part is to put a figure on the Base and then you can start your campaign experience. It should be mentioned that version 2.0 is compatible with the powers discs from the original, including the figures which is a nice touch by Avalanche Software, especially for those who purchased quite a bit from the last game.
Gameplay wise, Disney Infinity 2.0 is a third person action adventure that requires players to go head to head with the nefarious god known as Loki who threatens to freeze New York City and it doesn't help that he has an army of Frost Giants. Sure, the story is clichéd but it's a fun story that ticks all the right boxes of the superhero genre.
When you start the game, it takes you through a Disney inspired tutorial that eventually joins the Marvel world. From here, you can explore the hub and engage in mini-games before exploring the main storyline. Another place that is fun for a visit is the Hall of Heroes that basically gives you access to the action figures that you own with a brief blurb about them. It should be noted that some missions are for particular characters and in order to access these areas, you need to purchase that figure. However given that the figures are relatively affordable, it's actually not a bad little purchase.
The starter pack also contains two game discs which are basically mini-missions to accompany the game itself which means there's plenty of fun to be found in this game. Compared to the original, the developers have also streamlined the currency used in the title which are collected from the enemies that you defeat. Controls are sturdy, although driving a vehicle such as a car is still a little rough in terms of accuracy… or I'm a complete hack.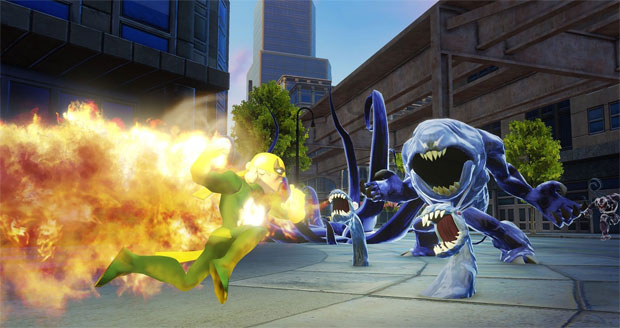 Depending on which character you play, each have their own pros and cons, including different attacks. Add in different personality types, voice acting, superhero abilities and it's easy to see why people purchase additional characters. Nothing is more fun than throwing Thor's Hammer Mjolnir at Frost Giants or flying around New York City as Iron Man or web slinging like Spider-man. It's super heroics at its best. The game also supports an RPG element that allows characters to gain experience points which can then be used to customise your characters abilities and powers. Given that, characters can reach level 20 which makes them quite powerful.
Another cool aspect about the figures themselves is that this information is actually stored on the figure which means if you visit a friend with your character, it will have the same stats as if you're at home. Also, as you play, you slowly unlock new toys for your Toy Box creation which is another element to the longevity of the title. The Toy Box is where you create your own games and worlds!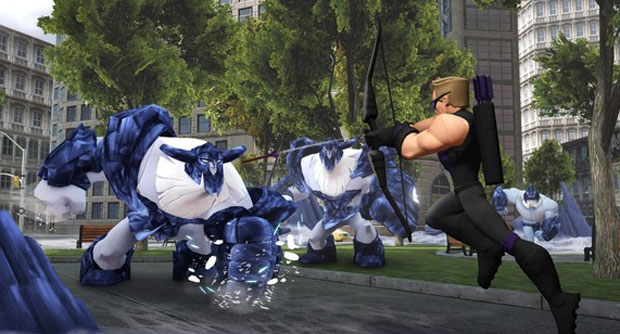 In terms of play sets, Disney Infinity 2.0 has three at present that include The Avengers, Spider-Man and Guardians of the Galaxy. Having watched the film Guardians of the Galaxy, I must admit that I had a blast accessing this universe in Disney Infinity 2.0, especially Rocket Raccoon and Groot because there abilities are so much more different than The Avengers.
The Spider-Man play set allows you to engage in the world of Spider-Man and although a little similar to The Avengers world is equally as fun. Besides, Spider-man is easily one of the best characters in this game due to hits powers, web-slinging and personality. I also love the setting of New York and the very entertaining subway missions which are reminiscent of the previous film. For fans of comics, they will be pleased to know that Brian Michael Bendis from Marvel was used to help create the stories which really mimic both the comics and movies.
Combat has received a face over in version 2.0 which makes the enemies more of a challenge opposed to just mindless drones. Given that, combat is still a combination of ranged and melee attacks but your characters have more opportunities to mix and match their abilities, including their special powers and of course the Power Discs. The controls of combat are well mapped on the DualShock controller.
Powerdiscs are another useful feature of the game which gives your characters additional abilities or bonuses by placing these discs under your figure. For example the S.H.I.E.L.D. Helicarrier Strike powerdisc allows you to call an airstrike from the S.H.I.E.L.D. Helicarrier Strike or the World War Hulk Sky powerdisc turns the skies from blue to green. With that said, some powerdiscs are totally aesthetic such the Gamma Ray disc which allows you to unlock the Original Grey Hulk Costume, whereas others are more useful such as the Hydra Motorcycle which gives you a motorbike to explore the world. Needless to say, Power Discs are another element of the game that enhances the overall enjoyment factor of Disney Infinity 2.0.
Then you have the Toy Box which is basically a creator tool which allows you to build your own Comicbook stories with all the Marvel characters. This means you can create a racing game, dungeon crawler and even a tower defence game if that tickles your fancy. The Toy Box also has mini-missions and activities such as racing but best of all, you can customise your experience. With that said, the Toy Box is one of the highlights of Disney Infinity 2.0 which easily allows gamers to create their own Marvel inspired worlds and then share their creations with other people from around the world. It's great that the developers allow for simple to complex creations, depending on your skill or time available to create these areas.
With all this virtual and real-world fun, there are a couple of cons with Disney Infinity 2.0. Given that this game targets the younger game, the gameplay is a little on the basic side for a third person action adventure. This is not to say that the gameplay is bad but it is a little limited with how your character interacts with the environment. However with the inclusion of all the great Disney Infinity 2.0 heroes, this does help keep the gameplay fresh, especially with plethora of characters that you have access to.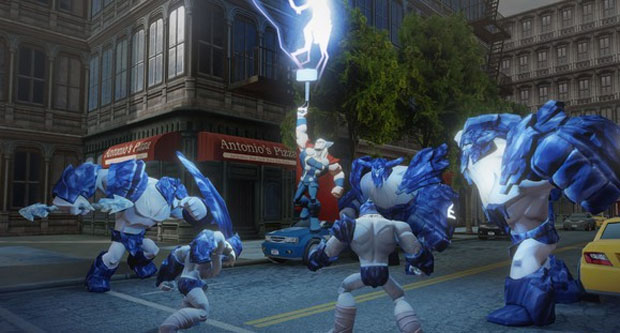 Graphics/Audio
Graphically, Disney Infinity 2.0 is a very colourful game that definitely looks like a Disney cartoon but with a Marvel feel. The characters also like their comic-book counterparts accept for The Avengers who look more like their movie counterparts… not that there is anything wrong with that. New York City looks quite big, although a little on the Spartan side and some elements of the environment repeat itself quite a bit like cars and people.
However with that said, the game does look quite impressive in 1080p and it was never designed to be Grand Theft Auto but rather an interactive game with action figures. The only issue with presentation is that at times, the frame rate does suffer and there is a little bit of clipping here and there. Audio is quite impressive in the game, especially the voice acting that matches each of the characters perfectly, whether it's the heroic voice of Captain America or the cute comments by Black Window, everything just sounds right. Did I mention that Samuel L. Jackson is also the voice Nick Fury? No? How cool is that?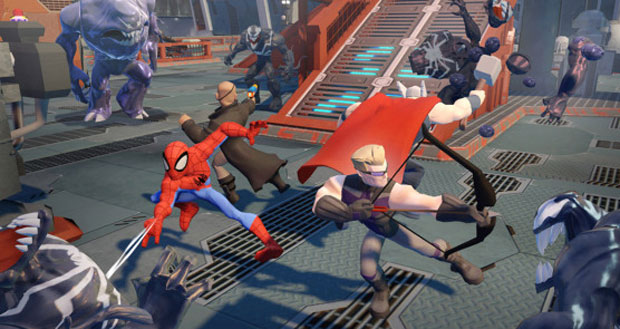 Final Thoughts?
Disney Infinity 2.0 is definitely a game for the whole family, especially as you play in conjunction or competitively as you explore Disney's latest Avengers play set. The gaming engine is sturdy, although a little simplistic at times but all in all, Avalanche Software have done a decent job at creating a very interactive game with more characters than you can poke a stick at. Disney Infinity 2.0 boasts fun for everyone plus some very awesome looking action figures that is far superior than the original game.