Games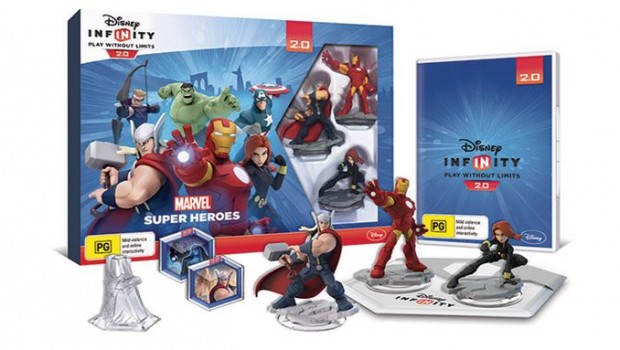 Published on September 18th, 2014 | by Admin
Disney Infinity 2.0: Marvel Super Heroes Launches in Retail Stores Nationwide
More Than 20 Marvel Super Heroes Join the Best-Selling Disney Infinity Video Game Franchise  
MELBOURNE, Aust. – (Sept. 18, 2014) – Disney Interactive today launched Disney Infinity 2.0: Marvel Super Heroes – the follow up to last year's successful hybrid toy / video game. The game is available for the PlayStation®4 and PlayStation®3 computer entertainment systems, Xbox One, the all-in-one games and entertainment system and Xbox 360 games and entertainment system from Microsoft, and the Wii U™ system from Nintendo. 
The Disney Infinity 2.0: Marvel Super Heroes Starter Pack features the 2.0 game software, the Disney Infinity 2.0 Base, Marvel's The Avengers Play Set with three character figures (Iron Man, Black Widow and Thor), two Toy Box Game Discs, a web code card and countless hours of creative play in the all-new 2.0 Toy Box.  Marvel's Spider-Man and Guardians of the Galaxy Play Sets, along with additional figures from those worlds, will be sold separately. All characters and Power Discs from last year's release of Disney Infinity are compatible with 2.0 Toy Box.
"With the launch of Disney Infinity 2.0: Marvel Super Heroes, we're delivering fresh storylines – for some of Marvel's most iconic characters – to one of the biggest video game franchises on the market," said Peter Phillips, EVP and General Manager, Interactive & Digital Distribution at Marvel Entertainment. "This is one of the most important game launches in Marvel history, and we believe that fans and collectors of all ages will be wowed by the experience." 
Featuring the world's most iconic Super Heroes, the new game introduces interactive figures from across the Marvel universe with original Play Set storylines written with the help of award-winning Marvel comic writer Brian Michael Bendis. Each new character brings a variety of super-powered and unique gameplay mechanics such as flying, web slinging, wall crawling, wall smashing and more. 
An improved 2.0 Toy Box mode makes it easier for players to create and share their one-of-a-kind levels and games with family and friends using their favourite Marvel and Disney characters, vehicles, settings and items. New and enhanced Toy Box tools and toys will make the ground-breaking game mode even more accessible for players of all ages. Toy Box Game Discs deliver new structured gameplay modes to the Toy Box where players can engage in classic Dungeon Crawler and Tower Defence gameplay using any character from across the Disney Infinity universe. 
"For the 2.0 version of Disney Infinity, we've re-tooled nearly every aspect of the game to ensure it matched the epic expectations of Marvel Super Hero fans around the world," said John Blackburn, SVP and General Manager of Avalanche Software. "Whether they're playing with the entirely new character skills and combat systems, exploring Play Sets four times larger than the original version, or building worlds in the new Toy Box, we hope fans will be blown away by the evolution of Disney Infinity."   
Community continues to play an important role in Disney Infinity 2.0: Marvel Super Heroes, with the availability of new Toy Boxes created by the recently hired Avalanche Software Community Team. These super-fans turned level designers will be designing immersive, themed Toy Boxes and episodic content for Disney Infinity players to download for free at launch and beyond. Also available at launch will be select Toy Boxes designed by Toy Box Artists from around the world at the inaugural Disney Infinity Toy Box Summit this past August.  
Developed by Avalanche Software, the Disney Infinity 2.0: Marvel Super Heroes Starter Pack carries a suggested retail price of $99.95 AUD ($129.95 NZD) and all versions are rated PG for mild violence and online interactivity. The Spider-Man and Guardians of the Galaxy Play Sets are available separately for a suggested retail price of $39.95 ($49.95 NZD). Individual character figures are available for a suggested retail price of $17.95 ($24.95 NZD) and blind Power Disc packs for $5.95 ($7.95 NZD).