Comics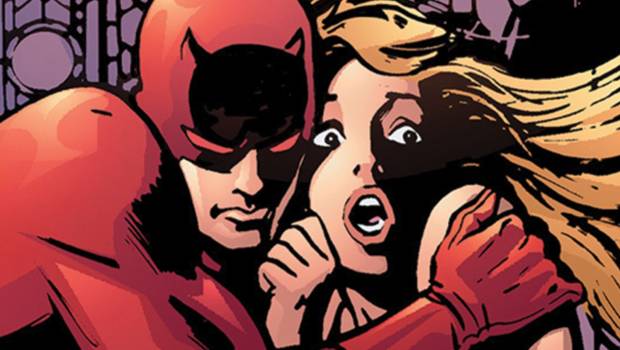 Published on April 21st, 2020 | by Adrian Gunning
DISCOVER ONE OF THE GREATEST COMIC BOOK RUNS OF ALL TIME WITH THE DAREDEVIL BY FRANK MILLER SALE
Between 1979 and 1983, two of the comic book industry's biggest legends, writer/artist Frank Miller and artist Klaus Janson, joined forces on Daredevil, redefining the character and creating one of the most acclaimed comic book runs of all time. Now is your chance to witness this landmark run for yourself with the DAREDEVIL BY FRANK MILLER SALE. DAREDEVIL BY FRANK MILLER AND KLAUS JANSON VOL. 1, 2, and 3, three collections containing the entirety of the pair's collaboration on the character are on sale now through 4/23 11PM ET on the Marvel Digital Comics Shop. These must-have volumes for any comic book fan include Daredevil #158-161, Daredevil #163-191, Peter Parker, the Spectacular Spider-Man #27-28, Daredevil: Love & War, and What If? #28.
Frank Miller and Klaus Janson's transformative work on the title elevated Daredevil into the recognizable Marvel icon he is today and cemented their place as two of the most acclaimed creators in comic book history. This seminal run introduced the beautiful and deadly assassin Elektra who went on to become one of Marvel's leading female characters. Miller and Janson also established criminal mastermind Kingpin and mad marksman Bullseye as Daredevil's greatest foes. The creator's bold storytelling choices and dark depiction of Hell's Kitchen make their take on the Man Without Fear one of the more influential comic book runs of all time and went on to inspire the hit Marvel's Daredevil television series. The classic issues contained in these collections feature other industry greats such as writers Bill Mantlo, Roger McKenzie, David Micheline, Marv Wolfman, and Mike W. Barr as well as artists John Buscema and Bill Sienkiewicz. Don't miss your chance to add this comic book masterpiece to your digital collections today using the DAREDEVIL BY FRANK MILLER SALE on the Marvel Digital Comics Shop and be on the lookout for more great digital sales in the coming weeks!
All purchases in the Marvel Digital Comics Shop are added to your personal library, and can be read on any web browser, or in the Marvel Comics app on iPhone®, iPad® and select Android™ devices! Our smart-paneling feature provides an intuitive reader experience, ideal for all types of mobile device and tablet users!
*Offer expires 4/23/20 at 11:00 PM EDT. Marvel account and internet connection required to access digital comics.