Blu-ray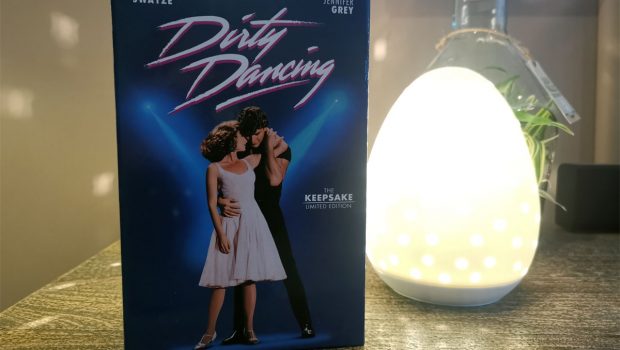 Published on June 2nd, 2023 | by James Wright
Dirty Dancing Keepsake Edition Blu-ray Review
Summary: No one puts Dirty Dancing Keepsake Edition on Blu-ray in the corner!
It's hard to believe that the classic Dirty Dancing starring the late great Patrick Swayze and equally talented Jennifer Grey was released in the cinemas over 35-years ago. As a result of the success of the film, Dirty Dancing has become an institution to some that has even spawned a musical and yes, even a video game and yes, no one puts baby in the corner.
For the uninitiated, Dirty Dancing is a classic coming of age story that revolves around Baby (Jennifer Grey) who is about to enlist in the Peace Corps. However before she signs up for the next stage of her life, she spends one last summer with her family at Kellerman's Resort where she falls for sizzling dance instructor Johnny (Patrick Swayze).
As the film was set in 1963, the dancing that Johnny and the other dancers were engaged in was considered too torrid by the older generation and as a result, Baby's father Dr Jake Houseman (Jerry Orbach) forbid her daughter from seeing Johnny. Yeah right!
Of course we all know how that ended… beautifully…  from the classic lake scene to an audience participation dance party at the end of the film, it's easy to see how millions fell in love with the premise.
So yes, Dirty Dancing is a classic and thanks to Via Vision, they have released the ultimate edition of this 20th century film with the beautifully presented Keep Sake Edition, a 7-disc collection that includes the original film in Bu-ray plus over 6-hours of bonus content from behind the scenes, the TV movie and the TV series, Living the Dream!
This is defintiely one for fans!
DISC ONE: Dirty Dancing – The Film (1987)
Audio commentary with writer/co-producer Eleanor Bergstein
Audio commentary with Kenny Ortega, Miranda Garrison, Jeff Jur, Hilary Rosenfeld and David Chapman
DISC TWO: Dirty Dancing – Special Features
Establishing Shot with cinematographer Jeff Jur – featurette
Happy Birthday, Dirty Dancing – featurette
Patrick Swayze: In His Own Words – featurette
Eleanor Bergstein: Thoughts On A Lifetime Of Dirty Dancing – featurette
Patrick Swayze Uncut – featurette
Dirty Dancing: The Phenomenon – featurette
The Rhythm of Dancing – featurette
Kellerman's: Reliving the Locations of the Film – featurette
Dancing to the Music – featurette
Dirty Dancing with Patrick Swayze – featurette
Vintage Featurette
Deleted Scenes
Extended Scenes
Alternate Scenes
Music Videos – Hungry Eyes, She's Like The Wind & (I've Had) The Time Of My Life
Outtakes
Theatrical Trailer
DISC THREE: Dirty Dancing – Special Features
Dirty Dancing: The Concert Tour (1988)
Cast & Crew Interviews – Jennifer Grey, Eleanor Bergstein, Miranda Garrison & Kenny Ortega
Screen Test Comparisons and Montage
Tributes In Memoriam, Patrick Swayze, Emile Ardolino & Jerry Orbach
Multi-angle Dance Sequences – The Lift & Everybody Dance
DISC FOUR: Dirty Dancing – The Mini-Series (2017)
DISCS FIVE & SIX: Dirty Dancing – Living the Dream (2006)
DISC SEVEN: Bonus Material
However the Keepsake Edition also comes with keepsake gifts that would make any fan dance with glee!
48-page book
Hotel Room Key
Playing Cards
Postcards
Dance Cards
In terms of presentation, this keepsake edition cannot be faulted and is a true celebration of Dirty Dancing and beyond. The video quality of the original film is impressive, considering its age and the transition to Blu-ray provides sharp images with truly vibrant colours. The additional content while made for TV still holds up well and gives a unique twist to the legendary love story between Johnny and Baby.
Final Thoughts?
Don't walk or run but dance yourself to a copy of the Dirty Dancing Keepsake Edition on Blu-ray that will bring a smile to your face, every time you look at your film collection.
Recommended and for more information please visit –