Games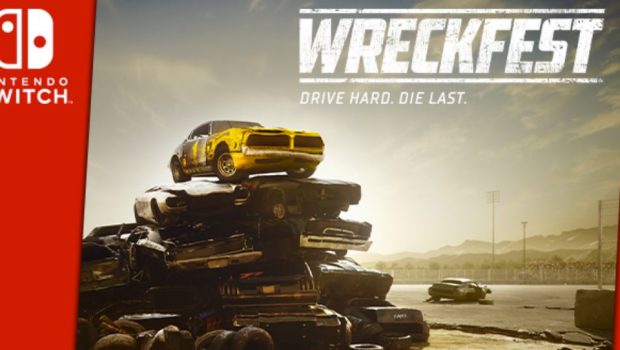 Published on May 4th, 2022 | by Adrian Gunning
Digital Pre-Order For Wreckfest Nintendo Switch Available Now!
THQ Nordic and Bugbear Studios has kicked off digital pre-orders for Wreckfest for Nintendo Switch™. The game with the best looking vehicular destruction is coming to your handheld console with over-the-top crashes, neck-to-neck fights on multiple racing tracks and a considerable amount of vehicles to choose from.
Wreckfest gives you the chance to get creative when you wreck your friends online in an up to 16-player multiplayer mode as well as in offline tournaments whether you pick a lawn mower, school bus or crop harvester – this game is all about having fun and aiming for demolition dominance.
The Nintendo Switch™ version offers two acquirable season packages additionally to the base game: Season 1 package includes 20 crazy and iconic vehicles, 20 insane roof decorations, and a car customisation pack with new armour, rims, and more. Season 2 package grants you access to 12 additional cars. SRP for the digital edition of the base game is $59.95. Season packs are sold separately.
Watch the Release Date Trailer on YouTube: https://youtu.be/e4NphpXr55U
About Wreckfest
Expect epic crashes, neck-to-neck fights over the finish line and brand-new ways for metal to bend – These are the once-in-a-lifetime moments that can only be achieved in Wreckfest, with its true-to-life physics simulation crafted by legendary developer Bugbear, who also brought you FlatOut 1, 2 and Ultimate Carnage. Burn rubber and shred metal in the ultimate driving playground!
Awesome Cars – Old, banged-up, patched-together cars that simply ooze style! From old American heavy-hitters to agile Europeans and fun Asians, you won't find anything like this in other games.
Meaningful Customisation – Change not only the look of your cars but also upgrade their body armour
Receive free updates that add new tracks and tournament challenges with unique rewards!
Multiplayer – Wreck your friends online and take racing to the limit while chasing for demolition dominance!