Books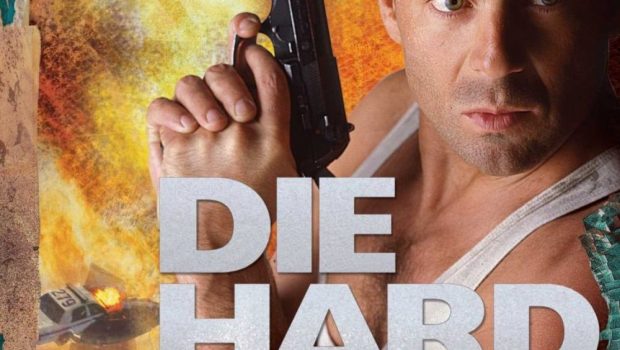 Published on December 2nd, 2018 | by Admin
Die Hard the Ultimate Visual History Review
Summary: Die Hard The Ultimate Visual History is a must have book for fans of this iconic film series that boasts amazing imagery and information to give you an exclusive look into the creation of all five films.
Yippee-ki-yay book lovers!
Written by James Mottram and David S. Cohen with a foreword by John McTiernan (Filmmaker), DIE HARD THE ULTIMATE VISUAL HISTORY is must have for fans of the blockbuster action series Die Hard. Apart from a visual snapshot of all five Die Hard films, this book is a history lesson on the series from exclusive behind the scenes content to interviews and never before released information and even touches upon other formats like video games and comics.
An Englishman in New York
When Rickman arrived, Burch recorded a taped audition with him to show to the studio and producers. "I had to teach him how to hold a gun" she remembers, "and I don't even know how to hold a gun, but he was limping his wrist down, and I knew that wasn't going to look good."
– Jackie Burch
Interestingly, Die Hard was loosely based on Roderick Thorp's novel Nothing Lasts Forever which proved a spring board for Bruce Willis' (Moonlighting) career and thanks to the late and great Alan Rickman, he created one of cinemas most enigmatic and memorable villains with terrorist thief Hans Gruber. The hero of the title was also played perfectly by Bruce Willis who played New York cop John McClane and throughout the series came up against a plethora of evil villains that unfortunately the catalyst for him all started at Nakatomi Plaza.
As fans will know, this series commenced in 1998 with Die Hard which was followed by Die Hard 2 (1990), Die Hard with a Vengeance (1995), Live Free or Die Hard (2007) and A Good Day to Die Hard (2013). Needless to say, this detailed and well-produced hardcover showcases the films well and this title even boasts an interactive nature to it such as fold-out posters, photos, additional concept art information, promotional images and plus scripts which have been added to the main book.
Fight Night
The cinematic scrap between McClane and Tony's brother Karl was another Picerni-driven fight. Again, the violence seems raw and real, with McClane head butting and punching Karl, smashing his face into pipes and finally strangling him to (apparently) death with a chain.
– Charles Picerni
Furthermore, the opening of the Die Hard the Ultimate Visual History includes a foreword by legendary filmmaker John McTiernan who discusses how he got the concept of the original movie accepted by the movie studios and with tweaks, fun and the notion of terrorist thieves, it became one of the most memorable action films of the late 20th century. Interestingly, they started shooting with just 35-pages of the new script finished but the creative team all knew how the movie would finish and without the input of Joel Silver plus an act of fate, the movie we all love (Die Hard) may not have seen the light of day.
So while the main focus of this book does revolve around the original film, it does expand into the other films (Die Hard 2, Die Hard with a Vengeance, Live Free or Die Hard & A Good Day to Die Hard) which all tried to mimic the soul of the first and while Die Hard 2 was a blockbuster hit, the other movies did seem different in terms of their story telling.
New York State of Mind
People gathered wherever production went. The scene in Harlem, when McClane first meets Zeus, as he carries the sandwich board with its racist slut, was tough recalls Vajna. "We had a lot of difficulties controlling the crowd".
– Andrew G. Vajna
Sure, they were entertaining films and as the book describes, their departure from the soul of Die Hard was more about keeping the franchise fresh and giving their competitors a run for their money.
With that said, Die Hard 3 may have been a better film if they stuck to the more unique plot of it taking place on board a ship. Still, it's an interesting journey about our favourite action hero character, John McClane and this book truly celebrates that element. I also loved seeing some of the posters included in this book, discussion with members of the production team and more importantly, the amazing photos that grace this book from all the movies.
Final Thoughts?
Here we are 30 years after the original Die Hard was released and I doubt that its creators and stars knew the impact this series would have in the film industry and fans as tough-as-nails New York cop John McClane (Bruce Willis) would face the world's most nefarious villains as he saved the day on numerous occasions. More importantly, this well-written bible of all things Die Hard is a true celebration and if you want to know more, Die Hard: The Ultimate Visual Dictionary is truly a must have book for your collection and a title that can be revisited on numerous occasions.
Highly Recommended!
Gallery
Book Details
ISBN: 9781789090512
ISBN-10: 1789090512
Audience: General
Format: Hardcover
Language: English
Number Of Pages: 224
Published: 9th November 2018
Publisher: Titan Books Ltd
Country of Publication: GB
Dimensions (cm): 27.9 x 23.5  x 2.4
Weight (kg): 1.0