Games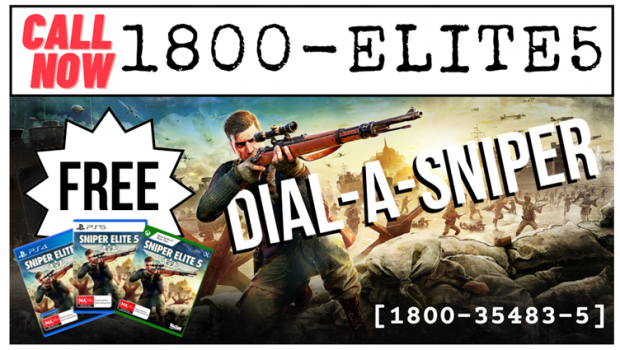 Published on May 25th, 2022 | by Adrian Gunning
'DIAL-A-SNIPER' HOTLINE OPENS FOR AUSTRALIANS ON THE LAUNCH OF SNIPER ELITE 5
Australians around the country are invited to dial into their most important mission briefing yet, ahead of the launch of Sniper Elite 5: the latest instalment of Rebellion's award-winning Sniper Elite series. In partnership with retailer EB Games, distributor Five Star Games has created a "Sniper Hotline" – 1800ELITE5 – where the public can receive coded information which will lead them to a real copy of the game on a console of their choice.
The premise is simple: Dial the number 1800 ELITE5 (1800 354 835) between 0800 and 2000 Thursday 26th and Friday 27th May and follow the prompts to be granted a special code that can be redeemed for a copy of Sniper Elite 5. There are 100 copies of the game scattered throughout Australia, waiting to be scoped out, but call in quickly as those 100 copies are only available for collection until Monday 30th May.
Managing director and chief head-hunter at Five Star Games, Darren MacBeth, says of the hotline: "The new Sniper Elite 5 introduces the idea of Invasion Hotlines – phones found in-game which can be used to help locate the enemy – and we thought 'what better way to bring this game to life in the real world than to manifest the hotlines themselves!' The Sniper Elite franchise sells extremely well in Australia and we're stoked to have EB Games join the fray with us to help confirm what we already knew: This is the best entry to the Sniper Elite series yet."
Sniper Elite 5's expansive campaign is set in France in 1944 and centres around the events of D-Day. Elite marksman Karl Fairburne uncovers a Nazi plot called Operation Kraken that could turn the tide of the war back in their favour. Working in the shadows behind enemy lines, Karl must use all the skills at his disposal to destroy Operation Kraken and the mastermind behind it: Abelard Möller.
Sniper Elite 5 launches physically on 26th May for PlayStation®5 (PS5™), Xbox Series X, PlayStation®4 and Xbox One. The 1800 ELITE 5 hotline is open to all callers around Australia from the 26th – 27th of May at 0800 – 2000 (8:00am to 8:00pm for non-military types). Sniper Elite 5 can be purchased in-store and online from EB Games and at major retailers nationally.