Games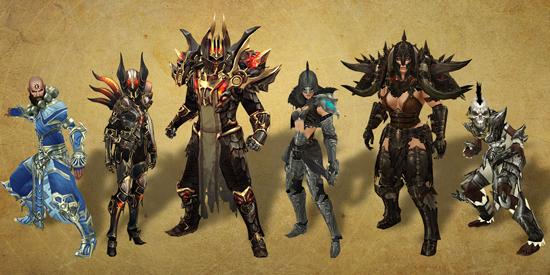 Published on March 22nd, 2017 | by admin
Diablo III Necromancer Update; Patch 2.5.0 is Now Live; Season 10 is Just Around The Corner!
The balance of Sanctuary has been threatened, and the Priests of Rathma have sent an acolyte to help restore it! Wielding the visceral powers of blood and bone (along with a cadre of curses), the Necromancer will soon be joining the battle to protect Sanctuary from the Burning Hells in Diablo III. The development team has been hard at work creating the Necromancer, and we wanted to share with you a glimpse of what's coming up, including a selection of skills and skill runes the class possesses. Read the Necromancer update for all the details.
The Necromancer is part of a content pack which includes the class, an in-game pet, cosmetic wings, two additional character slots, two additional stash tabs (on PC), a portrait frame, pennant, banner, and a banner sigil. It will launch alongside a free major content patch that includes two new zones, Challenge Rifts, and more. These additional features will be available for all players with Diablo III: Reaper of Souls or the Ultimate Evil Edition.
The launch of the Necromancer is currently aiming for the second half of 2017; stay tuned for when we have an official release date to share!   
Patch 2.5.0 is Now Live!
Patch 2.5.0 is now live for Diablo III, and adds some exciting new features to the game as well as quality of life updates! One of these new features is The Armoury, which will enable you to store up to five completed character builds on each character, and allow you to switch seamlessly between set items, skills, runes, and gems with a simple click of a button. You will also find a new tier of very rare Ancient items called Primal Ancients. These items will have players aiming for perfect sets of gear! Primal Ancients can drop from any source of Legendary item in the game, including Horadric Caches, Kadala, and Kanai's Cube.
To read all the details about Patch 2.5.0, please visit the Diablo III website.
Season 10 is Just Around The Corner!

Diablo III Season 10 begins on 1 April AEDT/NZDT! We're very excited to introduce seasons to those who own the PS4 and Xbox One versions of the game for the very first time! Fans who play Diablo III on PC, Xbox One, and the PS4 will be able to start Season 10 next week, and gain seasonal and cosmetic rewards, conquests, and a new Class Set when completing certain chapters in their seasonal journey.
Not familiar with Diablo III Seasons? It's a fresh way to experience the game as though you were playing it for the first time—complete with rapid character levelling and gear upgrades. While a Season is active, players can create characters that are separate from their current non-Seasonal characters. If you've been itching to take a friend through the game for the first time, or simply want to experience the joy of playing the game with a clean slate, Seasons are the perfect way to do so.
For more information about Season 10, visit the Diablo III website.