Films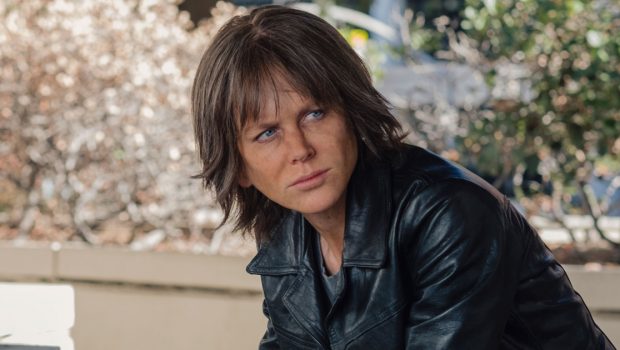 Published on March 18th, 2019 | by Damien Straker
Destroyer – Film Review
Reviewed by Damien Straker on the 11th of March 2019
Madman presents a film by Karyn Kusama
Produced by Fred Berger, Phil Hay and Matt Manfredi
Written by Phil Hay and Matt Manfredi
Starring Nicole Kidman, Sebastian Stan, Toby Kebbell, Tatiana Maslany, Bradley Whitford, Jade Pettyjohn and Scoot McNairy
Music by Theodore Shapiro
Cinematography Julie Kirkwood
Edited by Plummy Tucker
Rating: MA15+
Running Time: 120 minutes
Release Date: the 21st of March 2019
One's reception of Destroyer, a crime thriller starring Nicole Kidman as a Los Angeles detective, is as disorientating as its scrambled plot. The film's dreary opening hour is loaded with questions and plot holes in its generic storyline. However, the second portion forgoes its linearity and mends its wobbly plot points. If nothing else, we are left with an interesting but flawed jigsaw to mull over. What is unforgivable about Destroyer though is its unapproachable characters and the gaps in the story that fail to satisfyingly bridge the past and present. If the director, Karyn Kusama (Æon Flux; Jennifer's Body), exchanged the clever but convoluted story form for a simpler approach it may have achieved a deeper emotional resonance.
The film opens in a hazy close-up shot of Nicole Kidman's eyes. Her character, Erin, can barely walk as she awkwardly stumbles towards a crime scene under examination. She tells the other officers that she had a rough night. We initially ask why they would allow Erin, with her gaunt cheekbones and a limp, to continue in such a terrible state. The police are busy reviewing the body of a man who has been killed with a 'ghost weapon' and with no witnesses abound. Erin recognises the tattoos on the back of the man's neck because she has the same ones.
Another strange occurrence is that Erin is sent a hundred-dollar bill with purple ink splattered on it. It is a message that Silas (Toby Kebbell), a gang leader, has returned. Erin undergoes a mission to track down his gang members and then capture him. Through flashbacks, we learn that sixteen-years-ago Erin was a deputy sheriff tasked with infiltrating the group. Chris (Captain America: The Winter Soldier's Sebastian Stan) was also undercover and helping her. In addition to hunting the old gang, Erin is struggling to handle her dysfunctional teenage daughter, Shelby (Jade Pettyjohn). Erin and her ex-husband, Ethan (Argo's Scoot McNairy), are concerned because she is dating a lowlife much older than her.
The first hour of Destroyer is a terribly underwhelming detective story. It is photographed by Karyn Kusama and cinematographer Julie Kirkwood with dull naturalism as Erin drives along the sunlit highways of Los Angeles and scrambles through gritty interiors to chase down her leads. Between the black leather jacket of its protagonist and its monotone atmosphere, Destroyer is desperate to convince us of its edginess. Its bleak, humourless mood and sickening violence is compounded by an unwavering narrative structure when Erin's pursuit of the gang is dramatised with boring linearity.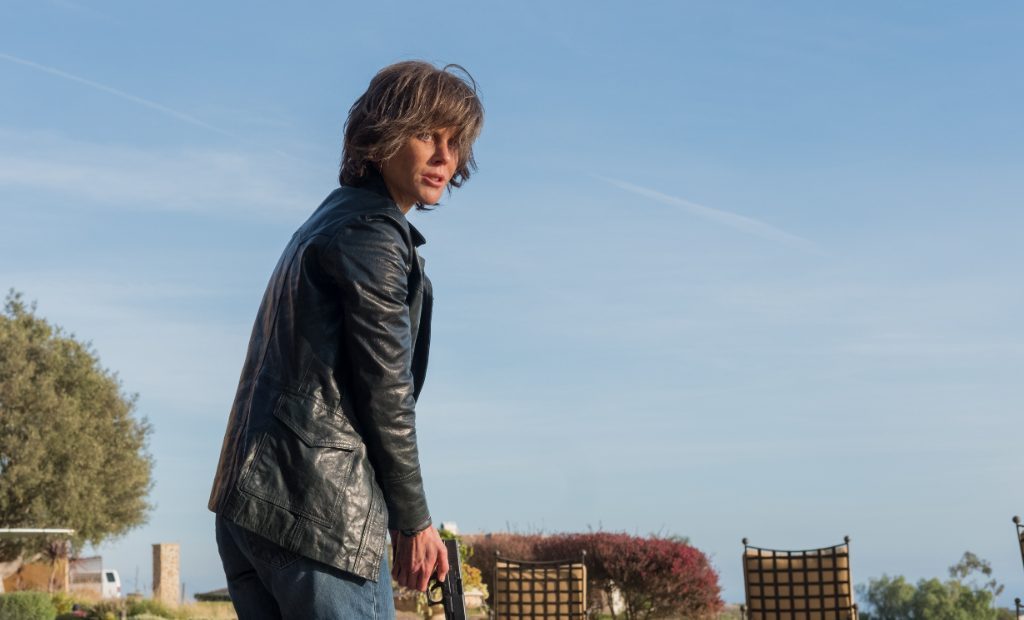 The episodes where she reunites with each gang member range from grotesque to laughable. In an early episode, Erin is forced to give a disabled man an extended hand job in exchange for information. It is disturbing and gratuitous to watch. Another episode shows that Kusama is uncomfortable shooting action. Erin undertakes a poorly staged chase scene when a man runs from her but moves as though his shoes are tied together. There is little tension in this cliched setup.
Furthermore, Bradley Whitford (The West Wing; Get Out) stars as a shonky lawyer named DiFranco. It is a terribly ham‑fisted, over‑the-top cameo and the scene itself is needlessly violent. Meanwhile, the dialogue in the linking scenes, where Erin talks to her fellow cops, is unmemorable with flat lines such as, 'Silas is back and I'm bringing him in!' and 'where do I find him?'. Some wit or subtle humour might have countered the bleak mood and terrible violence.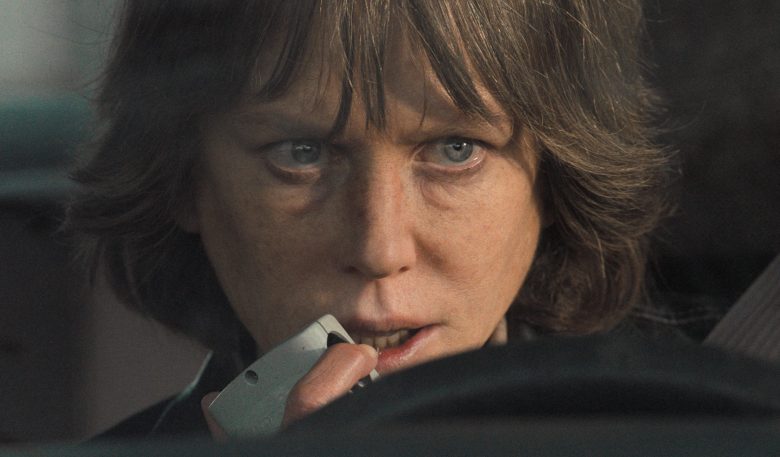 Credibility is the first casualty of the film's daylight bank robbery. Erin trails Petra (Orphan Black's Tatiana Maslany; underused), the girlfriend of Silas. Petra and her new gang enter a bank with high-powered weapons. The setup appears exciting and urgent. However, the vision of Erin taking her own assault weapon from the trunk of her car and almost single-handedly killing the thieves inside is absurd and more befitting of a video game, such as Max Payne (2001) or Grand Theft Auto 5 (2013). The sequence is badly stage, particularly when Petra calmly walks away on foot and tries appearing inconspicuous by lining up in a café with a heavily bleeding leg wound. What Erin does to Petra afterwards is a preposterous transition from a detective roughing up suspects for answers to outright vigilante behaviour.
The flashback scenes are heavily fragmented and lack conviction. Once again, the film tries to be edgy by including scenes such as one where Silas encourages a gang member to play Russian roulette. Yet the subplot is still clumsily realised. Erin is thrown into the gang with no build up or tension, and the group resembles a burnt-out rock-and-roll party more than a band of organised thieves. There is one involving set piece that explains why Erin drowns in tortured feelings of accountability. The way that this sequence affects the present-day scenes offers a sizable jump in the quality of the drama. Similarly, there is a clever twist involving the film's structure that answers our questions. Less plausible are the details between the flashbacks and the present day, including a dye pack from the first robbery, when Erin and Ethan first met, and the ludicrous age gap between Erin and the other robbers.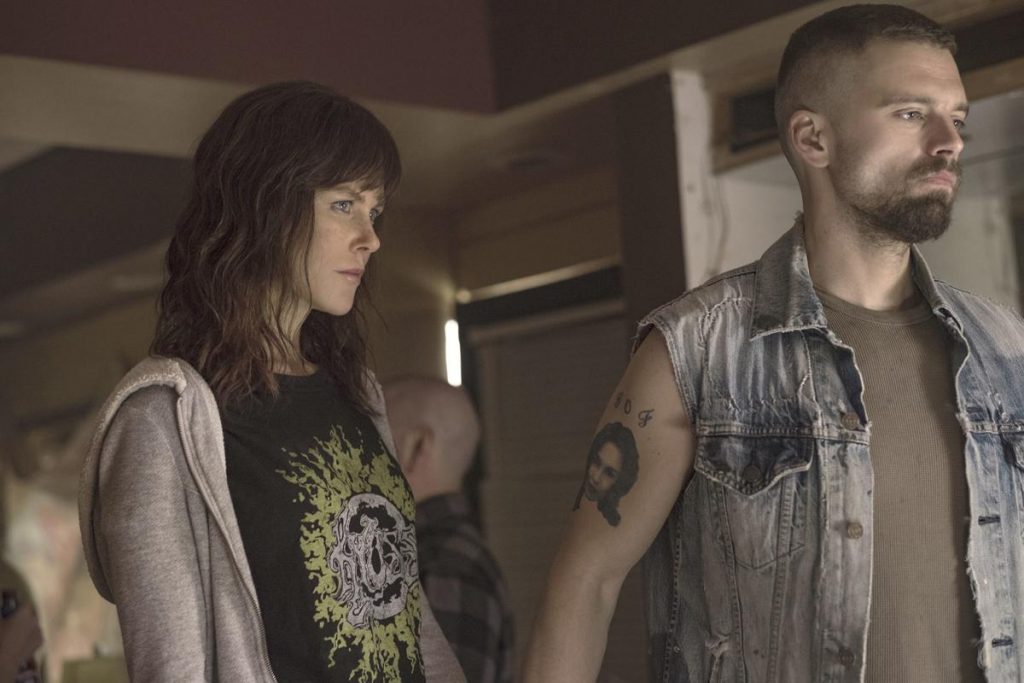 Destroyer is further proof that Nicole Kidman has a gift for playing incurably wounded characters. Her physical demise, from her mattered hair to her sunk face, is a compelling trait she uses to underline Erin's psychological trauma and ruefulness. The actress is isolated though because everyone else lacks partiality. There is no sense of faded camaraderie between the current gang members. Erin's bond with Chris in the gang flashbacks is interesting but not etched in any deep psychological basis besides sex. None of the other cop characters are well developed. In her personal life, Shelby and her dodgy boyfriend are obnoxious and Scoot McNairy, an interesting character actor, is wasted as Ethan. It is a superfluous role that any actor could have played and adds nothing to the film.
Outside of the unappealing characters, what remains is a wonky thriller with one good performance and a gimmicky but intriguing plot structure. After seeing Destroyer, I have reflected on whether this would have been better as a linear story, starting from when Erin was first introduced to the gang. It would not have the same surprises but for the writers and director it would have allowed them to develop the flashbacks with far more tension and conviction. Instead, the fragmented shape reminds us that while there was potential for a gripping crime story, the best plans can always go awry.
Summary: If the director, Karyn Kusama, exchanged the clever but convoluted story form for a simpler approach it may have achieved a deeper emotional resonance.