Events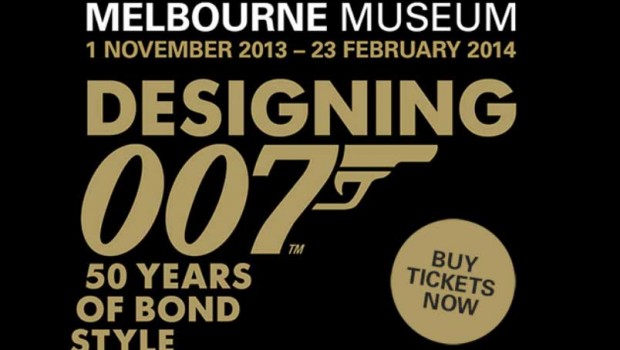 Published on October 31st, 2013 | by Admin
Designing 007: Fifty Years of Bond Style at Melbourne Museum this Summer
Rare costumes, atmospheric sets, iconic gadgets, props, original photographs and concept drawings will thrill audiences in this summer blockbuster exhibition celebrating the 50th anniversary of the James Bond franchise from 1 November 2013 to 23 February 2014.  
Melbourne is the one and only stop in Australia for Designing 007: Fifty Years of Bond Style this summer. To date, the world tour of the exhibition has included London, Toronto and Shanghai.
Designing 007: Fifty Years of Bond Style presents the craft behind the icon, focusing on the distinctly British luxuriance of the world's most iconic movie brand. The exhibition looks at the design and style of the James Bond franchise and the craft behind the sets, the music, gadgets, vehicles, technology and fashion over the course of five decades.
"Blockbuster cultural events such as Designing 007 deliver a significant economic contribution to Victoria, but also enhance the social capital and liveability of Melbourne," said Ms Louise Asher, Victorian Minister for Tourism and Major Events.
Cultural tourism drives visitation throughout the year, making a major contribution to our State's $19 billion tourism industry.
"These blockbuster exhibitions play a critical role in positioning Melbourne as Australia's cultural capital. The Victorian Government is committed to working with its cultural institutions both in Melbourne and regional Victoria to attract high profile exhibitions," said Ms Asher.
"We're delighted to work with our colleagues from the Barbican to bring such a popular exhibition to Melbourne Museum. Alongside the Spring Racing Carnival, the Australian Open Tennis and the Boxing Day Test Match, Designing 007: Fifty years of Bond Style will thrill visitors from interstate and overseas," said Dr Patrick Greene, CEO, Museum Victoria.
Items such as Roger Moore's white tuxedo from Octopussy and the spacesuit from Moonraker are displayed alongside the orange bikini worn by Halle Berry in Die Another Day and Daniel Craig's sky-blue trunks from Casino Royale in the Designing 007: Fifty Years of Bond Style exhibition.
Exhibits on display also include Scaramanga's Golden Gun from The Man with the Golden Gun, Oddjob's steel-rimmed bowler hat and the proto-type of Rosa Klebb's deadly flick-knife shoes worn in From Russia with Love, Tee-Hee's metal arm from Live and Let Die and Jaws' fearsome teeth which first appeared in The Spy Who Loved Me.
The Designing 007: Fifty Years of Bond Style exhibition is a collaboration between the Barbican and EON Productions. The unique exhibition was curated by the Barbican, guest-curated by fashion historian Bronwyn Cosgrave and Oscar®-winning costume designer Lindy Hemming and designed by Ab Rogers who had unprecedented access to EON Production's archive. Designing 007: Fifty Years of Bond Style is a multi-sensory experience where screen icons, costumes, production design, automobiles, gadgets, special effects, graphic design, exotic locations, weapons, stunts and props combine to immerse the audience in the creation and development of Bond style over its 50-year history.
TICKET INFORMATION
Melbourne Museum via www.museumvictoria.com.au/melbournemuseum or 1300 130 152
Ticketek.com.au/bondstyle or 132 849 or any Ticketek agency
For Official Travel or Accor Stay & See® Packages visit showbiz.com.au/bond 
More information is available at www.designing007melbourne.com 
TIMES:
Monday to Friday – Opens 10am
Saturday & Sunday – Opens 9am 
PRICES (includes general entry to Melbourne Museum):
Adults from $24
Children from $14
Concessions from $16