Games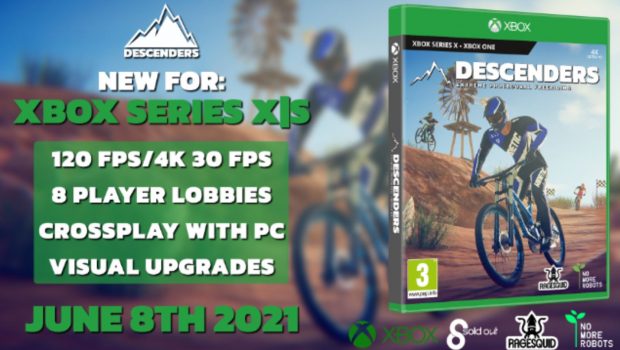 Published on May 22nd, 2021 | by Admin
Descenders rides to Series X/S next-gen on June 8
Sold Out and No More Robots are excited to announce that the physical version of extreme downhill biking game Descenders will be available on Xbox Series X|S and Xbox One consoles on June 8 – the same day the game is optimised for Xbox Series X|S.
Players who pre-order the physical edition will receive a day-one unlock for the 'Lantern Lux Set', which includes a set of rare, glow-in-the-dark customisation items for their outfit, helmet and bike. These items can also be unlocked in the game by player progression.
"We're thrilled to be releasing a physical Xbox edition of Descenders simultaneously with the game's Xbox Series X|S update this June," said Katie Clark, Senior Product Manager at Sold Out. "Whether it's new players or existing fans looking to pick up a physical copy for their collection, we can't wait for Xbox players to lead their team to glory with this physical Xbox release."
Players taking up the challenge on Xbox Series X will get to compete in 8 player lobbies and experience improved visuals, while having the option to play in a 4K resolution mode or 120FPS performance mode.
Descenders is extreme downhill freeriding for the modern era, with procedurally generated worlds, and where mistakes have real consequences. Take on different jumps, slopes and hillbombs every time you play, and control every subtle movement of your rider, with an in-depth physics system made for slick whips and scrubs.
Build your rep in a fully-featured online Rep system that lets you show off your worth and earn new bikes and threads. Lead your team to glory and become the next legendary Descender.
For more information on Descenders, visit descendersgame.com.