Comics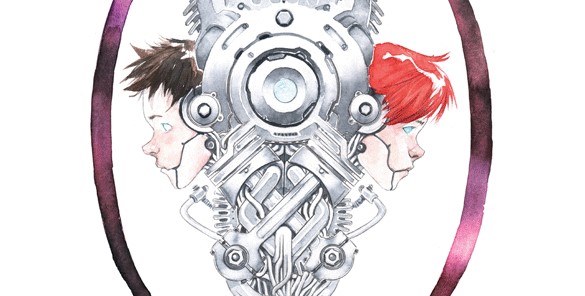 Published on December 20th, 2017 | by Carrie Griffin
DESCENDER DELUXE EDITION VOL 1 HC REVIEW
Summary: A great mixture of story development and stunning graphics.
A young robot boy named TIM-21 is a companion robot of a boy named Andy. In a universe where androids have blown to pieces the way of life for many, the robots are outlawed and hunted by bounty hunters. The graphic novel follows along with Tim and his companions as they struggle to stay alive in a universe with so much war.
The first issue opens before the war, when a group of planet-sized robots, called the Harvesters, come and destroy the way of life of the civilization. We skip ahead ten years and meet TIM-21 who has been asleep for the past ten years. Him and "his family" lived on a mining development. He slowly finds out what has happened since he was "sleeping" and is trying to find his companion and his mother. Bounty hunters come and attack him and the adventure continues from there.
The writing style of each issue in this deluxe edition is quite interesting. I really liked how the writer relieved information throughout the story. As we get introduced to more characters we slowly learn more and more about their identities and their backstories. As the series continues on more and more reveals to come out in the writing. The story never feels bogged down with this information though and it all feels essential to get to know the characters and where they are coming from.
Another aspect of the writing that really sticks out throughout is the characters. We follow along TIM-21 throughout the entire piece but also his companions. Each is developed and has characteristics that make them intriguing to continue to read about. The characters range from humans, many sorts of alien races, and many types of robots. Each has their own motivations in the wars and struggles that have been happening since The Harvesters came and destroyed many of their lives. The integral part of the overarching story is the fact there are both good and bad characters on both sides of the battle. Not all of the androids have done horrible things but not all of the humans and aliens can be trusted at face value. The idea of grey areas of thinking can be seen throughout the entire story. Neither side can be considered either good or evil.
What really drew me to this graphic novel from the very first page was the magnificent illustrations. The art style is beyond beautiful and was stunning to look at, even with some of the more grotesque scenes. Each panel has a simplistic painted background that really helps each of the characters and other details to come alive over it. The watercolor feel to each panel makes a stunning story stand out even more.
Many of the different characters get different types of lettering depending on who they are. The aliens and the humans have one type and then many of the androids will get a more synthetic type of font. The only android that seems to not is Tim. Tim is one of the androids that is humanized more and also, we are meant to symphonize with his character.
 Overall, this as an incredibly made series that I cannot wait to continue on with. I enjoyed reading about everything that has happened in this universe since The Harvesters had started wreaking havoc. Each character was complex and brought different sides to this story that made it a joy to continue to read. With a great mixture of story development and stunning graphics, this is a graphic novel that I cannot recommend enough. If you are a science fiction fan I would say that you should pick it up. I believe that you will be impressed by it.
---
COMIC DETAILS
CREATIVE TEAM: Jeff Lemire and Dustin Nguyen
PUBLISHER: Image Comics
PUBLICATION DATE: December 13, 2017
REVIEWER: Carrie Griffin