Comics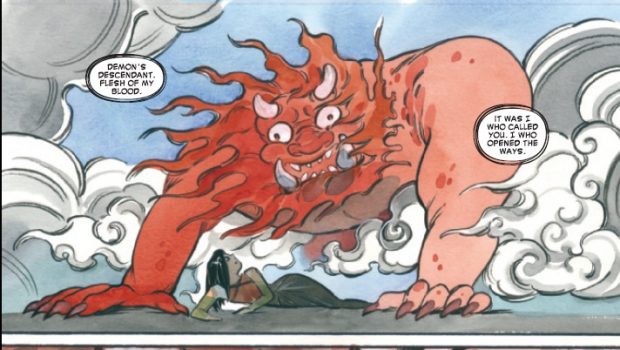 Published on May 9th, 2023 | by Tim Chuma
Demon Wars: Scarlet Sin #1 Review (2023)
Summary: While it would be best if you read the rest of this series since this is the conclusion, it is one of the rare instances where not knowing what is going on is really an impediment to enoying the experience.
Mariko Yashida, descendent of the Oni King finally has to pick a side in the Yokai War which reaches its conclusion. Obviously things will make more sense if you have been following this story but the artwork is good enough to just enjoy it on its own merits.
Almost two years ago I reviewed the first one in the series of these and thought it had good promise, obviously it would serve you better to go back and read all the series in between to get more out of this.
For fans of this artist I would recommend it as she also worked on the recent Star Wars: Darth Vader – Black, White & Red and it is the most unique story in that compilation.
If you know about Yokai in Japanese culture you will be able to pick out more of the characters too, I know a little and did pick some out as the style is very distinctive but those characters are still recognisable.
This is a rare story where not knowing what is going on is not an impediment to enjoying the story as it sweeps you along with the visuals and still manages to tell a compelling story on its own.
Well worth a look if you are a fan of Yokai and this artist.
Comic details:
Writer: PEACH MOMOKO
Penciler: PEACH MOMOKO
Cover Artist: PEACH MOMOKO
Publisher: Marvel
Published: May 03, 2023