Events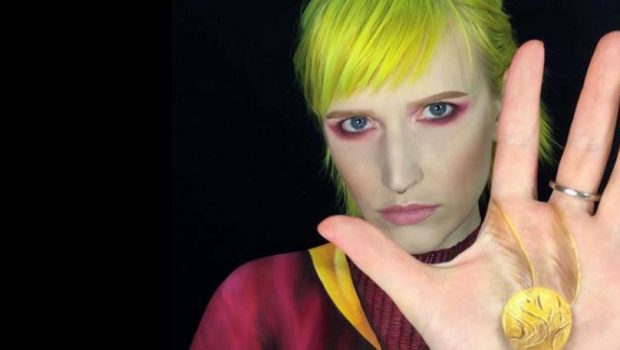 Published on November 9th, 2017 | by Admin
Delilah Crane's SupaNova Makeup Tips
Tip #1 Outline first
Just like you use a pencil to sketch a drawing before making it permanent with a marker, the same applies for your Cosplay makeup. Using a skin coloured eye pencil such as INGLOT's Kohl Pencil in shade 05, outline your design. This way if you make a mistake you can simply wipe it off or blend it into your foundation – no need to start your look all over again!
Tip #2 – Duraline will be your saviour
I know that not everyone has an endless supply of face paint in his or her makeup collection and that's why I suggest you invest in INGLOT's duraline. The waterless clear liquid intensifies the colour of any powder and when added to gel liners can be used as a face paint to cover larger areas of the face. Using other skin safe products that you already have around you – such as liquid lipstick as paint, or eyelash glue instead of adhesives are also great options!
Tip #3 – Shadows make it realistic
When painting clothing, jewellery or 3D designs on your body, take it to the next level by using a medium brown eyeshadow and shading the skin underneath it. This will give it the illusion that the object is sitting on the skin making it really stand out!
Tip #4 – Make it pop
To make your design pop, contrast the use of shadows with highlights. Using a white gel eyeliner paint small highlights along the top of your design, directly opposite to the areas that you've shaded. You can do this subtly or if you're after a cartoon effect opt for a more intense highlight.
Tip #5 Lock it in!
Once you have finished creating your base designs with paint or liner, use a similar coloured eyeshadow or translucent powder to set it. When you're happy with the final look carefully spray your design with a fixer spray – this will completely lock it in!
Tip #6 Finishing touches
It's so important that after all of your hard work that you add some finishing touches to really make your costume stand out. Accessories such as wigs, false eyelashes and contacts are all optional extras that are going to take your character to the next level!
Delilah Crane – INGLOT Cosmetics Professional Makeup Artist
Instagram: @delilah_crane
Mentioned Products:
Duraline – https://inglotcosmetics.com.au/base/81-duraline
Kohl Pencil – https://inglotcosmetics.com.au/eyeliner/249-kohl-pencil#/kohl_pencil-05
AMC Eyeliner Gel (White) – https://inglotcosmetics.com.au/eyeliner/99-amc-eyeliner-gel#/amc_eyeliner_gel-76