Comics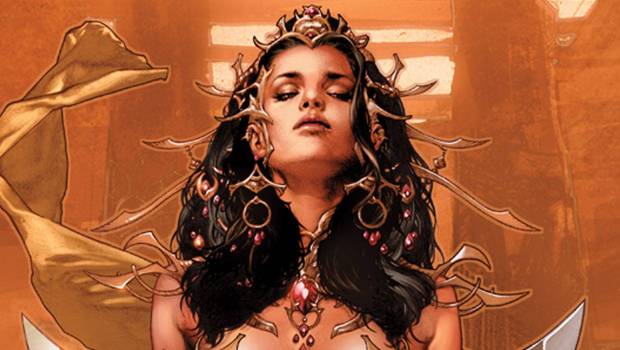 Published on January 4th, 2018 | by Andrew Bistak
Dejah Thoris #0
Summary: Dejah Thoris #0 provides an excellent jumping on point for new readers
This introductory priced issue from Dynamite at just 25 cents is by Amy Chu and Pasquale Qualano which revolves the Princess of the Helium Empire on Mars, Dejah Thoris. The story begins before the red planet was red… and it was a golden age that had beautiful oceans filled with life and vast green expanses which did not need the atmosphere factories of today. However in time, the planet was dying and the Martian races were forced into an uneasy alliance where we're introduced to a young Dejah Thoris who defiantly tells her grandfather that she will find the mythical Ephysium, a city of gardens and water.
As we fast forward to another time, we're introduced to an older and a little wiser Dejah who makes a promise to bring the planet back to life as she searches for answers without her father's knowledge. However when her father returns to their castle with a captured and dangerous white ape, she asks him to spare the life of this creature. In turn, he takes Dejah to the royal prison to teach her that these prisoners would kill her if they will given the chance.
Dejah disagrees and wants to find answers and as she finds one of the hidden passages beneath the palace, this takes her to the captured white ape and the prison where she meets a green martian who informs her that he has seen the gardens of Ephysium. Tricking her family and the guards, she manages to free the green in a hope that she will be taken to the gardens, however our young princess is tricked as the issue ends with Dejah learning a valuable lesson.
Final Thoughts?
Dejah Thoris was an interesting read, especially for those readers that want to know more about Edgar Rice Burroughs classic pulp fiction series and is a great jumping on point. Furthermore it was well written by Amy Chu who brings these characters to life that when matched with the art from Pasquale Qualano, it created a gripping and enjoyable comic and for 25 cents, you really can't go wrong!
Gallery