Events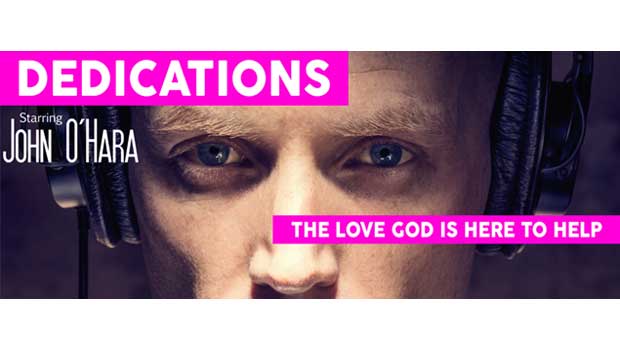 Published on July 9th, 2015 | by admin
DEDICATIONS – STARRING JOHN O'HARA
Dedications – Starring John O'Hara had its World Premiere at the 2015 Adelaide Cabaret Festival. Applauded by critics and audiences alike, Dedications' next stop will be Melbourne, performing at Chapel off Chapel on Friday 14 and Saturday 15 August.
Tickets are on sale now at www.chapeloffchapel.com.au
'John O'Hara inhabits the characters and songs of Dedications with such utterly scary comic conviction that he single-handedly deserves an award for best ensemble performance.'
– The Advertiser
In a tour de force inspired by Australia's seminal daggy late night radio program, John O'Hara (Cats, Wicked, Rock of Ages), inhabits multiple characters as they confess, recollect and confide in the Love God. Experience their heartache and tales of triumph as they call in, request a song and share the stories of a nation in and out of love.
It's a show about people, about relationships and memories, but most of all it's about connection – how we do it and why. And as the familiar strains of Celine or Lionel or Whitney transport us back in time, we know The Love God will always be there, just a phone call away. Ready to listen, to talk and of course to play that special song for that special someone.
Written by Anthony Harkin and John O'Hara, with Direction by Anthony Harkin, Choreography by Melanie Hawkins and Musical Direction by Helpmann and multiple Green Room Award Winner Luke Hunter.
Featuring Classic love songs from artists including Whitney Houston, Aerosmith, Lionel Richie, Michael Bolton, Kiss, Cyndi Lauper, Leonard Cohen and more.
www.facebook.com/dedicationsau
NATIONAL PERFORMANCE DATES
CITY               Melbourne, VIC
VENUE          Chapel Off Chapel
DATES            14 & 15 August, 2015
TICKETS         www.chapeloffchapel.com.au
CITY               Perth, WA
VENUE          Perth Downstairs @ The Maj
DATES            20, 21 & 22 August, 2015
TICKETS         http://premier.ticketek.com.au/
CITY               Geelong, VIC
VENUE          GPAC – WNTR Cabaret Festival
DATES            28 & 29 August
TICKETS         www.gpac.org.au