Blu-ray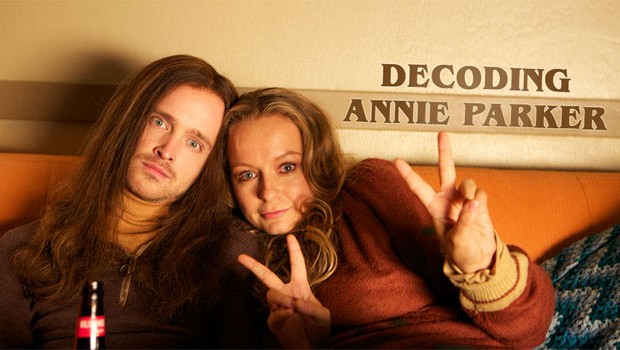 Published on May 3rd, 2015 | by admin
Decoding of Annie Parker Blu-ray Review
Summary: The Decoding of Annie Parker is an interesting story but misses the mark
Based on a true story, the Decoding of Annie Parker is written and directed by Steven Bernstein that is based on a true story with the theme revolving a woman's fight against breast cancer. The story is about Annie Parker (Samantha Morton), the younger of two sisters who lose their mother early on to breast cancer. As both sisters grow into adulthood, their father also passes awayand when Joan, the oldest sister of two is diagnosed with breast cancer, Annie starts to question whether this cancer is hereditary.
As the years pass, Annie finds happiness with her husband Paul and together they have a child. Unfortunately Annie is diagnosed with breast cancer where she starts a valiant investigation into the reasons why this ran in her family. Running parallel to this story is cancer researcher Mary-Claire King (Helen Hunt) who is researching the DNA of cancer and studying breast cancer in families.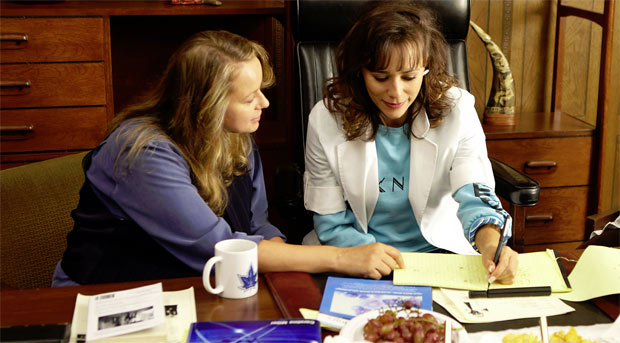 When Annie learns of King's research, she writes many letters to her but never receives a reply. Needless to say, she continues her research. Also joining Annie's plight is Sean, a doctor (Corey Stoll) and his assistant and former nurse Rachel (Kate Micucci) who both form a strong friendship with Annie in this emotionally tale.
With some good acting, the Decoding of Annie Parker, it is a strange film on many levels because this drama is written with a touch of comedy as it throws other elements of life into the plot such as love, sex, family and infidelity. Given this mixture and the touch of comedy thrown into the mix, it does make it a little hard to relate to these characters and the link to Mary-Claire King is quite tentative at best.
Some of the characters are also written a little two dimensional but the highlight of the film is definitely Samantha Morton as the powerful Annie Parker who never gives up, even in the face of cancer. Also, two of the characters in this film were quite annoying like Chad Lindberg as the creepy funeral director and Aaron Paul as Annie's husband. They just seemed a little forced, clichéd and contrived which did impact on the realism of the story. I was also waiting for Aaron to break into "Breaking Bad" mode too!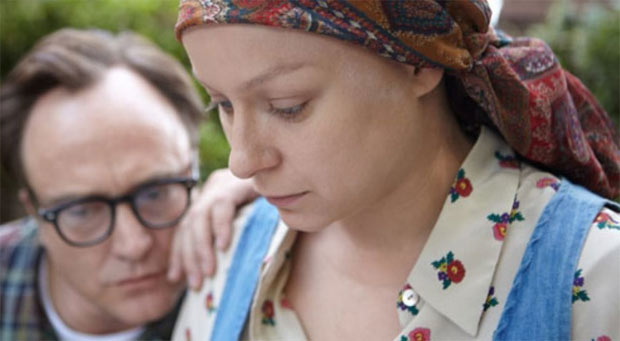 Final Thoughts?
The Decoding of Annie Parker at times feels like a telemovie and for me, the incorporation of humour into such a powerful theme did seem a little out of place, even though they were trying to humanise Annie as not just someone who has been diagnosed with cancer but how this disease touches all aspects of life, even sex.
Given that, Annie's dedication does come at a cost and it's quite an interesting snapshot into the last 30 years of medicine in America but overall, the Decoding of Annie Parker is just missing something.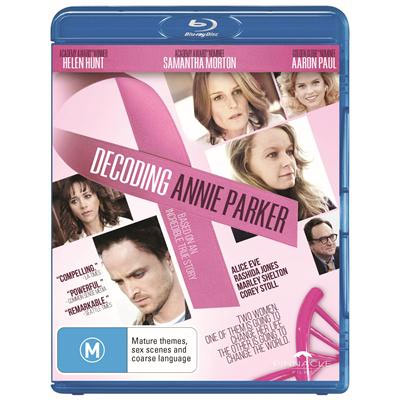 Director – Steven Bernstein
Actors – Helen Hunt/Samantha Morton/Aaron Paul/Alice Eve/Maggie Grace/Rashida Jones/Marley Shelton/Corey Stoll/Richard Schiff/Bradley Whitford
Film Genre – Drama
Label – Pinnacle Films
Audio – English (Dolby Digital 5.1)
Aspect Ratio – 1.78:1
Region Coding – B (Blu-Ray)
TV Standard – PAL
Rating – M
Year of Release – 2013
Primary Format – Movies/TV – Blu-Ray
Reviewer – Peter Bourke