Games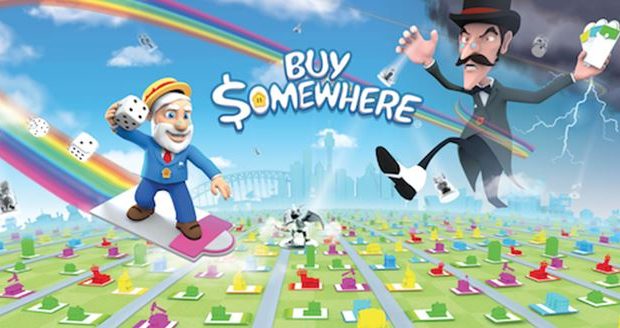 Published on November 8th, 2016 | by admin
DEBUT 'BUY SOMEWHERE' PAX TRAILER
Melbourne, Australia – November 7, 2016 – After more than three years of development, Buy Somewhere has successfully debuted at PAX Australia. The team showcased the breakthrough location-based gameplay to thousands of PAX Australia attendees and hundreds of media.
At PAX Australia, the Buy Somewhere team demonstrated a deep data-driven and curated world and announced plans for a VIP closed beta in the coming months. A full worldwide release is set to follow in 2017. Fans also received their first look at the live-action trailer.
Buy your dream house, your favourite cafe, a theme park or a museum. Compete with family and friends for the ownership of real-world property. Buy Somewhere lets you build your dream property empire  with the most advanced geo-locational mapping ever devised. It transforms the entire world into a giant 3D game board – and it's free.
"Mr. Somewhere", the player's guide and mentor, helps players on their journey to build their property portfolio. Players can build diverse collections, comprised of over 60 different property types ranging from small businesses, to restaurants to train stations and even landmarks like the Sydney Opera House.
Scored a piece of hot property? Earn rent on that location – and use it to snap up another! Defend your property from takeovers, trade deeds with friends, grow your empire and make your fortune. But watch out! You'll also need to contend with the nefarious "Mr. Nowhere" who's always on the prowl to steal your favourite places!
The developers aim to deliver a rich gameplay experience for all players. Once you own a property, you can continue to manage your collection from home and compete against rivals – so the fun never stops, whether you're on move or on the couch.
Buy Somewhere Founder & Game Designer, Nick Griffiths was glad to finally be able to share the game with the world, commenting, "We've been in development for a long time. There's still a long way to go, but we're incredibly proud of what we've accomplished. To us, games that have been released thus-far in this space didn't fully realise the potential uses of location data. Today we've lifted the veil on what our vision of this has transformed into.
"That vision wasn't viable when it was conceived 5 years ago – to use location data to make a game world that players would find delight in exploring. It was a moving target between the evolution of mobile hardware capability and that concept, but the stars have finally aligned and I'm confident we'll change the standard for the genre."
Fans can look forward to more gameplay and feature announcements in the near future – plus their chance to access the Buy Somewhere beta in the coming months.