Blu-ray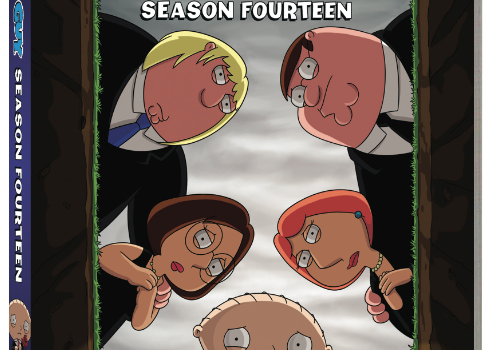 Published on November 6th, 2014 | by admin
A death, a trip and a love triangle – get ready for Family Guy Season 14 available on DVD 10 December
Includes "Life of Brian" episode  
The Griffins are back ruder, cruder and funnier than ever before with the release of Family Guy Season 14 on DVD on 10 December 2014. Season 14 is a collection of 21 uncensored episodes and hours of hilarious special feature content from Twentieth Century Fox Home Entertainment.
Just in time for Christmas, Family Guy Season 14 is the must-have DVD for 'Him' and anyone who enjoys a good laugh. This season is not to be missed as fans prepare to say goodbye to one of their favourite characters…well sort of. In the episode titled "Life of Brian" the Griffins mourn the tragic death of their beloved mutt, not long after Brian's death the Griffins welcome new comer Vinny.
Other moments not to be missed this season include the Griffins unforgettable trip to Italy, Peter's discovery that he has a vestigial twin growing out of his neck, the love triangle that emerges between Stewie, Brian and Stewie's teddy bear, Rupert, Stewie being reborn into a wealthy British Household and Peter and deviant neighbour Quagmire become a singing/songwriting team.
As always Season 14 features a list of celebrity guest voices including Tony Sirico, the late Lauren Bacall, Adam Levine, Bryan Cranston and many more!
EPISODES
Finders keepers
Vestigial peter
quagmire's quagmire
a fistful of meg
boopa-dee bappa-dee
life of brian
in harmony's way
Christmas guy
peter problems
grimm job
brain's a bad father
mom's the word
3 acts of god
fresh heir
secondhand spoke
herpe the love score
the most interesting man in the world
baby got black
meg stinks
he's bla-ack!
chap Stewie
SPECIAL FEATURES
•Deleted scenes
•Commentary by Series Writers, Directors, Producers and Cast Members on Select Episodes
•Full episode animatic on "Christmas Guy"
•Brian Griffin: In Memoriam…sort of
•Consuela mash-up