Comics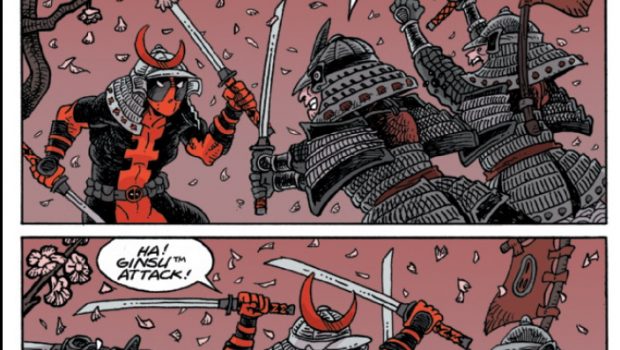 Published on October 10th, 2021 | by Tim Chuma
Deadpool: Black, White & Blood #3 (2021) Review
Summary: Three unconnected Deadpool stories that don't require you to buy an entire series to enjoy. A fun comic.
Three unconnected Deadpool stories including Deadpool rescuing his penguin from fake nuns, Deadpool vs Bullseye and how Deadpool got his swords. This doesn't seem to be part of any wider storyline which means they writers and artists can have fun playing around with the individual storylines.
Deadpool is a fun character and these stories show off what he can do. The Black, White and Blood theme is also showcased due to only black, white and red being used for the colours. I did like having the different art styles for each story and it did not seem like that much of a jump between and seemed to fit the character.
This would be a good one to pick up if you want to see more of Deadpool and not want to have to read an ongoing storyline and commit to buying another series. He does get cut up a bit in this story but it doesn't seem to follow up in any of the other stories or relate to anything else I know of.
Well worth it even if you only know about Deadpool from the movies or have only heard of him in passing.
Comic details:
Writer: Stan Sakai, Jay Baruchel, Frank Tieri
Penciler: Takashi Okazaki, Paco Medina, Stan Sakai
Cover Artist: Kev Walker
Publisher: Marvel
Published: October 06, 2021