Comics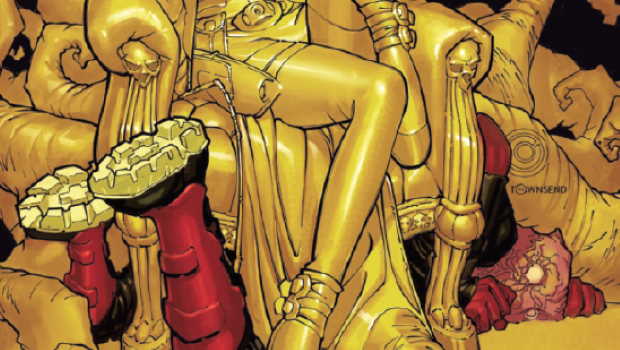 Published on January 16th, 2020 | by Chris O'Connor
Deadpool #2 Comic Review
Summary: King Deadpool? Yeah it's not as good as he'd hoped and things are about to get much worse.
Who would have thought the day would come that Deadpool would be king? Apparently he thinks it's overdue but now that he is King, he's not so sure it's all it's cracked up to be. As he tries to build his monster empire he keeps running into issues. On the nicer side there's Captain America, on the not so nice side, there's Elsa Bloodstone… so not off to such a great start.
Writing
There's a lot to unpack here… I mean it's still tough to get your head around the notion that somehow Deadpool has been crowned king of anything, let alone king of the monsters. But as the man himself will tell you, it's not all it's cracked up to be and within that there is quite a bit of humour that is sprinkled throughout the pages. It's kind of like Deadpool in Wonderland… he isn't surrounded by the usual characters, he's surrounded by "his folk", monsters and that raises some interesting conflicts in this issue… ones you might not have seen coming. But Wade is Wade and he will stand on the side he feels is right and in this case… I kind of see his point. But of monsters and men is not the full extent of the issues Deadpool is facing here… certain other characters are swirling around this mix and just waiting to be part of this powder keg waiting to go off.
Artwork
For the most part I really liked the art here, the panels in which Deadpool shows his face drive home his point quite nicely. I did however find a few panels to be a bit overly busy… not a lot… but a few panels just seemed a bit chaotic for me to follow what was going on as well as I would have liked, that might just come down to me being not familiar with the given creature on display but it was a little distracting.
Final Thoughts
It's an interesting premise to begin with… Deadpool as king of, well, anything. King of Monsters perhaps seems about right. The issues raised in this comic and the direction it's heading look to do what I really like about Deadpool comics… they can play the humour card left right and center, but at the same time cover some pretty serious issues. In here we have Captain America perhaps putting his foot in it and some other characters who aren't too keen to see Deadpool remain king. If you love Deadpool's take on the world then there's no reason you shouldn't grab this copy!
Comic Details
Publisher: Marvel
Writer: Kelly Thompson
Artist: Chris Bachalo
Cover Artist: Chris Bachalo
Genre: Superhero, Humour
Format: 25pgs, FC, Ongoing
Release Date: 8th Jan, 2020