Comics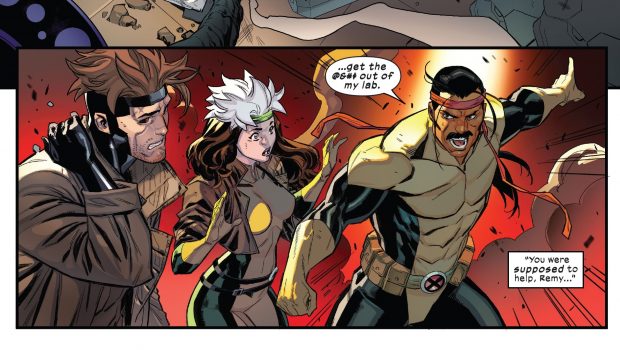 Published on May 16th, 2023 | by Howard Smith
DEADLY UNVEILING IN ROGUE & GAMBIT #3
Summary: Fans of Gambit and Rogue would enjoy
A marriage that needs some counseling, but first finding Manifold and saving the world calls for priority.
The last location Rogue and Gambit were seen took place at a bar, but that went up in smoke after an altercation with Black Panther. Now, in Rogue & Gambit #3, Mr. and Mrs. X have turned to Forge for help. Seeking a way to find Manifold, Forge claims that the suit he built with the ability to use any mutant's powers was destroyed by himself. Suspectedly, Gambit doesn't trust Forge's words and manages to do something drastic. Having felt like a burden on Rouges' shoulders, Remy lets her continue the mission on her own. When Rogue presses on she is met with a mysterious voice and a handful of mind-controlled superpowered villains including Manifold among them. Rogue tries to break them free, but it'll come at a cost if she succeeds.
Jumping back into Rogue & Gambit #3, Philips (Shadow War Zone, Taarna: The Last Taarakian, Grim) understands the dynamic these two mutants have. How they work and communicate with one another is on another level. Unfortunately, the lack of communication between them currently drives a wedge in their relationship. Undoubtedly, the secrets they have yet to tell each other adds a great disposition for both characters. The idea incorporates quality character development and later in the story can be reconciled by some compromise. It's stories like these that writers such as Philips excel at. Additionally, Phillips exploits the factor that Gambits' thieving skills are, in fact, not an exaggeration and that he's terrific at it even if he gets reprimanded afterward. What's delightful about this comic book are the bits of humor that get thrown into the mix unexpectedly. These moments add value to the story and the characters within them. There's even an instant where Rocket Raccoon and Rogue are texting each other and it's quite an entertaining interaction.
Speaking of entertainment, Gómez (Hellions, Ghost Rider, Pathfinder) never ceases to amaze with the artwork. His illustrations bring life to Phillips' adventure with Rogue & Gambit #3. It is something about the way his composition shines that makes a reader want to keep reading. Besides Phillips' storytelling ability, Gómez governs over the realm of aptitude by envisioning what these characters would appear to be at peak craftmanship. Not to mention his attention to detail adds a special awareness to this overall comic book. The backgrounds, items in the surrounding rooms, and scenery contribute to a well-thought-out narrative. Comparatively, Curiel (King Conan, The Incredible Hulk, Soulfire) meets Gómez's mastery with colorization that puts both creators on the pedestal of perfect collaboration. His coloring abilities bring satisfaction to ogle over every page. He makes the comic book naturally bright to observe and appreciate. In other words, he recognizes mutant stories don't have to be dark and gloomy but can be expressively fun.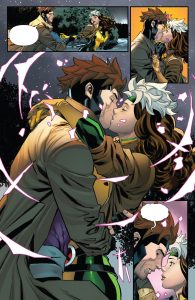 Body 3: As always, Maher (Knights of X, Ringside, Miracleman) letters the comic book with proficiency. A mixed multitude of dialogue, captions, intermissions, and a range of sounds prove that Maher can handle it without decline. Correspondingly, Morris (Mighty Morphine Power Rangers, Stranger Things, Angel) devises a gorgeous cover that stands out among the other first two issues of the series. Again, he foreshadows what may be a possible future for Rogue and Gambit, but there is no denying that this cover is one better to be in hand than digitally. Maher also exhibits a throwback to the 90's X-Men with Rogue's iconic hairstyle and attire on the cover.
Rogue & Gambit #3 ramps up and prepares to enter its fourth issue coming out in June fast. Don't forget to pick up this issue before you read the next one. If you're lost and this is your first reading of this series you can purchase digital copies to catch up, find some in stock at your local comic book store, or where they can be found for sale. You don't want to miss what's next.
Comic Details
Writer: Stephanie Phillips
Artist: Carlos Gómez
Colorist: David Curiel
Letterer: VC's Ariana Maher
Cover Artist: Steve Morris
Editors: Sarah Brunstad, Mark Basso
Publisher: Marvel Entertainment