Comics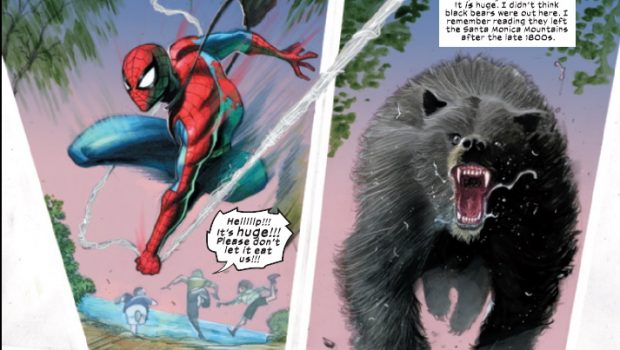 Published on October 24th, 2022 | by Tim Chuma
Deadly Neighborhood Spider-Man #1 (2022) Review
Summary: One of the more out-there Spider-man stories from a character who is renknowned for this kind of thing. Worth a look just for the art style change.
Spider-man has recently had difficulty determining what is real and what is a dream, it all comes back to some high tech research he was doing involving water and sonics to destroy sick cells. A mystical stone somehow gets involved and things start getting trippy.
Spider-man is well known for having out there villains and also many different versions of the character but the art in this issue is especially trippy almost going into surrealism at times. I would be interested to see what they did not end up using given what ended up in here.
As it is the start of this storyline it is also the perfect place to start with this one as you will not get confused with things later on. There are also no footnotes saying you need to have read other stories already to get what is going on.
While a lot of series have one-shots that have a Halloween theme for October, this does seem more like it is a new storyline as they do want to try something different and if you want to do the same then I would recommend it.
Comic details:
Writer: B. Earl, Jimmy Gomez
Penciler: Juan Ferreyra
Cover Artist: R Rahzzah
Publisher: Marvel
Published: October 19, 2022