Comics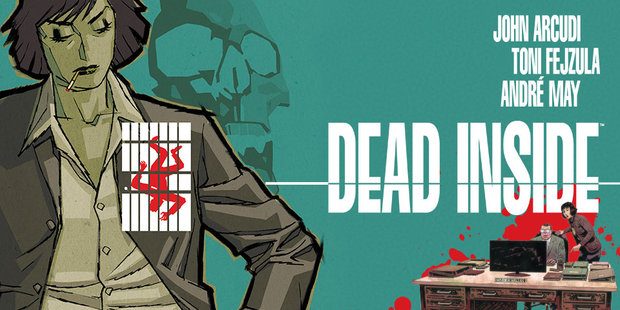 Published on August 7th, 2017 | by Pat Condliffe
Dead Inside Vol. 1 TPB Review
Summary: A brilliantly sleazy tale that will lock itself in your imagination and catcall you from its cell.
Dead Inside is a solid noir with a difference. Two dead criminals in a prison. One a massive, imposing, and violent felon; the other a skinny petty crim nearing release. Who did it? It's an odd crime, but one that nobody should care about, right? In this, Dead Inside something of a typical hard-boiled narrative – the detective taking on the thankless case. It's the sort of story that Cheyney and Chandler made their stock in trade in the 1920s and that have been refined in recent years by Robert Bloch, Gillian Flynn, and in comic form by Brian Michael Bendis. But Dead Inside is also startlingly different and bloody brilliant. This trade paperback collects the whole 5 issue series. In it, writer John Arcudi and artist Toni Fejzula present Detective Caruso as she goes about finding these convict killers. Dt. Linda Caruso works for the Jail Crimes Division of the Sheriff's Office in Mariposa County. Her job is to solve the crimes nobody cares about – the ones in the penal system – but she doesn't want to be there and not for the reasons that you think. Caruso is one of the most frustratingly likeable protagonists I've come across in a comic since Rorschach. Dead Inside is a compelling story and the most strikingly grimy and gritty looking story you'll read this year. If you want to know more about this sleazy, sordid, and violent world read on!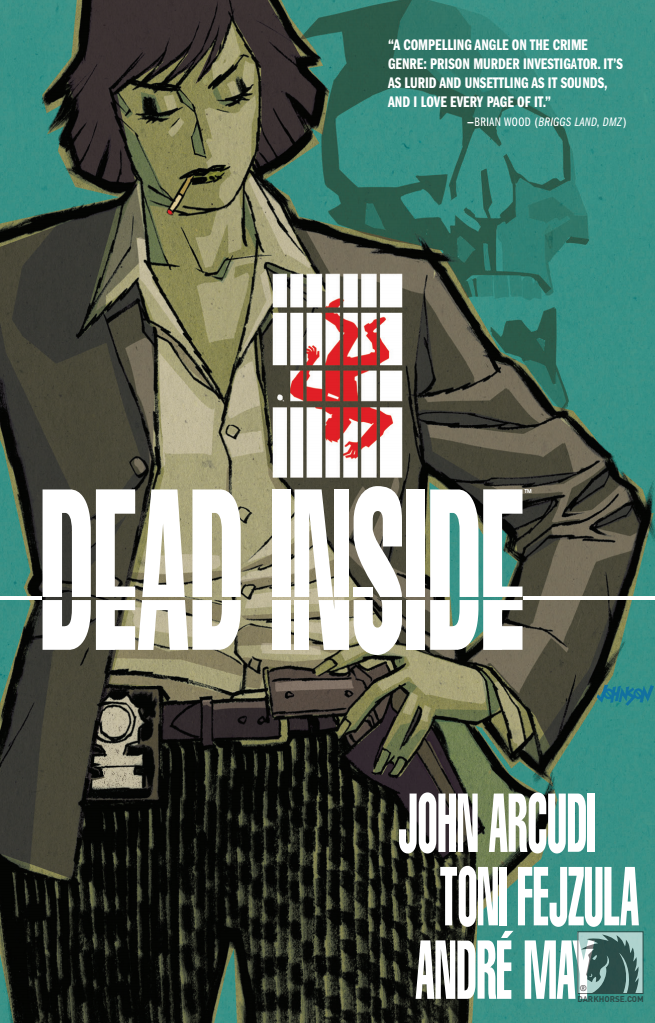 Detective Caruso is not a superhero, she's not some-super idealist, and she's definitely not a super-cop. She's a good cop, but she misses being a patrol cop. She got where she is as part of a diversity push, and so she's resented and unsure of herself. Her boss, Lieutenant Ellie Payton doesn't really like her and doesn't feel she's particularly qualified or adept at her job. When Payton sends Caruso to Bennet Penitentiary to investigate the murder the morbidly obese Arthur McCoyne and Donald Gaffney all the things in her Caruso's life are upended. Her relationships and friends aren't what they seem and the pressures of the job start to pile on in unexpected ways. It's an absolute ripper of a yarn, and even if you dislike comics but love noir this is a must read. Arcudi's story is perfectly paired with Fejzula's drawings. It's a dirty and corrupt tale and the drawings capture this perfectly. Just don't expect any bright colours, it ain't that kind of story.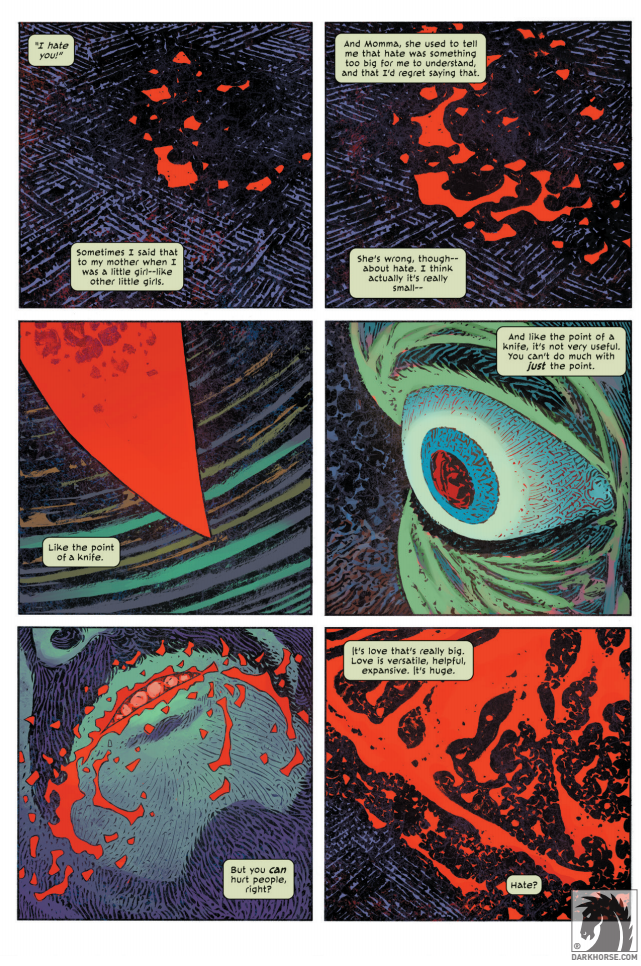 Fejzula is best known for his work on Veili. He has a very distinctive style. But here he refrains from the stained glass look and goes for something dirty and grimy. Even with it's polished finish, the drawings look like they crawled out of a penny dreadful or a column out of True Detective Magazine. He carries across all of the skeeze without the unnecessary sexualisation. Caruso and Payton are realistic figures, flawed and hard; their colleagues like Paris and Romero are rough and jaded; while their superiors like the Warden and the Sheriff are career men looking for political success and not accolades. They're all a sordid bunch and Fejzula captures that remarkably and pits them against a motley bunch of criminals. Mack, Dony, and TZ are believable as hardened cons, but without falling into the trap of being stereotypes. There's a humanity to all of these characters, they're relatable in a way that you don't find in a lot of material down at your LCS.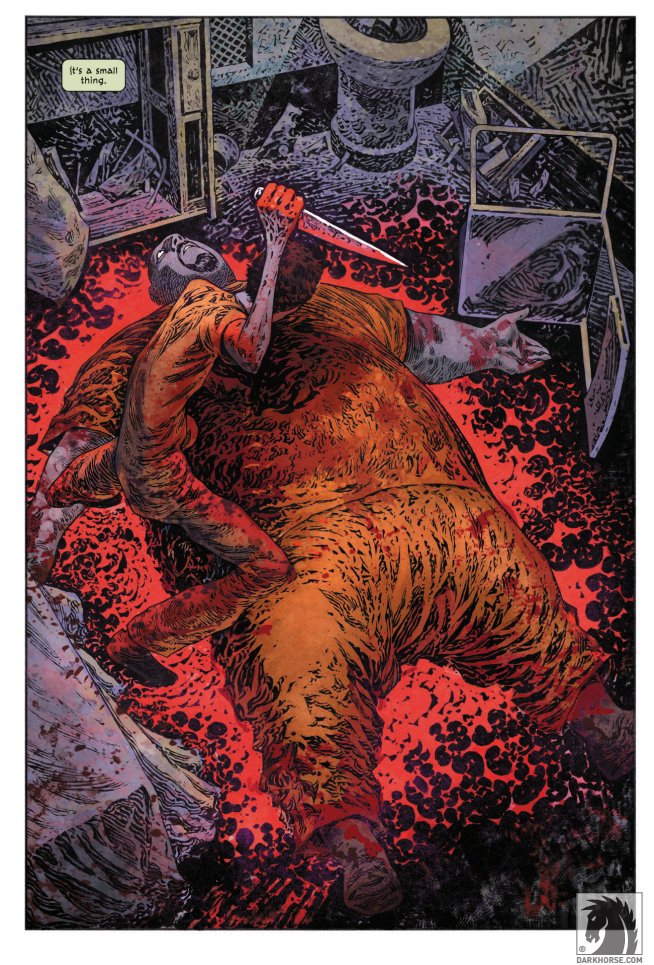 John Arcudi's story works so well because of how it juggles the demands of the genre and story against the struggles Caruso has as a woman. A couple of her colleagues see her lack of a penis as a problem, but mostly they dislike how she won't tow a line. For example, she's told she wasn't invited to a retirement party for fear she'll dislike the strip joint, but she really wasn't asked because the men are protective of their secrets and fear her judgement. This a narrative where sexism is a background hum, but not the focus of the story. Caruso isn't defined by waging a war against misogyny or fighting sexism at every step, but she has to work with it and amongst it and it affects her character without being the centrepiece of her life. It's a remarkable bit of storytelling to get that balance right, and in that balance lies Dead Inside's realism. Caruso's story is full of gray: she's not a great detective, she struggles with relationships, she deals with institutional sexism, and her people skills are hit and miss. She's an every person that tries, and sometimes fails, to do a job to earn a crust. Caruso is unremarkable in many ways and thus reminiscent of Joyce's heroic everyman – Leopold Bloom.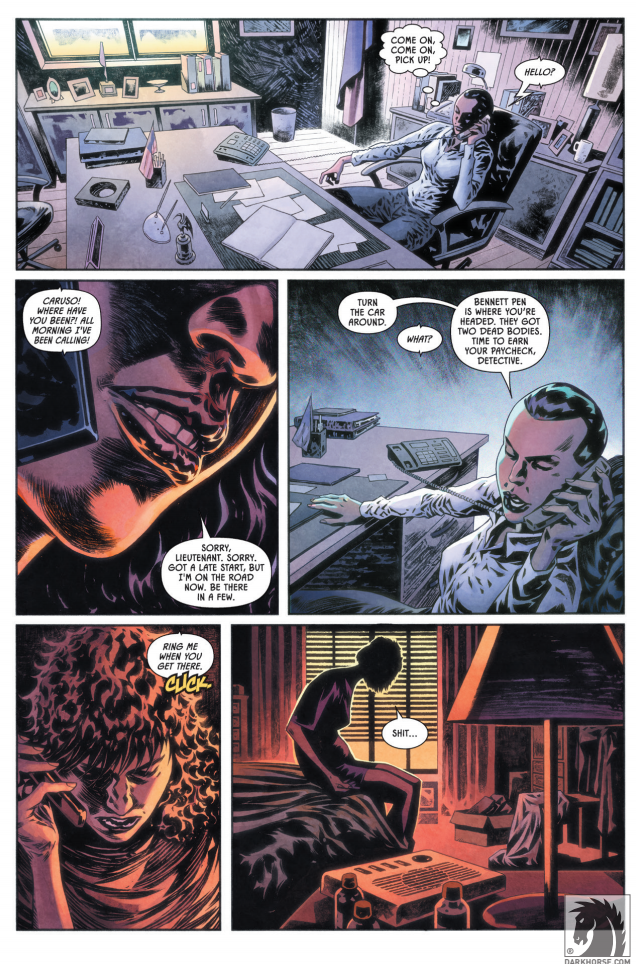 Dead Inside is the best limited run I've read from the last twelve months. It's one of the best things I've read in any format all year. It sticks with you and has you puzzling out the mystery at its heart. The pace is just right: it builds tension from the first issue, but with drama and politics and not with violence. It's art is great – the grimy and rudimentary aesthetic perfectly complementing the darkness of the plot and Caruso's life. As a bonus, the trade paperback includes all the covers and variants as well as Fejzula's sketchbook and charcetr development notes. All told, John Arcudi and Toni Fejzula have shanked this one dead in the heart.
Go and grab copy now, it'd be criminal not to.
5 shanked and gutted felons out of 5
---
DETAILS:
Writer: John Arcudi
Artist: Toni Fejzula
Comic Release Date: August 16, 2017
Format: FC, 160 pages; TPB, 7" x 10"
Price: $17.99