Comics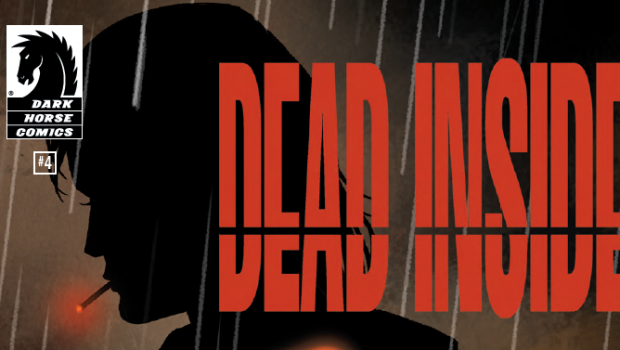 Published on March 19th, 2017 | by Lyla Saudi
Dead Inside #4 Comic Book Review
Summary: The truth will not set Detective Caruso free, it will just open up another can of worms.
Detective Caruso of the Jail Crimes Division isn't ready to leave this alone like she should. The murder-suicide case at the Mariposa County Jail was supposed to be simple, open and shut, and plenty of people wanted it like that. But the more questions she asks, the more suspects she finds, and the more murders she uncovers in Dead Inside #4, written by John Arcudi, illustrated by Toni Fejzula and with colours by Andre May.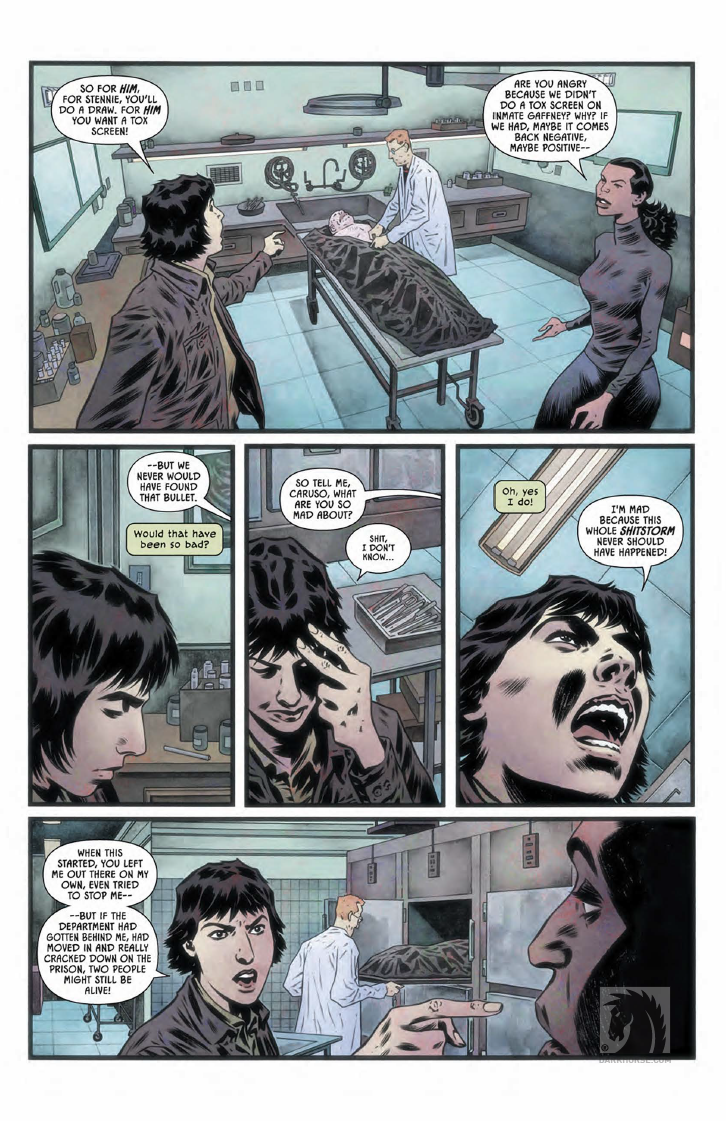 Detective Caruso never wanted to be a detective. Not in plain clothes. Not in the Jail Crimes Division. And certainly not in the county morgue watching the M.E. draw blood from her dead friend. The same friend who just hours before shot and killed Leo Aaron, a social worker who stuck his nose in where it didn't belong.
And just as Caruso starts to uncover leads which point her to a trail of drugs, money and a sleazy stripper joint, the department decides someone else needs to lead the case. Purely a jurisdictional decision of course. But this decision, one that is out of Caruso's control, will have deadly consequences back at the Mariposa County Jail. Right back where it all began.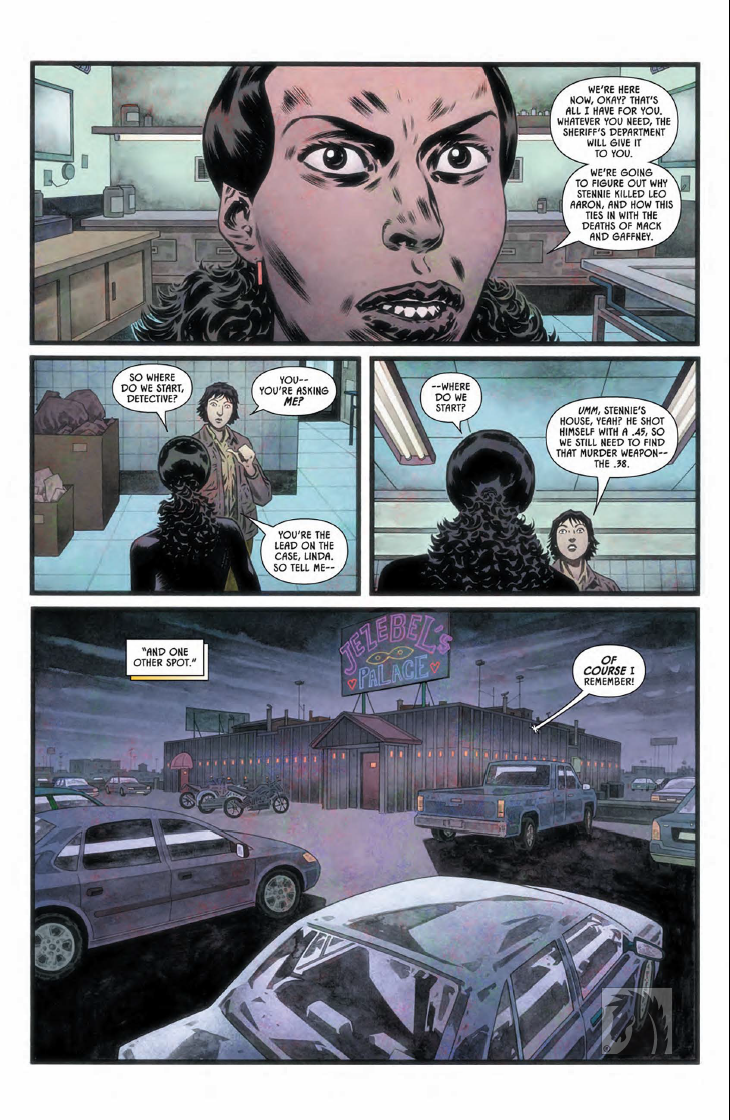 Writing
Caruso's character continues to develop into a strong and independent detective who wants nothing more than to solve this case. In this issue we start to see her frustration and anger develop towards her department and co-workers, as her relationships strain in search of the truth. We continually empathize and feel these emotions with her throughout. This issue focuses more on the case rather than Caruso's life, throwing twists and turns at you when you least expect them.
Artwork
I am a fan of the colour palettes produced by Andre May throughout. From the mucky tone of the sleazy strip club to the intense blood bath of the prison fight scene, the colours tie in well with the illustrations to visually tell the story. The artwork is continuing with the same style of dark, gritty, and slightly repulsive illustrations and I am a fan of how Toni Fejzula has captured the movement in the action scenes.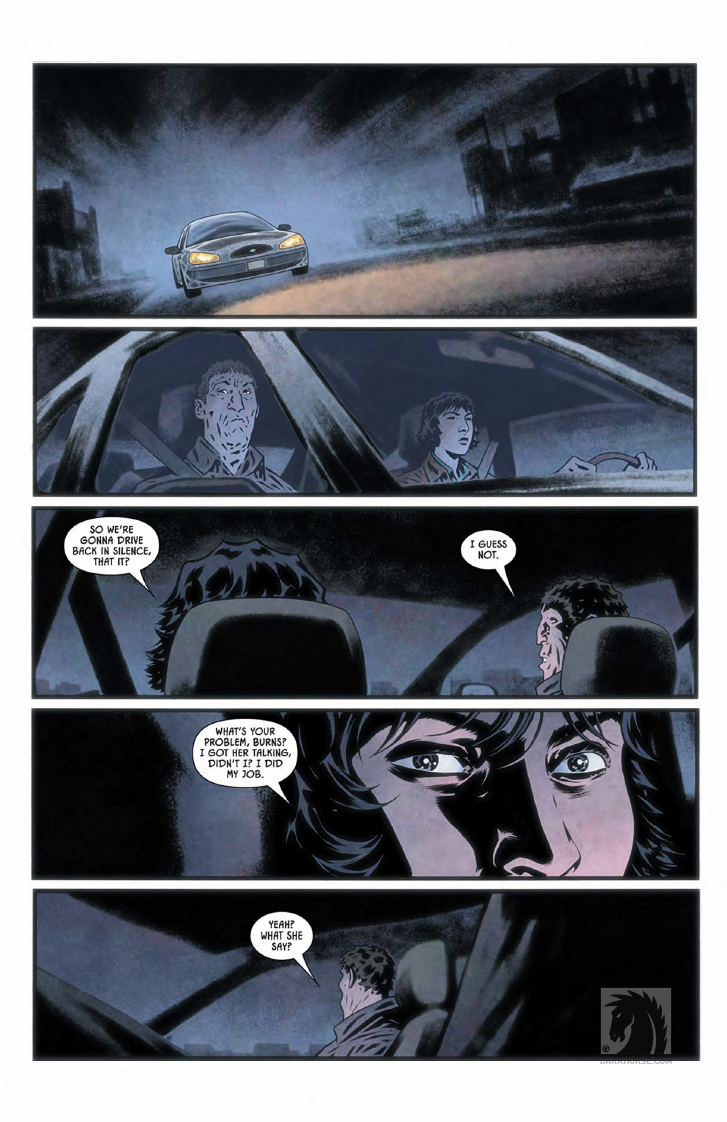 Final Thoughts?
This has been a great issue to build up to the finale. It is a shame that is it only a miniseries but what it has delivered so far has been intense, full of head scratching and suspense and with only one issue left to go I am very keen to see how the story will wrap up.
Comic Details
Title: Dead Inside
Issue: #4
Publisher: Dark Horse Comics
Writer: John Arcudi
Artist: Toni Fejzula
Cover Artist: Dave Johnson
Colours: Andre May
Letters: Joe Sabino
Genre: Crime
Publication Date: March 15th, 2017
Format: FC, 32 Pages; Miniseries