Comics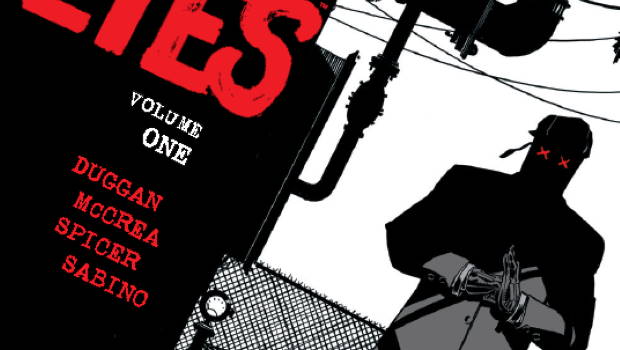 Published on March 25th, 2020 | by Chris O'Connor
Dead Eyes Vol:1 TP Comic Review
Summary: Mercenary, anti-vigilante with a heart of gold... maybe not entirely, but he means well, sometimes.
Martin Dobbs is a man with a short temper and a tongue that's happy to spend some time around the docks. He's a former mercenary/gun for hire who has been forced out of retirement and the question is will his will break before his body?
Writing
It's not often you start a story effectively with a recap of the star in their heyday before finding them in the present showing the wearing effect of age upon them… but here we are. This is all made oh so clear with Martin Dobbs' first scene and lines (which I won't spoil because it's quite the opener). We are then taken on a sort of tour of what state the world is in and we learn quite quickly that whether right or wrong, Dobbs' actions seem at the very least excusable in the climate he's in. There's a clear heart to the foul mouthed tough man but also an edge that you wouldn't want to play with.
Artwork
There are some exceptional panels here that show a great deal of kinetic energy and really give a feel for the tension and violence of this world. Panels that give a feel for the familiarity of this world and also that sometimes give us the release we perhaps wish we could have in certain circumstances.
Final Thoughts?
I wasn't entirely sure what to expect going into this story but I came out really enjoying the experience and having a soft spot for Martin Dobbs. Is he a bad guy? Yes and no… kind of. I mean he can clearly be very violent but he tends to express that violence towards those who generally aren't entirely nice themselves. He also tends to do wrong things for the right reasons… so it's hard to dislike him.
If you want a bit of a change from the regular comic book fair then this is a great option and a great story either way.
Publisher: Image Comics
Writer: Gerry Duggan
Artist: John McCrea
Genre: Action/Adventure
Format: 122pgs, FC, TP
Release Date: 4th March, 2020