Comics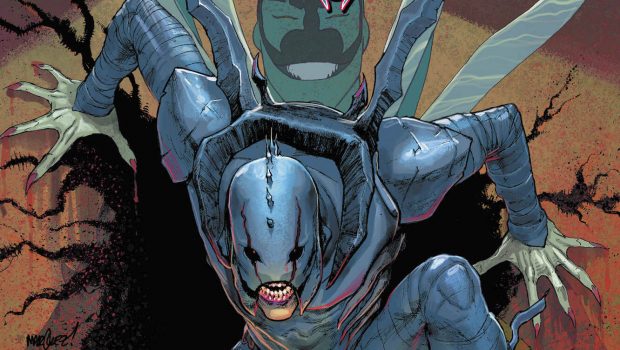 Published on November 20th, 2019 | by Rebel Robertson
DC's Year Of The Villain: The Infected Scarab #1 Review
Summary: Great read, well drawn, and well written. Definitely recommended for all ... one hell of a good time...
The next chapter of DC's Year Of The Villain arc has arrived, and with it comes, Scarab(A.K.A. Blue Beetle). But this tale is a dark tale for Jaime Reyes. After being stabbed in the neck by The Batman Who Laughs, Jaime loses control of his powers and the full power of the scarab is unleashed. Jaime than transforms into a villainous bug! Immediately following this transformation, two things happen, first he eats Ghostfire, and second he realizes he's still himself but cant stop. And all the while The Batman Who Laughs is in his head, laughing, and taunting.
This is a great read! the art is on point, the design is on point. The only thing that sorta irked me is some of the words used in the script like: Gucci, and "b"… Than again that could just be my age talking, and my obsessiveness for using proper English. I personally am not big into slang or street terms, but again that's just personal preference.
Final thoughts?
Overall a superb comic! I'd gladly read the following issues…This arc is a must read I highly recommend this to all ages of comic fans. Cudos to artist Freddie E. Williams II, and Jeremy Colwell, and writer Dennis Hopeless Hallum for a job well done, so yes it's a perfect 5/5…
Comic Details
Publisher: DC
Art: Freddie E. Williams II
Color: Jeremy Colwell
Script: Dennis Hopeless Hallum
Letters: Thomas Napolitano
Cover: Danny Marquez & Dean White