Hardware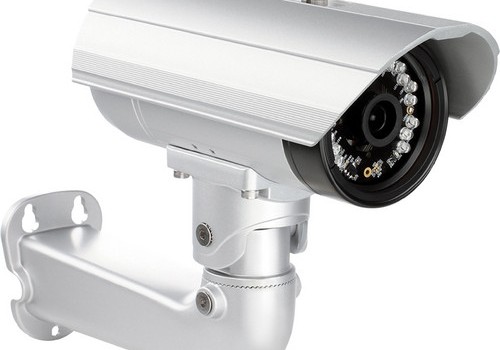 Published on November 4th, 2013 | by Admin
DCS-7513 Full HD WDR Outdoor Day & Night Network Camera Review
Summary: The DCS-7513 is a brilliant network camera that produces exceptional video and image quality in a variety of different settings from day to night, including various weather conditions
4.7
Professional Security
Product Review: DCS-7513 Full HD WDR Outdoor Day & Night Network Camera
Model Number: DCS-7513
Price: From $950AUD Online (October 2013)
Reviewer: James Wright
The DCS-7513 is a professional security camera from D-Link for small to large businesses that boasts a wealth of features that include Full HD (1080p), a built-in IR LED illumination of up to 30 metres, a remote tele/zoom with focus control and heavy duty casing to ensure true weather proofing. The camera also supports a variety of network features, motion detection, event notification and the ability to connect it with other network cameras to ensure your business is totally protected.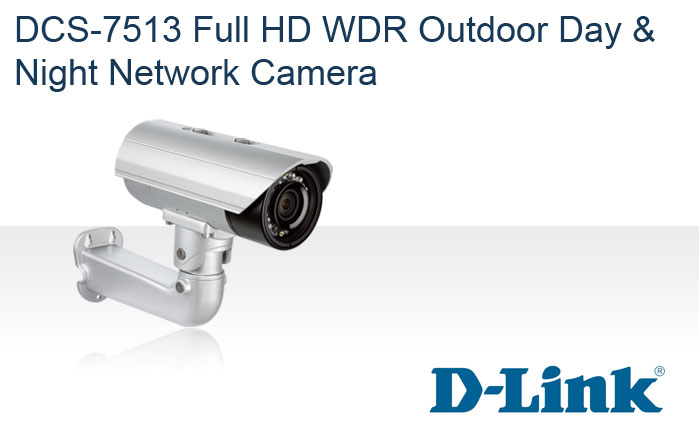 Features
Full HD 1080p resolution, up to 1920×1080 @30fps
IP66 weatherproof certified housing
Built-in IR LED illumination up to 30m
H.264, MPEG4, MJPEG video compression
Motorised vari-focal lens with remote tele/zoom and focus control
P-Iris technology for better depth of field
Wide Dynamic Range image enhancement
IR-Cut Removable (ICR) filter for Day/ Night
Support for Motion Detection
Support for multiple simultaneous streams
SD Card Slot
Built-in 802.3af PoE
3 Year Warranty
Advance Warranty Replacement (24 Hour Cross-shipment)
D-Link also ensure that this product comes with everything you need to successfully install the DCS-7513 which includes the manual, software, power-adapter, AV & Power Cables, Ethernet Cable (connected), extension adapter and the most important aspect, the mounting bracket and screws to securely hold the camera in place. You can also insert an SD Card into the camera which allows you to save images and videos directly to the card and is a great backup should your network go down.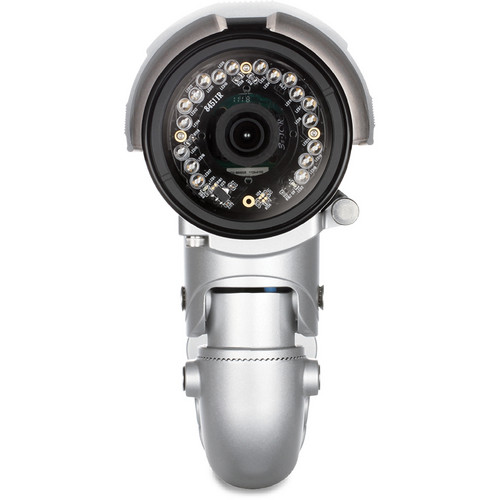 The camera itself has the following inputs/outputs that include;
Ethernet Jack
Power Connector (12 Volts)
Audio Out (connect to speakers)
Audio In (connect to microphone)
DI/DO Wiring – 12 V DC Output (external devices)
24V Power Connector
BNC (analog video output)
Reset Button (reset's camera to factory defaults)
Installation
Before mounting the camera to its fixed position, the first step is to connect the DCS-7513 to your network. This will ensure that the camera is correctly configured and will make it easier should you have any issues. The manual, although detailed supports the user well with the installation process and covers mounting to configuring it to your network and then access to it. Installing the camera to your network is very very easy.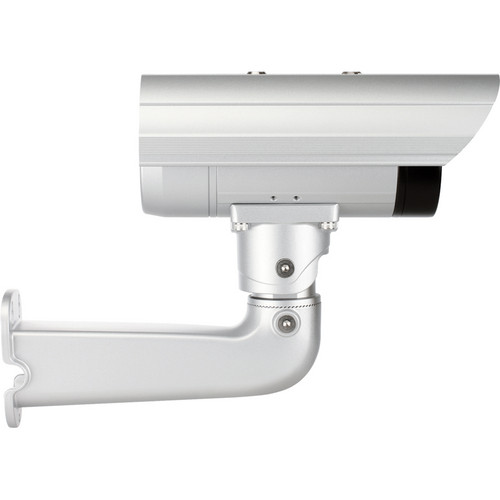 The camera comes with the popular D-View Cam software which allows you manage the camera and other cameras via this powerful monitoring program. There are also some additional trial versions that support better remote/monitoring management and remote access features. The standard version however is ideal for small business and larger companies will definitely benefit from the professional versions.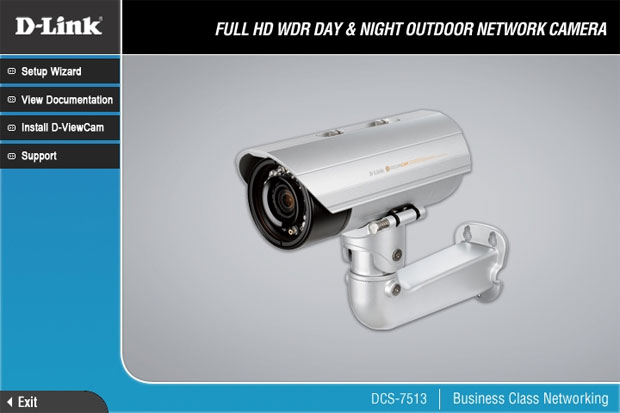 Setup Wizard (including on CD-ROM)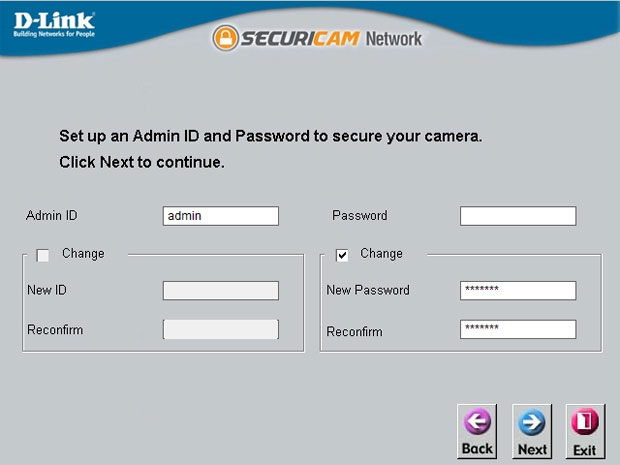 However the first step is to run the Setup Wizard and this may be the time to include your system's administrator in the process as you need to setup the IP address for the camera (e.g. DHCP or Static IP). But even if you're not totally computer savvy, D-Link ensure that most users with basic computer network knowledge can setup this camera successfully. If in doubt, you can always contact D-Link 24×7 Support. Having tested other network security cameras before, the installation process of the DCS-7513 is probably the easiest of the lot as there is no complex wireless setup.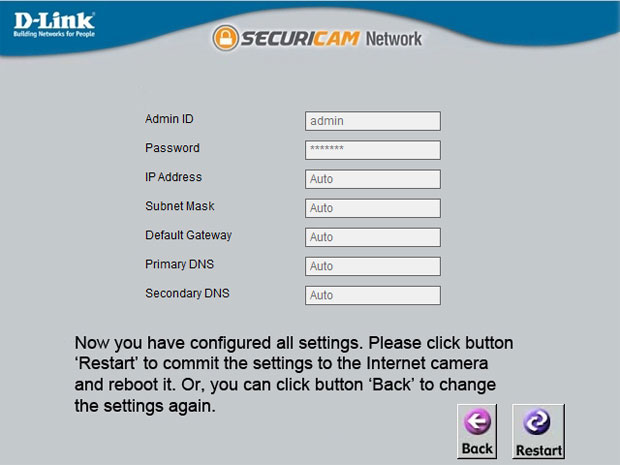 Once you go through the wizard, it sets up the camera for your particular network and allows you to configure any DNS servers, gateways, fixed IP addresses or other network options. The wizard is only a few screens long which also sets the admin name and password which are paramount for this fixed network security camera.
The most complicated step in the installation process is actually mounting the camera itself and then connecting it to your network via the Ethernet Cable. The camera has also been designed to be tamper proof thanks to the cable management bracket which also protects the system from various weather conditions. The DCS-7513 also has an IP66 rating which means it is extremely sturdy against various weather conditions, even from water jets that are used to hose down buildings. Another feature is that the camera supports Power over Ethernet (PoE) which can power the DCS-7513 without the need for additional power cabling.
Once connected, I had the options of accessing the camera via its IP address or using the D-View Cam software. Both methods work very well, however for those users wanting something a little more manageable, the D-View Cam software is very straight forward to use and allows you to do a variety of things with it such as tweak the settings and more importantly, setup your recording options.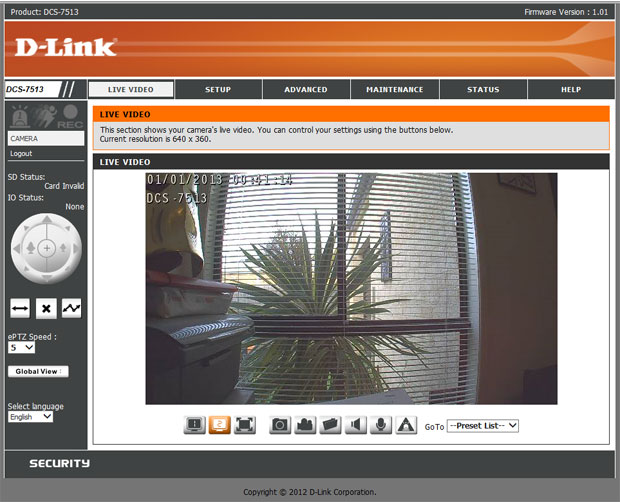 Accessing the camera directly to its IP address
However if you access the camera directly via its IP address, this allows you to access the camera remotely depending on your IP address or if you are using a DNS server. This gives you more control over the unit itself remotely. Some of the features accessing it via the IP address, includes setting up the network, dynamic DNS, image setup, audio/video, lens control, pre-sets, motion detection, time/date, event setup and SD Card.
There is also an advanced function which includes accessing the DI/DO, ICR/IR, HTTPS, Access List and SNMP. Accessing through the IP address also gives the user information about the status of the camera such as its name, date, firmware, IP addresses and there is in-built Help function as well.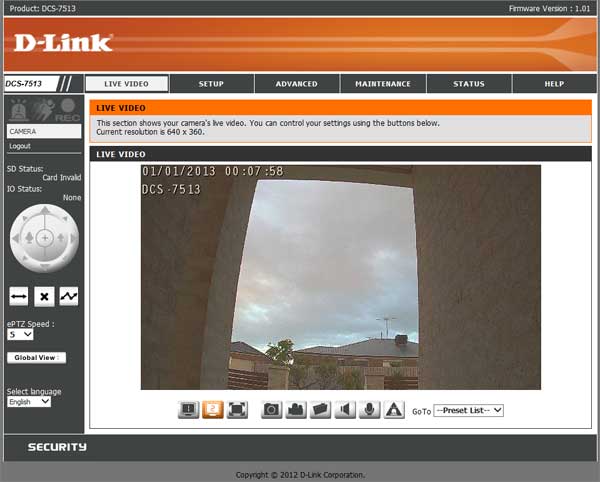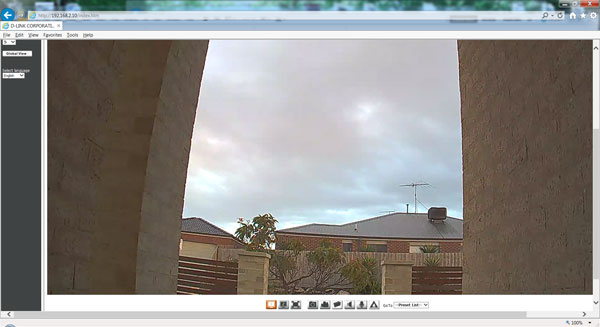 Image Quality of the camera is quite spectacular, especially the video which is FULL HD. As you can see from the D-Link video below, the quality is exceptional. The image quality can be tweaked if needed, including compression algorithms. In terms of streaming, the camera supports H.264, MPEG-4 and MJPEG.
Images and videos can be recorded in a variety of ways such as direct access to a network hard drive, the SD Card, e-mail and FTP.  There is also an option to enable motion detection which allows you to choose a grid on the fixed image. For example, this may be a driveway or a lane into a building. Sensitivity options can be tweaked and so can the lens of the camera.
The focus mode offers both manual and automatic with the ability to manually zoom and focus. I did test the manual focus and the automatic fine-tune focus is definitely my preferred choice as it is considerably clearer. With manual, there is some delay in the focusing but it's definitely a good investment, especially if you are monitoring the camera live or remotely. The camera itself uses a high sensitivity 2 megapixel progressive scan CMOS sensor with a motorised vari-focal P-Iris Lens. The result is high quality images and recordings of FULL HD video at 30 frames per second.
The camera also boasts a variety of different event management features which include;
Motion detection by weekly schedule
Event notification and upload snapshots/video
Clips via HTTP, SMTP or FTP
Multiple HTTP, SMTP or FTP server configurations
Multiple event notifications
Multiple recording methods for easy backup
These event management features allow you to send images and videos to a variety of different locations, whether local or remote with even cloud support. Notifications via e-mail are great as it immediately informs the user that something has been detected by the camera itself. Last but not least, the DCS-7315 contains a detailed manual which should be read by the user or users setting up and monitoring this camera as it tells you all the ins and outs of this product. It's definitely one of the better manuals that I have seen in a long time. Add in a 3-year warranty and your security investment has great backup from D-Link
Final Thoughts
The DCS-7513 is a brilliant network camera that produces exceptional video and image quality in a variety of different settings from day to night, including different weather conditions. Setup is very easy and D-Link ensure that the user has everything they need to successfully setup this network security camera. If your business, whether small or large is looking for a high quality camera with all the bells and whistles than look no further, we may have found a solution for you.
Recommended!