Comics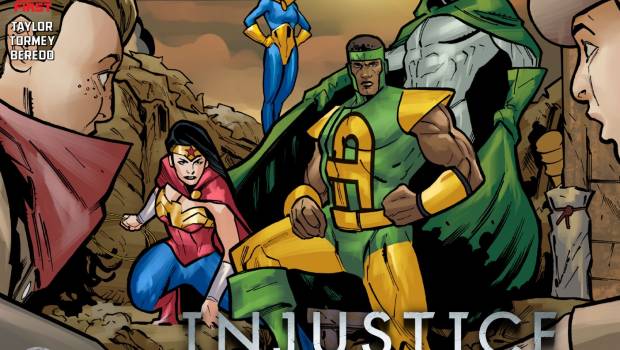 Published on August 19th, 2020 | by Adrian Gunning
DC Proudly Presents 'Injustice: Year Zero' Chapter Four – Available Now
Continuing the launch of its newest Digital First series, DC today delivers the next chapter in Tom Taylor, Rogê Antônio, Cian Tormey, Rain Beredo and Wes Abbott's Injustice: Year Zero! Publishing twice monthly and spanning 14 chapters, the first four chapters are now available to read immediately.
Injustice: Year Zero returns fans to the world of DC's bestselling Injustice: Gods Among Us; back to a time before Superman punched the Joker through the heart and became the fascist ruler of Injustice. In this fourth chapter, history has told us that Hitler shot himself, but what many don't know…is why. Discover the morally ambiguous secret safely kept by the JSA about how they ended WWII by using an amulet that was found in the hands of the enemy.
Injustice: Year Zero Chapter Four, written by Tom Taylor with art by Cian Tormey, Rain Beredo and Wes Abbott, is available for digital download now on participating platforms, including readdc.com, Comixology, Amazon Kindle, Apple Books, and more. The first three chapters are available as a bundle for $2.49 when purchased at readDC and comixology.com, or individually for $0.99!
Injustice: Year Zero Chapter Five will publish on Tuesday September 1.