Comics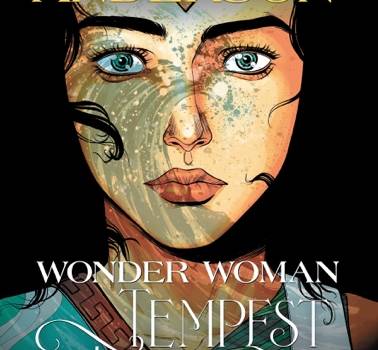 Published on May 6th, 2020 | by Adrian Gunning
DC COMICS: WONDER WOMAN: TEMPEST TOSSED & YOU BROUGHT ME THE OCEAN
New York Times bestselling author Laurie Halse Anderson (Speak, Shout) and artist Leila del Duca explore Wonder Woman's teen years in this timely story about the refugee experience, activism, and finding the love and strength to create change.
Putting a fresh, contemporary twist on the iconic character's origin story, Wonder Woman: Tempest Tossed follows Diana as she is separated from her family and her home, and becomes a refugee and, later, an immigrant. Diana too sees Lady Liberty as she arrives in the U.S., and must start a new life on new shores. As Diana battles for social justice, this story examines powerful social issues like trafficking, gentrification, poverty, and American Idealism, while showing how important it is to be brave and fight back in the face of adversity. This original young adult graphic novel is aimed at readers ages 15+, and hits stores everywhere books are sold on 6/2/2020.
Diana of Themyscira believes that her sixteenth birthday will be one of new beginnings—namely, acceptance into the warrior tribe of the Amazons. But her birthday celebrations are cut short when rafts carrying refugees break through the barrier that separates her island home from the outside world. When Diana defies the Amazons to try to bring the outsiders to safety, she finds herself swept away by the stormy sea. Cut off from everything she's ever known, Diana herself becomes a refugee in an unfamiliar land. Now Diana must survive in the world beyond Themyscira for the first time—a world that is filled with danger and injustice unlike anything she's ever experienced. With new battles to fight and new friends to make, she must redefine what it means to belong, to be an Amazon, and to make a difference.
YOU BROUGHT ME THE OCEAN
Two voices that shaped LGBTQ+ YA literature, Lambda Award-winning author Alex Sanchez (Rainbow Boys) and New York Times bestselling illustrator Julie Maroh (Blue Is the Warmest Color), present a new coming-out romance set against the backdrop of the DC universe.
You Brought Me The Ocean re-imagines the origin story of Aqualad in a coming-of-age tale about first love. This poignant story, aimed at readers ages 13-17, deftly interweaves in social issues like homophobia and bullying, while exploring the importance of honesty and trust, and overcoming fear and prejudice. This empowering graphic novel follows Jake Hyde's journey to discover who he is, who he loves, and how to stand up for himself and his loved ones. You Brought Me The Ocean hits stores everywhere books are sold on 6/9/2020.
Jake Hyde doesn't swim—not since his father drowned. Luckily, he lives in Truth or Consequences, New Mexico, which is in the middle of the desert. Yet, he yearns for the ocean and is determined to leave his hometown for a college on the coast. When he explores a new romance with swim team captain Kenny Liu, and discovers that he has the ability to manipulate water, Jake's life begins to outpace his small town's namesake. But that doesn't make it any easier to come out to his protective mom, his best friend Maria, or the world. His life is overflowing with secrets as he hides his new romance and superpowers from his family and friends. As Jake starts down a path of self-discovery, what powers will he find in his search for identity? Will he turn his back to the current or dive headfirst into the waves?
Wonder Woman: Tempest Tossed and You Brought Me The Ocean are now available to read in the DC Preview Files Box folder . Let me know if you have any questions about access, and please share your coverage with us once it posts.