Books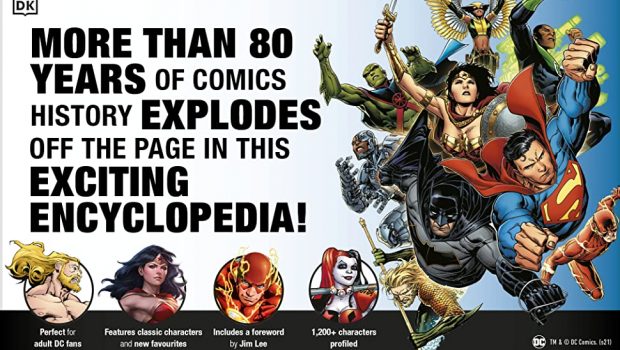 Published on June 27th, 2021 | by Andrew Bistak
DC Comics Encyclopedia New Edition Review (2021)
Summary: The DC Comics Encyclopedia New Edition is your own database of all things DC!
The definitive guide to the characters of the DC Multiverse and a vital addition to every comic book fan's bookshelf
There are two dominant comic book universes (or hypertimes, multiverses and omniverses) franchises which are DC and Marvel, with both having a diverse range of fantastic characters, worlds, timelines and Earth-shattering events. However the comic book medium is not static but rather a dynamic one with stories, characters and timelines constantly changing, much like the excellent sci-fi film, Dark City. While there are subtle changes here and there, the larger ones are caused by "Crisis" events in DC Comics that at times wipes out realities and characters (Crisis on Infinite Earths), reboots timelines (New 52), tweaks a timeline (Rebirth) and then makes it all relevant again (Dark Knights: Death Metal). Yes, it can be a challenge to follow. So if you're a little confused to what is considered gospel at this current point in history or wish to delve more into the amazing world of DC Comics, then look no further as DK have released their latest edition of the DC Comics Encyclopedia that is jam packed with information and stunning comic book art that been directly taken from the comics… welcome to the DC Comics Encyclopedia New Edition #2021!
Now more than ever, our world needs Super Heroes. Super Heroes have provided escape, excitement, comfort, and hope ever since that first "strange visitor" from Krypton arrived in the pages of Action Comics more than 80 years ago.
– Jim Lee
The DC Comics Encyclopedia New Edition is helmed by author Matthew K. Manning (Batman: A Visual History, DC Comics: A Visual History, and DC Comics: Year by Year) who also writes comics and is no stranger to this medium. The other part of his Justice League of Writers is Stephen (Win) Wiacek, Melanie Scott, Nick Jones, Landry Q. Walker, Alan Cowsill, Alex Irvine, Steve Korte, Scott Beatty, Robert Greenberger, Phil Jiminez, Dan Wallace and Sven Wilson. Needless to say, they have a wealth of amazing DC knowledge and they successfully celebrate the amazing omniverse of DC Comics by collating all the relevant information that is not only interesting and entertaining but they are brought to life with stunning visuals.
Consider it your own personal Helmet of Nabu that is worn by Dr Fate (the original Doctor Strange *grin*) which is your all-access pass to this universe. Who is Dr Fate? Why he is Kent Nelson, no, it's Nabu a Lord of Order, I meant Kent V Nelson, actually no, he is Khalid Nassour! [And sorry DC, Kent Nelson should be the ONLY wielder of the Doctor Fate legacy such as like Stephen Strange is Doctor Strange] Confusing? Yes! But this encyclopedia will deliver the answers! There is even a brief history of the DC Universe that takes the reader through its diverse history where it all matters now such as the Golden Age, the Dark Age and the Prime which includes the Dark Knight and Doomsday Clock events. Don't stress, as the writers deliver the information in easy to read segments.
Gallery
.
.
Furthermore, this book is beautifully presented from DK with thick paper stock plus high quality text and vibrant images of over 1200 of our favourite heroes and villains. Considering that DC Comics has over 80 years of history, this encyclopedia not only touches upon this but focuses on the latest changes to this universe. Although the main characters such as Superman, Batman and Wonder Woman receive more 'page' time , it's great that the authors highlight the lesser known characters who are just as important in this amazing universe, not to mention the legendary teams such as Justice League and Legion of Super Heroes. However before you commence, the book opens up with a foreword from comic book great Jim Lee whose passion for this universe really shines through and he puts a great context on the current direction of DC Comics. Adding to the delivery is that the book is presented from A to Z which makes finding your information easy that is also assisted by a roll call with lesser known characters such as the Far Sector Green Lantern or Hecker, including an index to quickly pinpoint that character or team.
The book follows a similar style for each character that includes Debut, Real Name, Base, Height, Weight, Eyes, Hair, Power / Abilities and Enemies. Teams are similar with Debut, Base, Power / Abilities, Allies, Enemies and Affiliation. Lastly, each entry has a brief history on the character with some having a small snippet to others having a full page or even a two-page spread. Did you know that Amazing Man debuted in All-Star Squadron #23 and that one of his powers if matter absorption? There's also an "on the record" section for some characters that highlight specific story elements throughout a characters history such as Batman having a broken back thanks to Bane or that Blue Beetle was shot by Maxwell Lord and his mantle was taken over by another person. Still want more fun facts? The Injustice Society was founded by the Wizard with a goal of defeating the Justice Society of America. Given that this encyclopedia is a history of DC Comics, it does focus more on the current characters and while it references the Golden Age and Silver Age, I would have liked to see more about these characters such as the original Golden Flash Jay Garrick or Alan Scott who has recently made a huge comeback into the DCU.
Final Thoughts?
If you're a fan of DC Comics or wanting to know more, then the DC Comics Encyclopedia New Edition is your perfect gateway to this universe that is not only well-presented but well-written that is accompanied by stunning visuals.
Book Details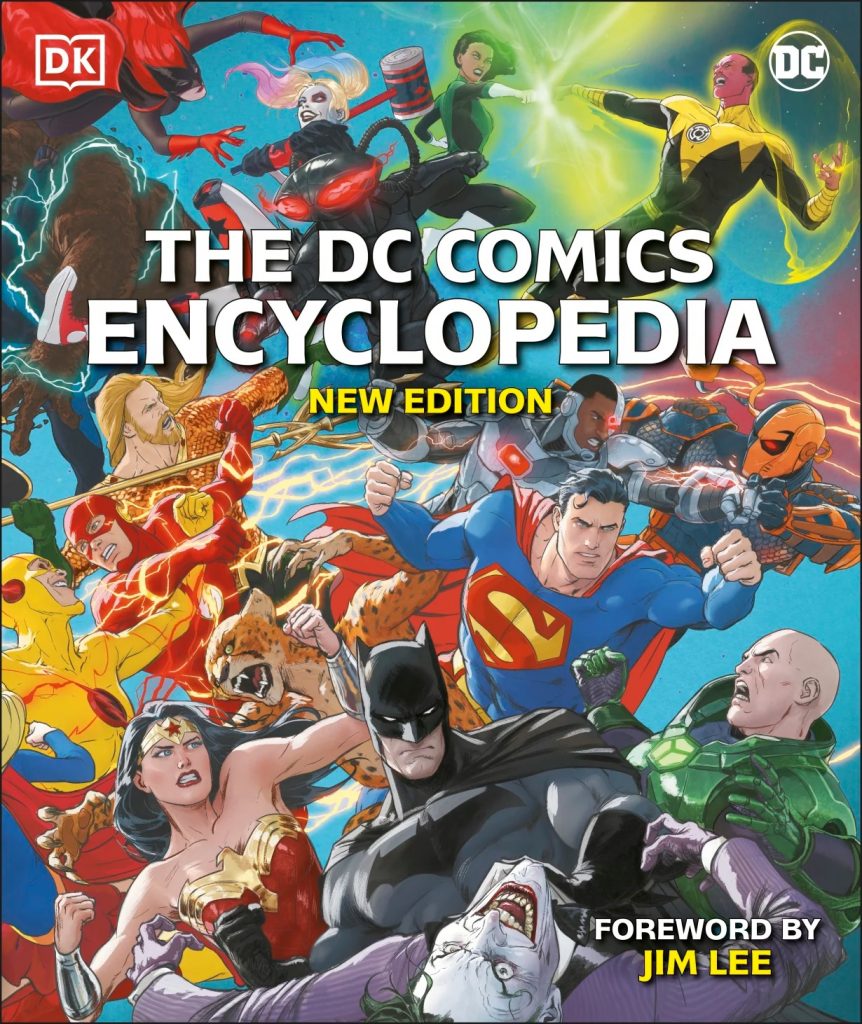 Publisher‏:‎ Dorling Kindersley (DK)
Publication Date: 2 July 2021
Language‏:  English
Hardcover:‎ 384 pages
ISBN-10: 0241439531
ISBN-13:‎ 978-0241439531
Dimensions: 25.9 x 2.6 x 30.7 cm
https://www.dk.com/us/book/9780744020564-dc-comics-encyclopedia-new-edition/