Comics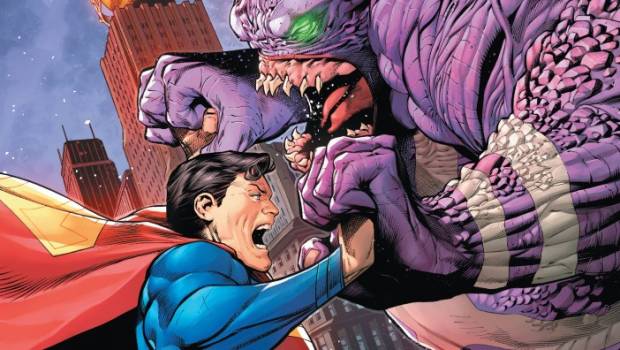 Published on April 21st, 2020 | by Adrian Gunning
DC Announces the Expansion of DC DIGITAL FIRST and the Addition of DC ESSENTIAL READS
Today marks the expansion of DC's DIGITAL FIRST publishing program, home of bestselling titles Injustice: Gods Among Us, DC Comics: Bombshells, the new Batman: The Adventures Continue, and many more fan-favorite comics. Under the robust new program, comic book readers will have more variety of content and immediate access to stories that have never been available on digital platforms.
"Comic book fans want more access to content than ever before," said Jim Lee, DC Chief Creative Officer and Publisher. "This strategy is intended to get daily content to fans immediately, and also to ensure that when comic shops open back up for business, they will have new content and product that their customers will want. In the meantime, we will have properly stoked and protected the demand for comics, keeping fans interested in our characters and stories."
The first week of DC DIGITAL FIRST titles include Superman: The Man of Tomorrow by Robert Venditti, Paul Pelletier, Drew Hennessy, and Adriano Lucas, Batman: Gotham Nights featuring a story by Sal Giunta, Brad Meltzer, Jim Lee, Scott Williams, and Alex Sinclair with a second story by Larry Hama, Mirko Colak, and John Kalisz, Wonder Woman: Agent of Peace by Amanda Conner, Jimmy Palmiotti, Inaki Miranda, and Hi-Fi, Aquaman: Deep Dives by Steve Orlando, Daniel Sampere, Juan Albarran, and Adriano Lucas, Flash: Fastest Man Alive by Gail Simone, Clayton Henry, and Marcelo Maiolo, DC Super Hero Girls: Infinite Frenemies by Amanda Deibert and Erich Owen, and Swamp Thing: New Roots by Mark Russell, Marco Santucci, and John Kalisz. These series are new to DC Digital First, having previously been exclusive to DC Giants.
"I really want to stress that regularly scheduled and solicited print comics, traditionally available on Wednesdays, will continue to be available day-and-date digitally on Tuesdays moving forward," added Lee. "On the other hand, DC DIGITAL FIRST comics will be released seven days a week, with a strikingly different trade dress that will distinguish these titles from physical versions."
In addition, on Monday DC is launching DC ESSENTIAL READS, a free digital promotion providing first issues of some of the most iconic graphic novels and collected editions in the DC library. Available until June 8th on a variety of digital platforms, DC ESSENTIAL READS titles include Watchmen #1 by Alan Moore and Dave Gibbons, Batman #608 by Jeph Loeb, Jim Lee, Scott Williams, and Alex Sinclair, The Sandman #1 by Neil Gaiman and Sam Kieth, Dark Nights: Metal #1 by Scott Snyder and Greg Capullo, Doomsday Clock #1 by Geoff Johns and Gary Frank, Crisis on Infinite Earths #1 by Marv Wolfman and George Perez, Mister Miracle #1 by Tom King and Mitch Gerads, and more.
DC DIGITAL FIRST comics and DC ESSENTIAL READS free issues will all be available from participating digital retailers, including ReadDC.com, Comixology, Amazon Kindle, Apple Books, and more.