Comics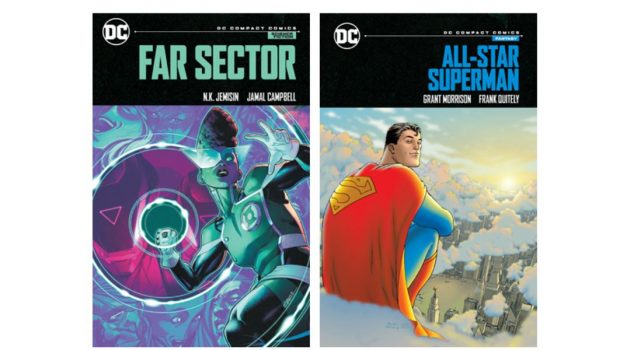 Published on November 3rd, 2023 | by Adrian Gunning
DC Announces 'DC Compact Comics' — $9.99 Graphic Novels to Read Anywhere
Today, global publisher DC announced a new line in their graphic novel slate: DC Compact Comics. Featuring a 5.5″ x 8.5″ standard book trim for trade paperback novels, the new format pulls bestselling, new-reader-friendly titles from DC's evergreen library as the first books offered in this new lineup of compact editions of adult graphic novels. Watchmen by Alan Moore and Dave Gibbons and All-Star Superman by Grant Morrison and Frank Quitely, among others, will go on sale beginning in June 2024, retailing at $9.99 US, to launch DC's new program.
"The DC Compact Comics price and sizing is perfect for readers of prose and manga looking to pick up a new-reader-friendly storyline in a self-contained full color graphic novel," said Anne DePies, SVP & General Manager, DC. "This 5.5″ x 8.5″ paper cut is the most widely circulated softcover book size in the US and is popular among graphic novel aficionados in international markets. At $9.99, it's a great price point for retailers to stock these classic titles. For readers, DC Compact Comics deliver a new graphic novel reading experience that fits in the palm of their hands, with no loss of readability."
The new line will showcase DC stories across many genres, including science fiction, thrillers, horror, fantasy, adventure, and mystery. Featured among the DC Compact Comics launch titles in 2024 are DC's recent Hugo Award-winning sci-fi graphic novel Far Sector by N.K. Jemisin and Jamal Campbell, along with perennial classic graphic novels like Catwoman: Trail of the Catwoman, Batman: Hush, Batman: The Court of Owls, and more.
The initial DC Compact Comics launch in 2024 will offer the following titles at $9.99 US:
Watchmen(9781779527325) by Alan Moore, Dave Gibbons
Batman: The Court of Owls(9781779527271) by Scott Snyder, Greg Capullo
All-Star Superman(9781779527257) by Grant Morrison, Frank Quitely
Far Sector(9781779527295) by N.K. Jemisin, Jamal Campbell
Wonder Woman: Earth One(9781779527332) by Grant Morrison, Yanick Paquette
American Vampire Book One(9781779527349) by Scott Snyder, Stephen King, Rafael Albuquerque
Batman: Hush(9781779527264) by Jeph Loeb, Jim Lee
Joker(9781779527318) by Brian Azzarello, Lee Bermejo
Harley Quinn & the Gotham City Sirens(9781779527301) by Paul Dini, Peter Calloway, Tony Bedard, Guillem March, Andres Guinaldo
Catwoman: Trail of the Catwoman(9781779527288) by Darwyn Cooke, Ed Brubaker
DC, part of Warner Bros. Discovery, creates iconic characters and enduring stories and is one of the world's largest publishers of comics and graphic novels. Its creative work entertains audiences of every generation around the world with DC's stories and characters integrated across Warner Bros. Discovery's film, television, animation, consumer products, home entertainment, games, and themed experiences divisions and on the DC UNIVERSE INFINITE digital comics subscription service. Learn more at dc.com.