Comics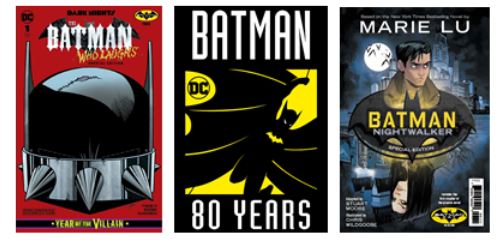 Published on September 17th, 2019 | by Admin
DC Announced Batman Day 2019 Plans to Honor the Caped Crusader's 80th Anniversary
Comic book fans of all ages will join DC's celebration of Batman's 80th anniversary on Batman Day, September 21, with activities taking place at more than 2,000 international retail locations.
For New York (a.k.a. Gotham) City residents, Barnes & Noble in Union Square is hosting a fan signing featuring award-winning Batman writers and artists Scott Snyder, Peter J. Tomasi, James Tynion IV and Brad Walker at 4:00 pm (EDT). The event will also feature a panel discussion with these creative Bat-minds, moderated by DC Publisher Dan DiDio.
DC will also make available to comic book readers two free Batman Day special editions of THE BATMAN WHO LAUGHS and BATMAN: NIGHTWALKER.
Based on The New York Times best-selling novel by Marie Lu, BATMAN: NIGHTWALKER BATMAN DAY SPECIAL EDITION features the first chapter of the upcoming graphic novel adaptation from writer Stuart Moore with art from Chris Wildgoose. Readers of all ages can dive into the mystery of Gotham City in this thrilling story that follows 18-year-old Bruce Wayne as he faces the mysterious and deadly Nightwalkers that are terrorizing Gotham City. The complete version of BATMAN NIGHTWALKER is available in bookstores, online retailers and comic book shops on October 1.
DARK NIGHTS: METAL – THE BATMAN WHO LAUGHS # 1 BATMAN DAY SPECIAL EDITION will feature the origin of one of the most terrifying and compelling characters to haunt Gotham City. From bestselling Batman creative team of writer Scott Snyder and artist Greg Capullo, this acclaimed tale set the course for DC's ongoing "The Year of the Villain" event. This free Batman Day release also features a special outer cover with a mask of The Batman Who Laughs character.
No celebration of the World's Greatest Detective wouldn't be complete without the chance for fans to win some awesome Bat-swag and this Batman Day is no exception! DC is giving fans a shot at nearly $1.500 worth of Batman collectibles, toys, comic books and more. For more details and a chance to enter, visit www.DCcomics.com/BatmanSweeps.
In partnership with Eaglemoss, the LEGEND OF BATMAN collected edition will be available for free in the U.K., France, Germany, and Spain. In select cities globally, talent appearances and signings by some of DC's leading storytellers will also take place. Fans can visit DCComics.com/BatmanDay for a list of local participating retailers.
Join in on social media using the hashtag #BatmanDay, #LongLiveTheBat and #Batman80. To find out more follow @Batman on Instagram and Facebook, @dcbatman on Twitter and visit www.Batman80.com.