Interviews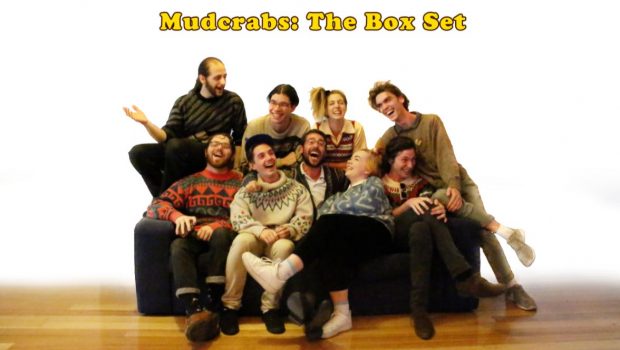 Published on March 22nd, 2017 | by admin
David Interview (Mudcrabs: The Box Set) … MICF 2017
We catch-up with David from The Mudcrabs: The Box who are currently performing at The Melbourne International Comedy Festival 2017. So relive the magic of university comedy's golden era with this limited edition Mudcrabs: The Box Set and enjoy this interview with David!
What drew you to comedy?

The Mudcrabs' weekly Rowdy Laughter fit perfectly into my uni timetable so I was consistently there for regular laughs. 5 weeks in and they started wondering who the hell this one recurring face in the audience was, and after bumping into the Mudcrabs at a barbeque, I went along to some writing sessions, and was reeled in. Having this little family makes it really pleasant to stick with comedy and work on my skills. They're a welcoming bunch and they made it easy to test the waters.
Tell us about your style of comedy?

I have a real need to plan things out (improv is a nightmare) so I find myself sticking to sketch comedy! Being a history major, I've slipped quite a number of historical sketches into our shows.
If you're a Game of Thrones fan… how could you turn the disaster of the Red Wedding into a joke?

The Red Wedding but instead of the Rains of Castamere they're playing Zorba the Greek.
Describe your show at the Melbourne International Comedy Festival?

We've selected and refined our best sketches into a smorgasbord of smug delight and a nice homage to 80s television.
Where did you get your inspirations from?

Our shows definitely reflect our Monty Python influence – I love them and see them as the definitive example of a tight-knit, hilarious sketch comedy group for us to follow.
What are you most looking forward to performing at MICF this year?
Getting laughs for the jokes we've rehearsed to death.
Anything to be nervous about?
Being conscious of how audibly uncomfortable my mum will be whenever there's a sweary line!
Lastly, sum up your show in a tweet!

The cast and producers of Mudcrabs: The Box Set, which I hear is highly overrated, should immediately apologize to Mike Pence for their terrible behavior.
Check Mudcrabs: The Box Set out at https://www.comedyfestival.com.au/2017/shows/show-show or worship them on Facebook at https://www.facebook.com/MUComedyRevueBoard