Comics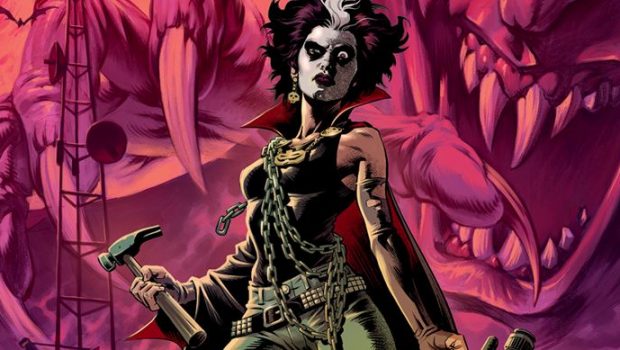 Published on December 24th, 2021 | by Adrian Gunning
DAVID DASTMALCHIAN'S 'COUNT CROWLEY' RETURNS WITH A NEW SERIES AT DARK HORSE COMICS
David Dastmalchian and Lukas Ketner, along with Lauren Affe and Frank Cvetkovic, return to the fan-favorite horror series Count Crowley! Jerri Bartman returns, a reluctant monster hunter no more and ready to embrace her newfound job as Count Crowley: Amateur Midnight Monster Hunter!
It's been a hell of a week for Jerri Bartman. She lost her job, crashed her car, took the only gig available hosting the midnight monster show, and…oh yeah—dismembered a zombie. No big deal. Now, to protect the people she loves, she's going to have to take a crash course in monster hunting. And quickly—a vengeful vampire just booked a first-class flight into town.
Hot off of two of the biggest films of the year The Suicide Squad and Dune, David Dastmalchian returns to his hit comic series with a brand-new storyline to continue Jerri Bartman's harrowing journey into the unknown!
Count Crowley: Amateur Midnight Monster Hunter #1 will be in comic shops March 23, 2022. It is available for pre-order at your local comic shop.
Praise for Count Crowley: Reluctant Midnight Monster Hunter:
"In Count Crowley, Dastmalchian and Ketner have created something comfortingly familiar and fun that simultaneously thrills and rewards the reader with also being something completely new! The deeper Jerri finds herself mired in mysteries of the macabre, the harder it is to wait for the next chapter! A great, ghoulish addition to the Dark Horse library!"–Kevin Smith
"There's a lot about this book — story and art-wise — that leans heavily on classic horror comics and late-night Creepshow binges, and the result is stellar."–Rogues Portal
"Count Crowley is wrapped in a bow of pulpy, throwback horror-camp, designed to feel more like an old monster 'zine than a modern comic book… If you're into spooky stories and zany monster tales, this one is definitely for you."–Comicbook.com
"This is a fun take on the classic monster story. David Dastmalchian does a great job of establishing the characters and the conflict early so that he can have fun with the narrative and the plotting…"–Super Powered Fancast
"I was not sure if it was possible to fall in love with a creation of staples, paper and ink, but I think I have come as close as humanly possible."–Major Spoilers
"Count Crowley is equal parts homage, heart, sadness, and scares."–Multiversity