Events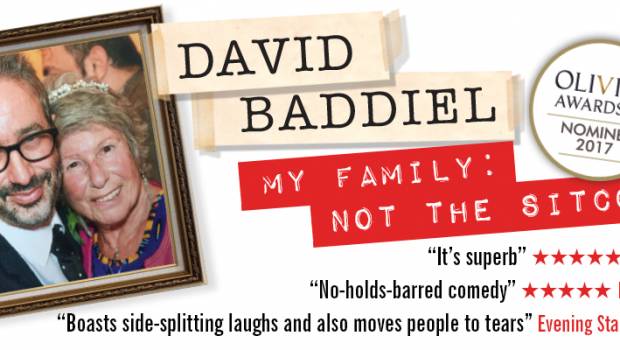 Published on February 19th, 2018 | by Admin
David Baddiel Brings His Olivier-Nominated Show My Family: Not The Sitcom To Australia This September
Frontier Comedy are thrilled to announce that accomplished comedian, author, screenwriter and television presenter David Baddiel will bring his acclaimed, Olivier-nominated one-man stage show My Family: Not The Sitcom to Australia in September following a UK tour, a sold-out run in London and two critically-acclaimed West End runs.
My Family: Not the Sitcom is a show about memory, ageing,  infidelity, dysfunctional relatives, moral policing on social media, golf, and gay cats. A massively disrespectful celebration of the lives of David Baddiel's late sex-mad mother Sarah, and dementia-ridden father, Colin. Come and be offended on David's behalf!
The UK comedy icon will kick off his debut Australian tour at Sydney's Seymour Centre on Friday 14 September, going onto Perth's Octagon Theatre on Monday 17 September, before wrapping up with two shows at Melbourne's Alex Theatre on Friday 21 and Saturday 22 September. Tickets to all shows will go on sale from Friday 23 February.
★★★★★ 'This is a rare production that boasts side-splitting laughs and also moves people to tears.' – Evening Standard (UK)
★★★★★ 'An exceptional piece of comedy.' – Den of Geek (UK)
★★★★ 'Compelling to watch both for its unvarnished truth and complicated affection.' – The Guardian (UK)
My Family: Not the Sitcom premiered at London's Menier Chocolate Factory in 2016, to a wealth of glowing reviews. The show has been described as "brave, brutal and brilliant" (Graham Norton), "brilliant, funny, emotional" (J.K. Rowling), "absolutely beautiful" (Hugh Laurie) and "deeply personal, hilarious and touching in equal measure" (Bill Bailey).
A huge hit, the show transferred to London's West End where it ran for five weeks at the Vaudeville Theatre and ten weeks at the Playhouse Theatre, and was nominated for an Olivier Award.
A comedy heavyweight, in 1992 Baddiel performed to 12,500 people with fellow comedian Rob Newman in the UK's first ever arena comedy show. In addition to stand-up, David has written four award-winning children's books, four critically-acclaimed novels for adults, hit comedy film The Infidel (which has since been adapted into a musical, also written and directed by David) and created three hit BBC Radio 4 shows. He's also  starred in The Mary Whitehouse Experience, Newman and Baddiel in Pieces, Fantasy Football and Baddiel & Skinner Unplanned, and attained a #1 hit with the football anthem Three Lions in 1996 (and another #1 with the re-released version Three Lions '98 two years later.) In 2010, David made his directorial debut with his film The Norris McWhirter Chronicles starring Lee Mack and Frank Skinner. In that same year, David and Frank also presented a series of shows from the FIFA World Cup in South Africa for Absolute Radio which attracted over 3 million downloads.
★★★★ 'Hugely funny…if you're going to disrespect the dead and the incapacitated, do it like this: truthfully, inventively and, finally, lovingly.' – The Times (UK)
★★★★ 'Rare to see one that draws its subject as honestly, vividly and humorously as this.' – The i (UK)
★★★★ 'A show that bubbles with love and unexpected joie de vivre.' – The Telegraph(UK)
His travel documentary for Discovery, entitled David Baddiel On The Silk Road, aired in Spring 2016 and in 2017, Channel 4 also aired The Trouble with Dad, a one-off documentary following David and his older brother Ivor as they care for their father Colin and his experiences with Pick's Disease, a rare form of dementia, which is also one of the central themes of My Family: Not the Sitcom.
Don't miss David Baddiel's revered show My Family: Not The Sitcom on its Australian debut this September in Sydney, Perth and Melbourne!