Films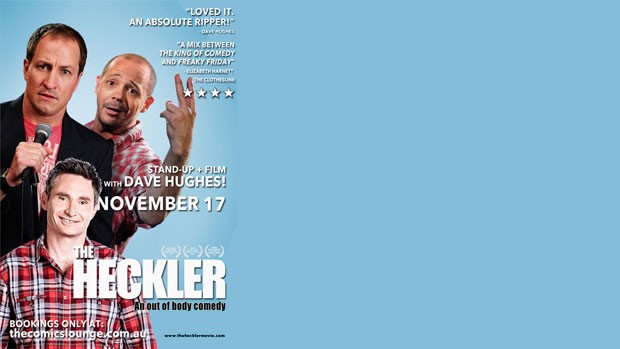 Published on November 6th, 2015 | by admin
Dave Hughes to host final screening to celebrate launch on DVD & Digital
MELBOURNE, AUSTRALIA (November 6, 2015)
A new feature film that received rave reviews from sold-out Comedy Festival screenings and won the "Best Ensemble" award at the LA Comedy Festival completes its national tour with a special event screening to celebrate its worldwide launch on DVD and Digital.
Dave Hughes will host a night of Live Stand-up, followed by a body-swap film about stand-ups!
Hughes and special guests will perform ahead of the hit new comedy movie, which was shot at The Comics Lounge and various other locations around Melbourne.
Members of the cast, crew and media will also be attending on this night.
THE HECKLER is about a stand-up comedian who has his body hijacked by the spirit of a jealous heckler and must find a way to reclaim it before the imposter ruins his career.
It marks the feature film debuts of Simon Mallory ('Comedy Inc'), Kate Jenkinson ('Hiding', Offspring'), Emily Taheny ('Mad as Hell', 'It's a Date') and also stars CJ Fortuna ('Kinne'), Scott Harrison ('Charlie & Boots', 'The Hollowmen') and Dave Lawson ('Utopia') along with a host of other comedy performers including Tony Martin and Jeff Green.
Having local comedians perform live stand-up ahead of the film has been a great success throughout the national tour, in places as far flung as Brisbane, Sydney, Townsville & Hobart. Dave Hughes was an obvious choice to host the final screening of the tour since he started his stand-up career with the star of the film, CJ Fortuna.
The Heckler returns to where it all began: The Comics Lounge.
7pm Tuesday, November 17th The Comics Lounge 26 Errol St, North Melbourne
Bookings & details: http://thecomicslounge.com.au  (direct link: http://bit.ly/1Mgokqn )
Facebook: www.facebook.com/TheHecklerMovie
Images & info: www.thehecklermovie.com